Return to All Press
Cordial enhances first-party data capabilities on Snowflake Marketplace
3 Minute Read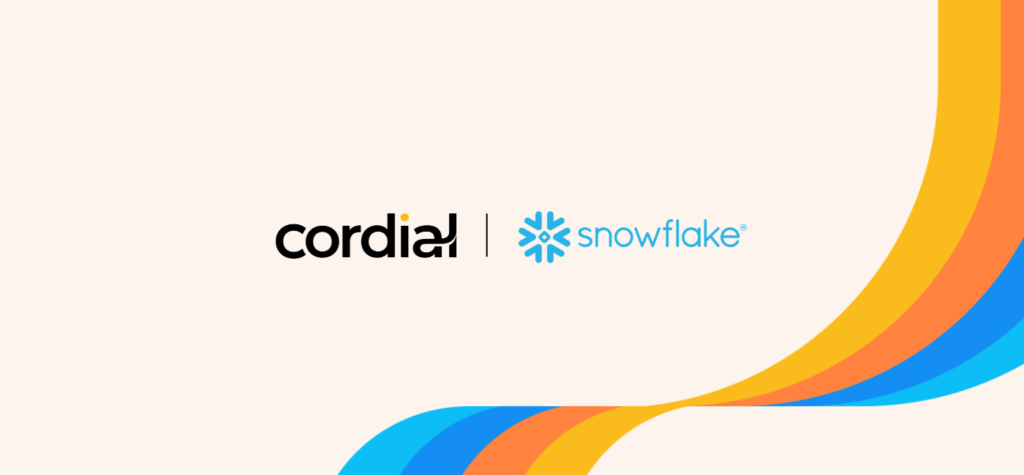 Cross-channel marketing and cloud data platforms combine to maximize marketing data efficiency
SAN DIEGO — January 24, 2023 — Cordial, the cross-channel marketing and data management platform for brands to communicate in personal, intelligent ways, announced that it has partnered with Snowflake, the Data Cloud company, to list its data offering on Snowflake Marketplace. The new offering will allow joint customers to unify their data and unlock its potential by making it available across their entire business ecosystem.
Modern marketing requires agility, speed, and real-time data. Cordial and Snowflake are working together to give joint customers seamless access to rich customer data, enabling them to analyze engagement trends, monitor consumer behaviors, gauge performance, and unlock new insights about metrics driving their business forward. Additionally, data access can be extended bi-directionally, allowing customers to easily query and leverage data from Snowflake in the Cordial platform for improved message personalization and campaign outcomes. 
"Now more than ever, marketers and technology teams are looking to move faster together. Cordial and Snowflake are removing the barriers for these teams to move fast, trust their data, and iterate quickly in marketing with a customer-led approach," said Jeremy Swift, CEO and co-founder of Cordial. "This integration makes traditional sharing methods obsolete, eliminating the need to move or copy data, rebuild schemas or manage data pipelines with traditional extract, transfer and load (ETL) solutions, which are costly and labor intensive. This means marketers can spend more time activating their data rather than managing it."
Cordial's robust data architecture collects and uses dynamic data sets, including contact attributes, cart items, product catalogs, purchase activity, and digital behaviors. Joint customers can now leverage Snowflake's data engineering, storage, sharing, and governance, to have unparalleled access and security to this powerful data across their entire team with turn-key setup and maintenance.
"Our partnership with Cordial will enable our joint customers to benefit from real-time, first-party data that has proved invaluable for marketers today," said Kieran Kennedy, Head of Snowflake Marketplace. "We look forward to seeing this new offering reach more of our customers, helping them to continue maximizing their use of Snowflake's Data Cloud."
Additional benefits that differentiate the Cordial and Snowflake integration include:
Immediate access to rich customer data refreshed multiple times per day.

Increased flexibility by offering standard or custom secure views of shared data based on specific needs.

Improved access to retroactive customer data when a secure share is provisioned.
"Cordial's Snowflake Marketplace offering has given us a more seamless way of accessing and analyzing our data. Sharing data that used to take hours, now only takes a few minutes to complete," said Hyrum Ward, Manager of Data Engineering at Purple. "All our valuable first-party data from Cordial is now instantly available and queryable alongside our hundreds of other data sources in Snowflake, so we can easily marry up a variety of data points to gain new insights about our business."
For more information on Cordial's integration with Snowflake Collaboration Technology, visit www.cordial.com/partners/snowflake/. 
Snowflake Marketplace is powered by Snowflake's ground-breaking cross-cloud technology, Snowgrid, allowing companies to find, try, and buy the data and applications needed to innovate for their business. Snowflake Marketplace simplifies discovery, access, and the commercialization of data and applications, enabling companies to unlock entirely new revenue streams and extended insights across the Data Cloud. Learn more about Snowflake Marketplace and how to find, try, and buy the data, data services, and applications needed to innovate for your business.