Return to All Resources
Product Update: Podium Insights, Podium Experiments, and SMS
4 Minute Read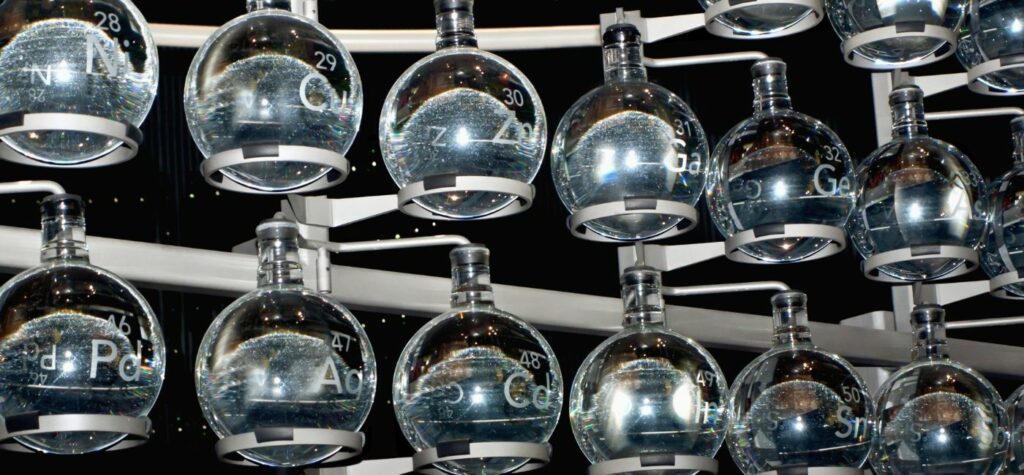 We have some exciting news! Since Bespoke, our annual client event, we've continued the momentum and rolled out three more platform releases to help you build more in-depth personalized touch points. These product features help you connect with your customers by giving you the tools to create cohesive, intuitive, and individualized experiences across even more native channels.
Podium Insights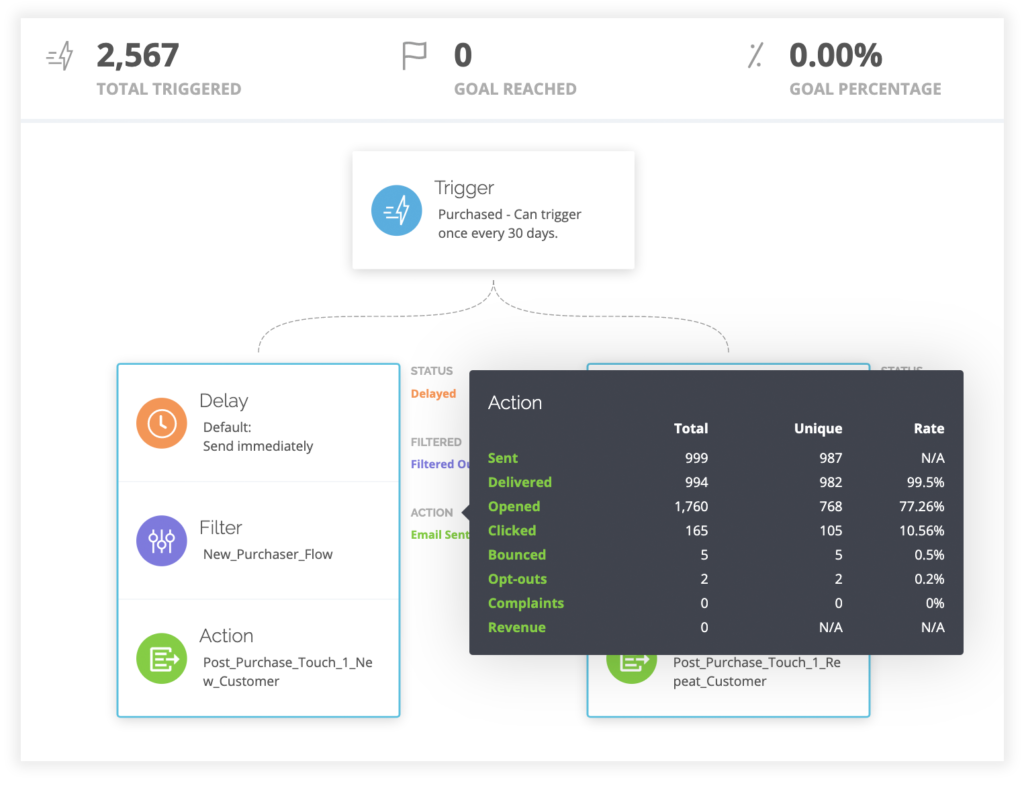 As you may already know, Podium is Cordial's visual orchestration layer that enables marketers to create and manage multi-step automated campaigns. Since its release last year, it has changed the way marketers think about orchestrating campaigns within Cordial, and now it's getting even better.
Podium Insights gives you a bird's eye view of how your campaign is performing so you can understand how the customer experiences you're building impact your goals. Quickly see how contacts are flowing through a particular automation, how many are at each step, where they are getting stuck, and where they are highly engaged. Use this data to identify which orchestrations are performing well and where you need to make adjustments. You can also drill down into ground-level metrics like open and click rate, bounces, and revenue. The best part? All of this juicy data is available from directly within the Podium UI and comes standard with Cordial. No added costs!
Use cases:
Use multi-channel analytics to determine which channel drives the most engagement in a given orchestration.
Visualize how contacts are flowing through an orchestration to identify bottlenecks or drop off points.
View how individual campaigns connect to the whole customer journey.
Podium Experiments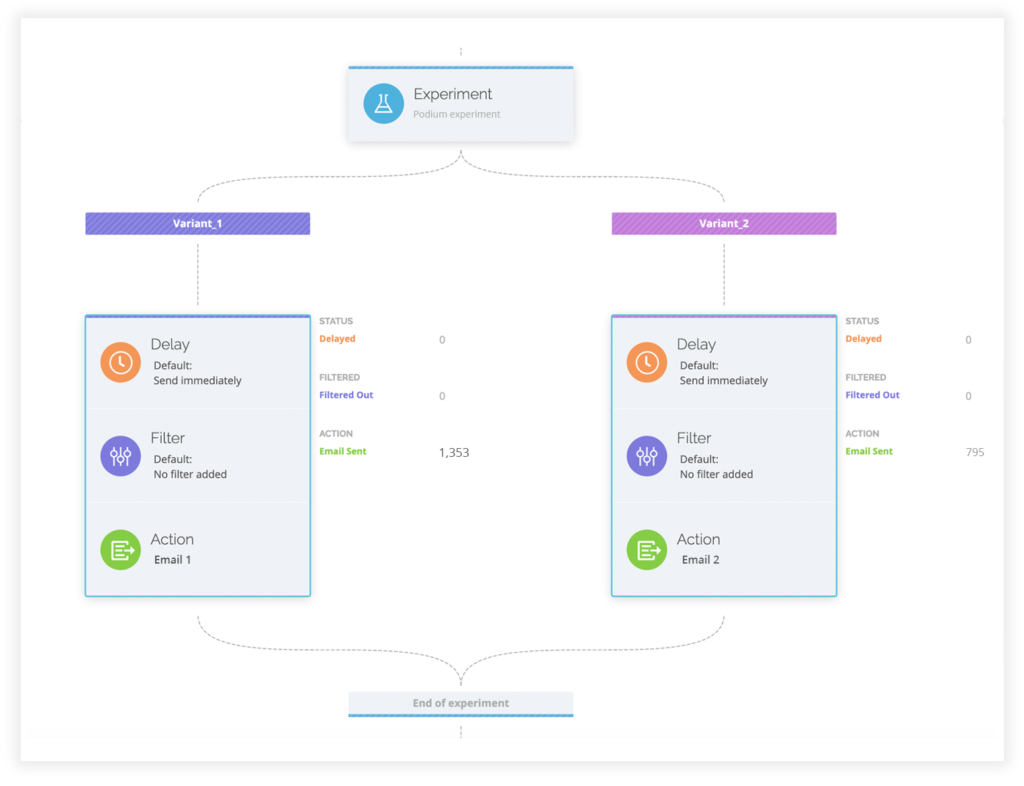 We're not stopping with Insights! We're also excited to introduce Podium Experiments, a powerful new way to test and optimize your multi-step campaign automations. Podium Experiments enables you to A | B n test entire campaign automations (not just single messages) to determine which series of messages best meets your desired objective. For example, you can now test three competing welcome series against one another to see which one generates the most revenue, or test which cart abandonment campaign is best at driving customers back to the site. You can also test cool things like which channel – email, push or SMS – delivers more engagement after a message is sent. Like Podium Insights, Podium Experiments is available within Podium without an additional subscription fee. Test away!
Pro tip: Use Cordial Experiments to optimize each message within your automation to automatically select the highest performing subject line and message content.
Use cases:
Drive revenue by testing transactional email and transactional push vs only transactional push.
Determine which channel – email, push, sms – delivers more engagement after a transaction message is sent.
Use experiments to split message volume to see which path has a higher rate of conversion.
Cordial SMS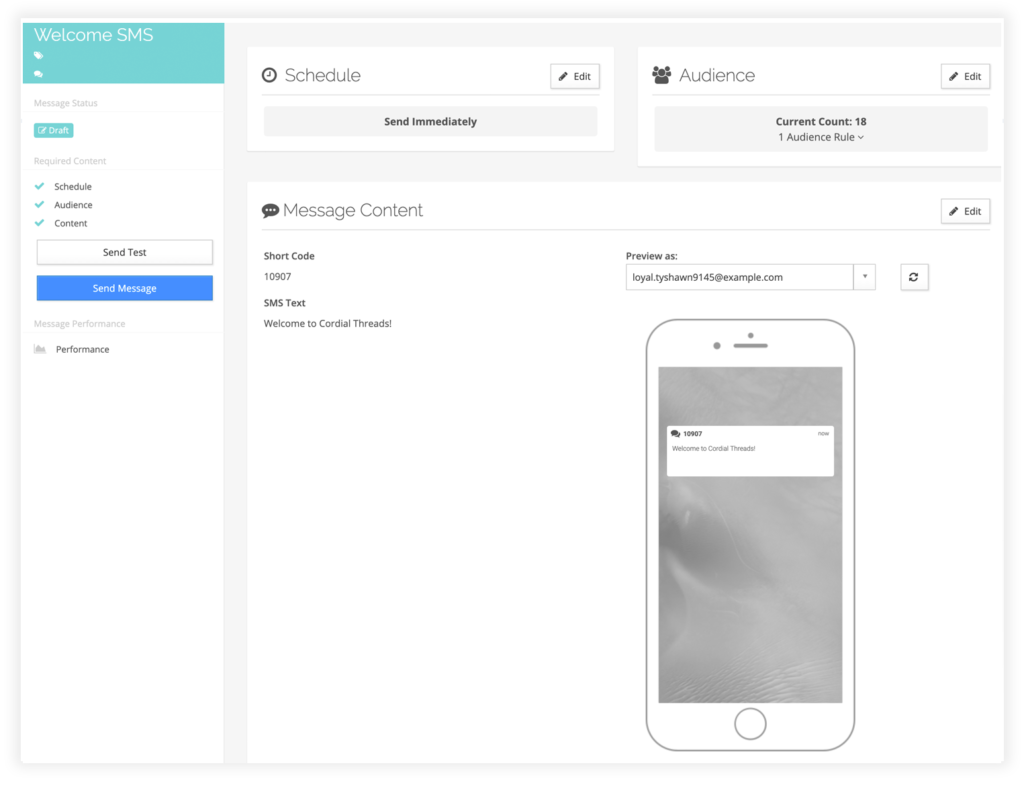 Last but certainly not least, we are super excited to announce the release of Cordial SMS! By incorporating Cordial SMS to your marketing efforts, you can deliver tailored experiences at the precise moment customers are ready to engage with your brand. SMS messages can be tailored using Cordial's industry-leading personalization engine and can be easily created, previewed, and tested from within the Cordial UI. SMS can also be added to multi-step triggered campaigns using Podium to create seamless cross-channel experiences.
Use cases:
Automatically engage users who have not opened or clicked on an email.
Provide timely information through custom tailored SMS-based alerts, reminders, notifications, invites, and other automated messages.
Send personalized coupon codes and promotions that can be easily added to a mobile wallet.
Generate confirmations and personalized onboarding messaging.
Gain feedback from your customers through surveys and polls.
Want to learn more?
We hope you are as excited about these platform updates as we are! If you would like to learn more about any of these releases, please don't hesitate to reach out. We would love to take you through a personalized demo. Request one today.