Adore Me, the number one digital-native growth brand in intimate apparel, has revolutionized the industry with its innovative use of technology, inclusivity, and customer-centric approach. The brand's journey is marked by milestones that set it apart in the industry: with a team of over 100 engineers and two owned fulfillment centers, Adore Me has the infrastructure to deliver exceptional service. And as the first lingerie brand to offer extended sizing in 2013, they have demonstrated their commitment to inclusivity, with over 33% of sales coming from plus-size offerings.
With a commitment to offering high-quality, affordable, and diverse products, Adore Me has carved out a unique space in the market. However, like many ambitious brands, they faced the challenge of refining their digital marketing strategy to deliver even more personalized and efficient customer experiences.
The challenge
Despite their success, Adore Me encountered obstacles in executing their digital marketing programs. Their marketing tools were scattered across multiple platforms, which led to inefficiencies and limited their ability to deliver highly personalized messages. It was crucial for Adore Me to find a partner capable of supporting their growth with a strong  data infrastructure and enterprise-level support team.
The solution
Adore Me found the perfect partner in Cordial. With Cordial's platform, Adore Me could easily import and action on their data in an agile way. The platform's flexibility allowed non-technical team members to effectively test new use cases, automate cross-channel messages, and make more sophisticated product recommendations. Most importantly, they found Cordial to be a partner they can grow with by committing to the needs of their customers and continuous improvement.
Here are just some of the ways that Adore Me is currently using Cordial to transform the shopping experience for their customers:
Personalized product grids 
Adore Me uses Cordial's Sculpt Message Builder to build emails with personalized product grids. Adore Me built several automation strategies in Cordial that leverage this personalized product grid to make timely, data-driven product recommendations. The product grid has driven a strong response, generating a 4x increase in click rates, by showing customers products that are in stock, in their size, and in their preferred styles.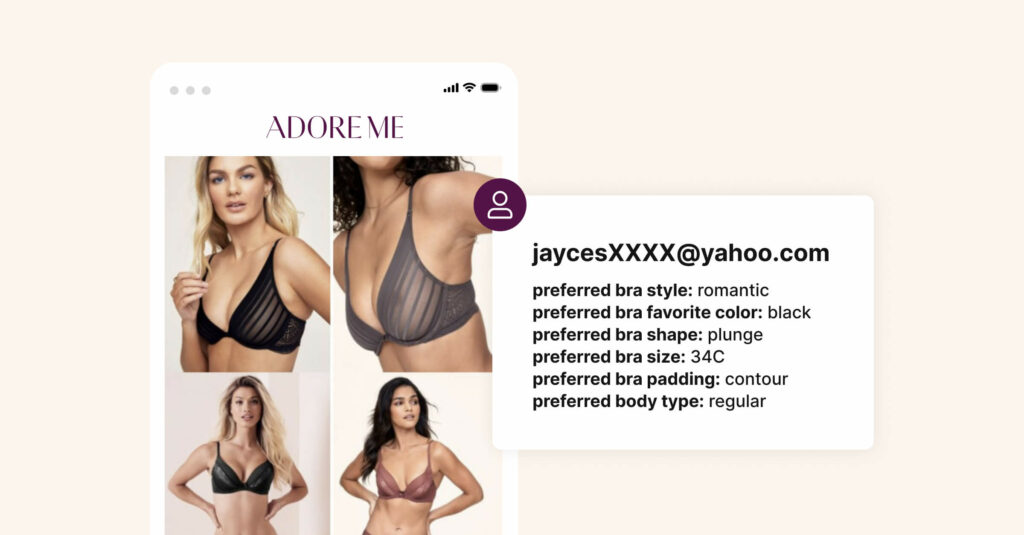 Multi-channel abandoned browse and cart strategies
Using SMS, mobile app, and email channels, Adore Me orchestrates a cohesive messaging strategy to automatically target customers who left a browsing session or items in their carts. Adore Me delivers timely and personalized content to these key customers in their preferred channels to accelerate purchase. Customers either receive an email, an email + SMS, or an email + mobile app push notification, depending on their subscription status.
Abandon cart
Here's an example of Adore Me's timing and segmentation, prioritizing the SMS channel:
1 hour after an SMS subscriber leaves an item in their cart, send an SMS.

2 hours after a mobile app subscriber leaves an item in their cart, send a push notification (if they're not an SMS subscriber).

4 hours after an email subscriber leaves an item in their cart, send an email with a personalized product grid of recommendations (with no channel subscription filters).

Abandon browse
Here's an example of Adore Me's timing and segmentation:
24 hours after an email subscriber leaves a browsing session, send an email showing the product browsed plus a recommendation of other products based on their browsing, carting, and purchase history. A product ranking supplemental table is also referenced to show items in-stock and in the customer's size. 

3 hours after the email is sent, send a push message to mobile app subscribers.

Category and wishlist retargeting strategies
Adore Me retargets customers who have browsed specific product categories or added items to their wishlist, enhancing their shopping experience with personalized content and encouraging customers to purchase. Adore Me shows customers they're learning about what they love and nurturing a lasting connection.
Category retargeting
Here are ideas you could implement based on Adore Me's retargeting strategy:
Routinely retarget anyone who has browsed a specific product category with an email that showcases a personalized product grid.

Include in-stock products within the browsed category, coupled with other value-add content such as customer reviews, alternate product category recommendations, customer benefits, and so on. 

Wishlist retargeting
Here's an example of Adore Me's timing and segmentation:
30 minutes, 1 hour or 2 hours (test the best timing for your brand) after a mobile app subscriber added an item to their wishlist, send a push message showcasing the wishlist item.

1 day after an email subscriber added an item to their wishlist, send an email with the wishlist item along with other recommendations in the personalized product grid.

The results
The results of the Cordial partnership have been transformative for Adore Me. They achieved improved operational efficiency, refined personalization, and a cohesive cross-channel messaging strategy. The team mastered Cordial's platform and became more confident in the content of their messages. Through sophisticated product recommendations, they've enhanced their customers' shopping experience.