Return to All Resources
How to build your email list: 8 sustainable acquisition strategies for e-commerce & retailers
21 Minute Read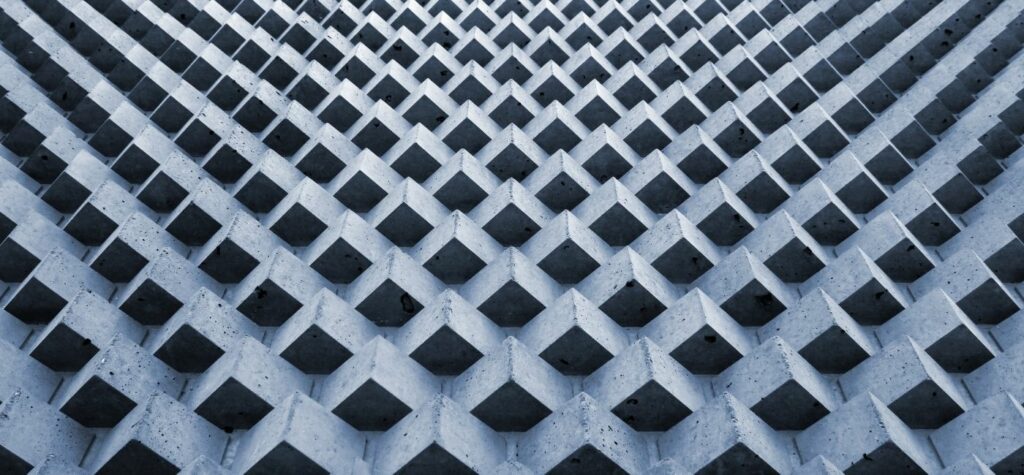 Email, aka the revenue-generating machine that makes you money at the touch of a button. The only challenge? Filling the top of the funnel with quality subscribers.
There's one specific challenge unique to email marketing compared to other popular marketing tactics used by e-commerce and retail brands: list churn.
Email acquisition is a decades-old challenge. Marketers have to perform a balancing act between sending high-converting emails and minimizing unsubscribes and bounces. While sending out many enticing emails to your list to boost revenue certainly feels good at the time and provides a nice spike on the charts, you may also be sacrificing future sales with a high churn rate. On top of this, unsubscribes and bounces will happen inevitably as time goes on.
Chris Marriott, President of Marketing Democracy, writes in his blog for Only Influencers, that keeping a list large and growing is not something that can wait "until later" because over the course of a year, 30% or more of addresses on a list will lose their value either by becoming inactive, unsubscribing, or by being discarded by the address holder.
The solution is to always focus on filling the top of the funnel with new subscribers. Creating sustainable list growth ensures that you don't need to milk your existing list for sales when it's crunch time or cut down on email frequency in fear of a dwindling email list.
Email is a revenue generating machine and growing your list with quality subscribers should always be top of mind.
While net new list growth is great, quality list growth is an important differentiating factor. Remember this: A bigger list doesn't equal a better list. Buying, renting, or scraping new subscribers will quickly hurt your deliverability. Focus on acquiring new, quality subscribers.
Bottom line is: More quality subscribers equal more revenue opportunity, which results in more money.
How to build your email list – proven tactics
1. Popups
Annoying? Obnoxious? Gimmicky? Are these some of the words that come to your mind about popups? Well, they don't have to be. When done right, popups are an extremely effective (and not annoying) way to acquire quality emails.
Popups come in all shapes and sizes, each with their own advantages. For any type of popup however, there are several ways to display it based on visitor actions. Let's take a look at some of the most popular below:
Timed-based: This method will show your popup after a predetermined amount of time. A time-based popup can work well if you set it to 60 seconds or greater, as you know at that point you are showing it to someone that's been engaged with your site for a while and more committed.
Content-based: Content-based popup will only show your popup on specific pages, like your About page, product pages, or landing pages.
Scroll-based: A scroll-based popup will show your popup when a user has scrolled a specific percentage of the way down your page. This is commonly used on blog posts and is similar to the timed method as you are only showing your popup to someone who has engaged with your page a specific amount.
Exit-intent: An exit-intent popup only shows when a visitor is about to leave your site. Using cursor tracking, the popup app will determine when someone is about to click the back or close button on their browser and show your popup in a last ditch attempt to get an email address or offer a discount before the visitor leaves your site.
Choosing the right message is critical. Just like creating any ad, your image should be eye catching and your copy should be straight to the point to provide a clear benefit along with a strong call-to-action. Many visitors are accustomed to closing popup boxes immediately, so you only have a second to get their attention and pique their interest.
Incorporating some of the other tactics like a giveaway, quiz, or product update can make your popup irresistible. Consider including a catchy headline and some social proof with impressive numbers or interesting facts to attract the visitors interest right away.
Sumo did a study on popups by analyzing a reported 1,754,957,675 popups, and found that the average conversion rate for all pop-ups is 3.09%, but the top 10% highest-performing pop-ups averaged a 9.28% conversion rate. Lesson learned: Popups are critical to converting website visitors.
Popups work great because they feature one clear CTA, they're eye-catching, they're timely, they make visitors an offer, and they can be highly targeted.
Lightbox
Named after the Lightbox Javascript Library, lightbox popups rose to fame a few years back following a case study published on Aweber. One of their customers increased their subscriptions by a whooping 1,375% using lightboxes.
In case you need a refresher, a lightbox is a popup that appears on top of the page's content while the rest of the website is dimmed out. The user then focuses on the popup rather than the rest of the screen.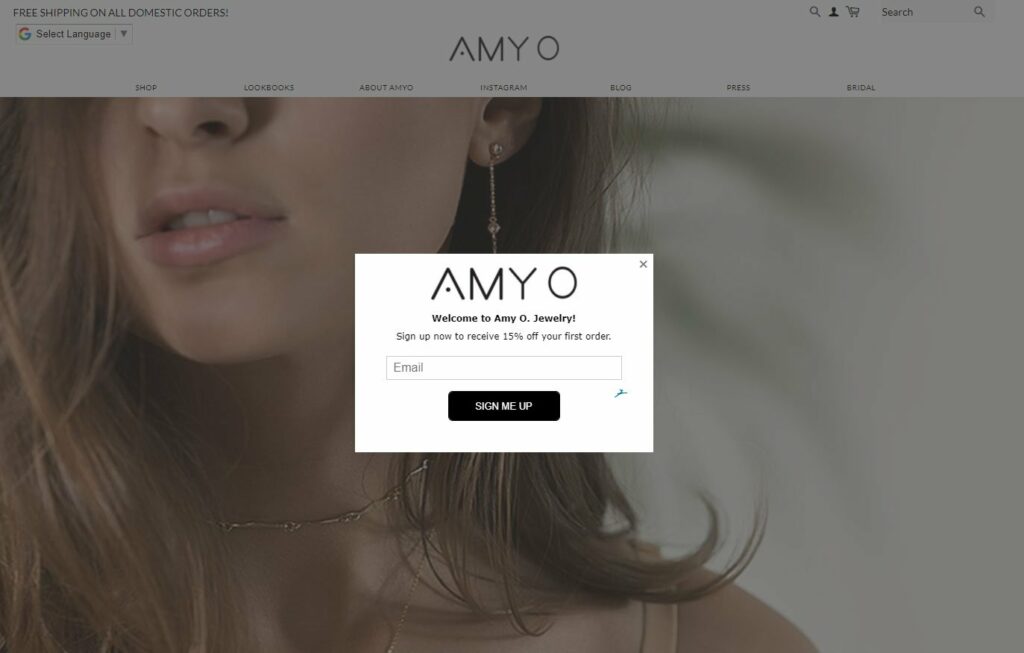 To make sure lightbox popups are the appropriate medium, you can ask yourself the following questions:
Is my message worth interrupting my visitor's navigation?
Is the benefit for my user big enough to justify that interruption?
As a visitor, what are the chances I would find that popup intrusive?
The lightbox is the most common website acquisition method and is a proven tactic for building sustainable list growth.
Announcement bar
An announcement bar, also called a welcome header bar, is a useful way to communicate important news. Whether you're telling new customers about your shipping deals or announcing a limited sale, it's one of the easiest ways to get visitors' attention.
A floating bar is also a great complement to other marketing campaigns. Popups are highly effective, but once visitors click that "X", your message is gone. Repeating your message in a floating header bar will ensure your visitors don't miss out.
If you're using both a lightbox popup and an announcement bar, make sure they're consistent with one another. The last thing you want is to lose the trust of your prospective customers by offering a 10% discount in one popup and 20% discount in another.
Pop-out
A pop-out is a slightly different version of a popup. In fact, it's quite the opposite of the lightbox. Instead of popping up and blocking the visitors surfing experience, it pops out of a side of the browser while still allowing the visitor to continue browsing.
Pop-outs can come from the top, bottom, left, right, or really any direction of your choosing. It should be catered to the layout of your website so that it's not intrusive to any content on the screen.
Here's an example of a pop-out from the bottom: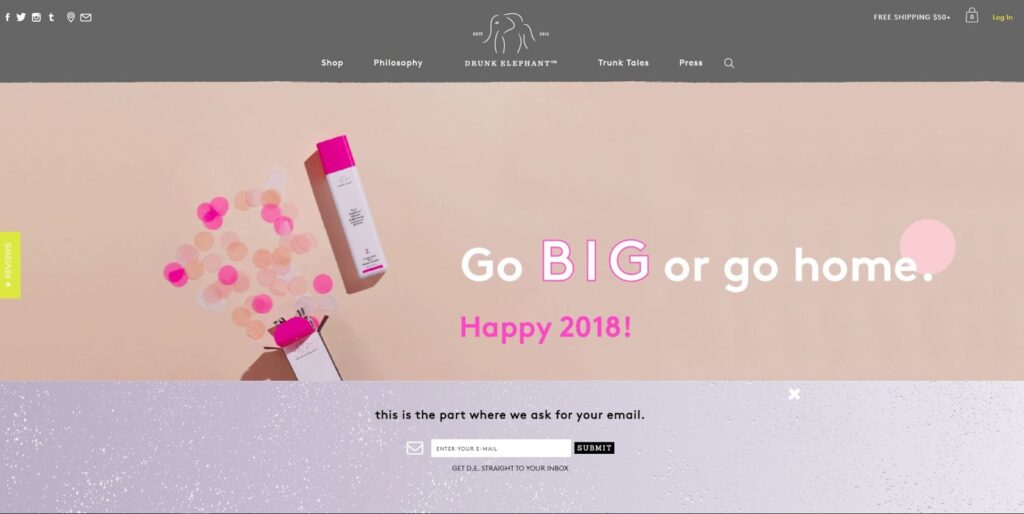 And here's an example of a pop-out from the side: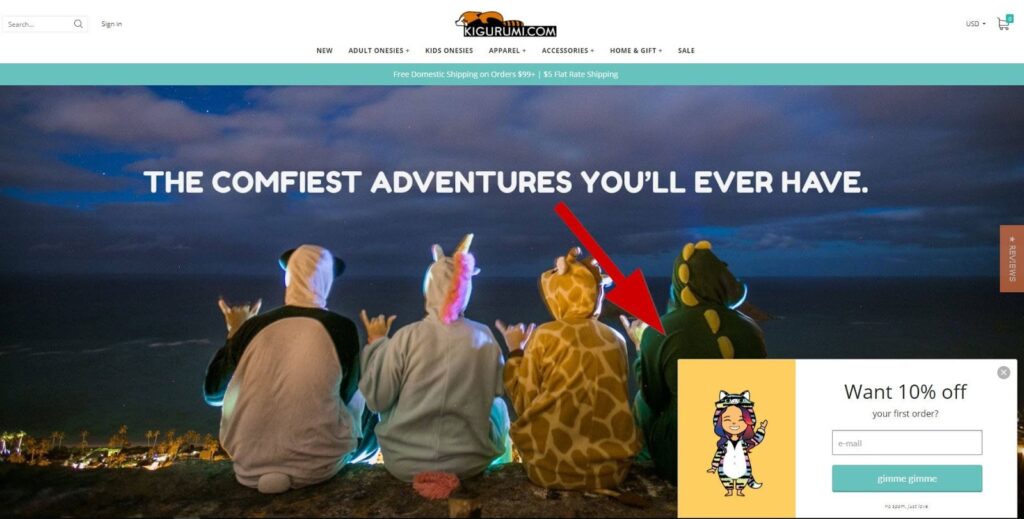 Pop-outs can be used in tandem with, or in place of lightbox popups. If you're not comfortable with the lightbox popup or looking for a different way to test a new method for acquisition, pop-outs are a great way to acquire email addresses while preserving the customer experience.
2. Embedded forms
Footer
Once a visitor hits the very bottom of your page, it's likely that they are very interested in what you have to offer. So don't miss this opportunity to present them with a way on to your email list.
Since the footer is largely the same across most pages on a website, adding an embedded email signup form to the footer ensures your visitors always have a place to drop their email.
It also acts as a "catch all." Visitors may have seen and closed out your lightbox or announcement bar, but maybe later on they're ready to opt-in and go looking for a place to sign up. Since many other websites have a form in their footer, you can bet many of those visitors who go looking for a place to sign up will scroll down into your footer and drop in their email.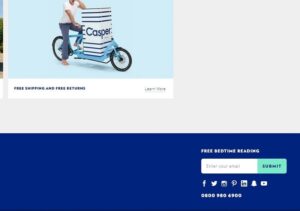 Make sure it's clearly differentiated from the other content in the footer, either by using a bright color for buttons/type to stand out, larger text, or some sort of container.
Blog
Your blog provides a great way to build a personal relationship with customers and prospects — and to gather their email addresses. Consistently end blog posts with a call to action that encourages readers to sign up for your email messages. Require blog visitors to provide an email or login via social media in order to leave comments.
In-line signup forms haven't been explored much in social impact websites but are becoming increasingly commonplace on media outlets like Vox and New York Times. These forms are strategically placed within the body copy of websites and provide visual breaks while also reminding engaged readers they can receive updates. Yes, it's mildly distracting to be interrupted by an in-line block of information while reading, but it's easy for the user to skip over if they're not interested.
An in-line signup should:
Use minimal styling so it's not too distracting from important text on the page
Only include an email field box so the form doesn't take up excessive space and break up the content above and below
The key for in-line signups is finding the right content to pair it with. Organizations like Charity:Water pair their newsletter signup with their impact stories. From an advertising perspective, this makes sense because the user might feel more inclined to get involved when reading about the organization's success. The content in the newsletter is critical to knowing where to place a strategic in-line signup form.
Checkout Page
Add an "opt-in for our newsletter" checkbox in your checkout page. Don't forget to remind them about the coupons they'll get which they can use on their next order.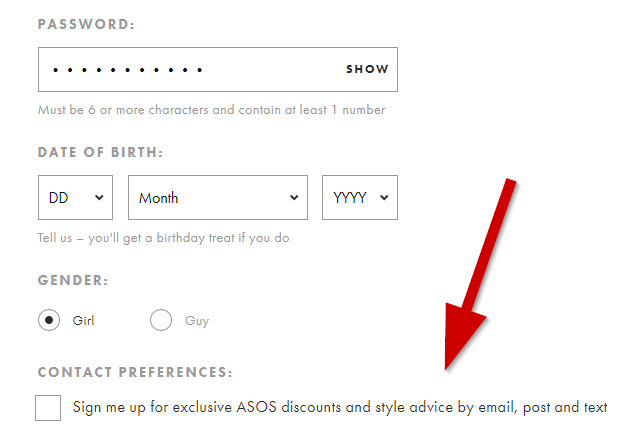 As you can see in this example by ASOS, they leave the box unchecked and make a friendly offer after important information has already been entered in.
About Page
First time visitors to your online store might visit your About page to learn more about your brand and product offering. On this page, you can invite them to join your newsletter, signup to your latest giveaway, or unlock an exclusive offer. Take advantage of the personal aspects of this page to make a personalized offer based on what they're seeing on your About page.
3. Quizzes
Quizzes are a proven, but often forgotten, way to acquire quality email subscribers.
They're great for several reasons:
Quizzes are evergreen, which means you put in the work once and you can use it to generate leads forever. They rarely expire (unless it's based on a current trend).
You can gather loads of information about your visitors, when they are having fun answering the quiz.
Their highly-shareable nature make a great way to get some social media mentions and free traffic.
It's a great experience for your audience and unique way to engage with your brand.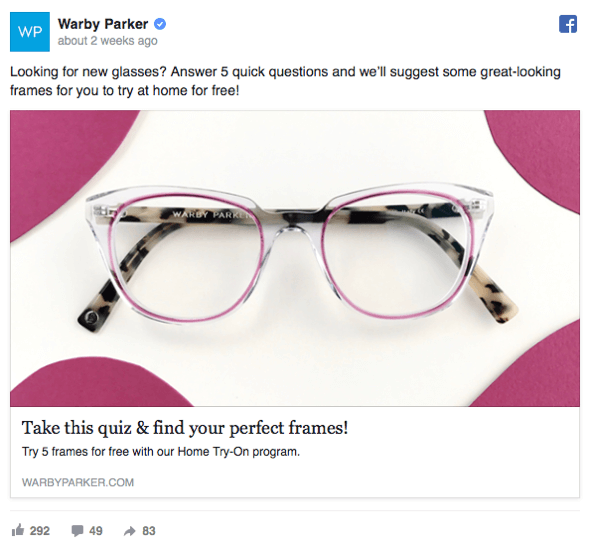 The two most common ways to design a quiz are the personality quiz and the knowledge quiz. With the personality quiz, you would ask questions about personality, temper, favorite foods, preferred colors and tell them something about themselves. With the knowledge quiz, you can set it up like a pub quiz and test their knowledge on a certain topic.
Here's what you should remember when coming up with an idea for your next quiz:
Decide if you are going to do a knowledge quiz or a personality quiz.
The quiz should tie into your product or service. If you are a fitness company, do a quiz about healthy food or good training exercises.
Come up with a fun title that'll spark the visitor's interest. "Do you really know as much about protein shakes as you think?" "What training freak are you?" "What is your ideal running style?"
Have a look around to find inspiration for your quiz – it can be big news, movie premiers, holidays, etc.
Interact and LeadQuizzes are two great solutions for building lead generating quizzes for your brand.
Interact boasts that BOOM By Cindy Joseph acquired 7,200 new subscribers with one quiz, liveFashionable pairs quizzes with Facebook ads to acquire thousands of subscribers every month, and even large retailers like Home Depot use quizzes as well.
Z Gallerie is an furniture company with an emphasis on interior design for both amateurs and professionals alike who created a personality quiz, "What is your Z Gallerie Personality Style?" Z Gallerie's style quiz consists of a series of questions that obtains your contact information and recommends a group of products tailored to your personality. The quiz reportedly brings in 1,000 new leads per day.
Using the data captured from the quiz, they can personalize the shopping experience and send the subscriber a specific automated email journey based on their results. If your brand focuses on offering a variety of products, you might want to consider creating a personality quiz to categorize your audience into personality types based on their answers. From there, each personality type could offer personalized product recommendations, personalizing the entire shopping experience for your brand.
4. Viral campaigns
Giveaways
Giveaways have been a staple marketing tactic for decades, and can be a great way to generate buzz at the right time.
When Tootsie Roll released a new lollipop flavor in a limited number of stores, it didn't generate too much buzz initially. Before hitting the global market, the company wanted to increase its brand awareness and receive feedback on the new lollipop flavor to make sure it would be a success.
To accomplish both of these goals in a small window of time, Tootsie Roll organized a giveaway. The company  quickly built a landing page for their giveaway, allowing their fans and followers to enter for a chance to be one of the exclusive taste testers of Tootsie Roll's upcoming pop flavor. After sharing their name, age, email address, and mailing address, entrants were narrowed down and sent samples of the lollipop with a survey for feedback.
Within just three days of boosting their Facebook posts (given that they also have a fairly large Facebook following already), Tootsie Roll had 43,292 entries, of which they secured 400 taste testers, exceeding their original goal of 100.
Similarly, JewelScent was looking to create some buzz around their unique products and decided to host a giveaway the week before Valentine's day. The giveaway was simple: enter your email for a chance to win a signature JewelScent Jewelry Candle. After entering in their email, the user was prompted to share on social media or send a like directly to friends to gain extra entries.
Eight days after announcing their Valentine's-Day-themed giveaway, they received 15,675 entries, 3,431 of which were from new people who JewelScent did not yet have on their email list. This meant that about 22% of the people who entered their giveaway were entirely new people brought in by JewelScent's current network.
Even after their giveaway ended, everyone who didn't win was sent an email with a 10% off coupon, an enticing offer for all 3,431 new subscribers.
For every giveaway, make sure to consider these key factors:
An authentic and exciting offer: Don't just use any ole' product, make it your newest, best, or even a collection of complementary products.
A well-designed, conversion optimized landing page: Put the right time, resources, and effort into creating a special landing page. If it looks like every other giveaway page, customers will treat it as such.
A key channel to promote: Test and find the best marketing channel to promote the giveaway, whether it's your existing email list, Facebook, Instagram Ads, Twitter, etc.
Remarkable timing: Take certain seasons, holidays, national events, or company events to have precise timing.
However, just because you acquired someone's email through a giveaway doesn't mean that you now get to blast them with promotions and emails. Make sure to match intent with communication. If you're using a system to allow users to opt in to more communications, personalize their initial communications based on the giveaway. And if you're not using a system that expressly opts in users, be careful how many emails you send and try to nurture them into either making a purchase with an exclusive offer or actually opting in to more emails.
Referrals
Jeff Raider and Andy Katz-Mayfield believed that the most powerful way to launch their new grooming brand, Harry's, was through a credible referral.
So they created an incredibly simple and straightforward landing page with the copy, "Harry's Is Coming, respecting the face and wallet since like… right now, be the first to know," and asked users to enter their email address. After entering, users had to refer with friends to reap the rewards of the giveaway.
There were 4 milestones in total:
Referred 5 friends = free shave cream
Referred 10 friends = free razor
Referred 25 friends = free premium razor
Referred 50 friends = free shaving for a year
According to Jeff Raider, Co-founder and CEO of Harry's, the referral mechanics were amazing. 77% of the emails were collected via referral, meaning about 20,000 people referred about 65,000 friends.
This means referrers, on average, every user referred more than 3 friends. But that was just the average. Over 200 participants referred more than 50 of their friends, achieving the highest tier reward.
They launched the referral program via their existing email list and poured gasoline on the fire with Facebook ads.
Using a tool like Viral Loops or Gleam, you can create referral and giveaway programs like:
Giveaway referral
Milestone referral
Post-purchase coupon referral
Leaderboard referral
Pre-launch referral
Make sure to personalize the follow up emails you send, be wary of sending too many upfront, and give users opportunities to opt in to more communications.
Here's a great example of how a giveaway and referral program can create viral growth: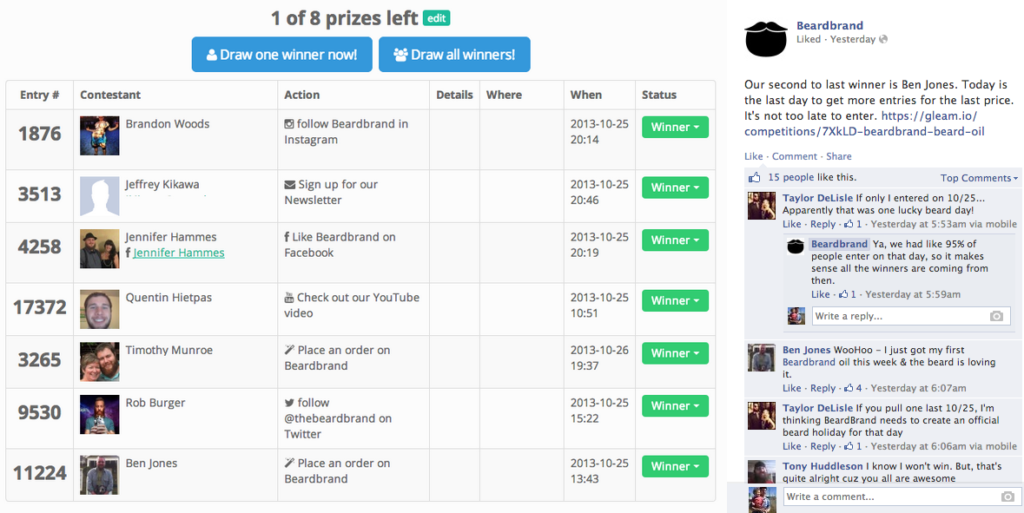 5. Social media
Instagram Stories & Snapchat
Showcase behind-the-scenes content, whether it's about a new product release, exclusive feature, or anything else. In the story, include a link to your newsletter.
Instagram Direct Messages (DMs)
"How could I possibly scale this?" You won't, but it'll still be rewarding. Authenticity works. A fun way to incentivize them to sign up is to offer a joke, compliment, or fun fact in exchange for them sending their email address to you through a Direct Message.
Instagram multiple-image posts
Use content from your newsletter or latest campaign to put together a string of images in an Instagram multiple-image post and have the last image be a CTA to join the newsletter by following a short link that users can easily remember or by going to your profile and following the link there.
Profile links
On your Facebook business page, you're able to include a "Sign Up" button that can direct your audience to your website, newsletter, or any other destination.
Twitter chat
Host a Twitter chat using a hashtag to spark a lively conversation on a topic related to your brand. After the chat, direct message participants to thank them for participating and make a special offer with a coupon, exclusive content, or even a giveaway.
YouTube CTAs
YouTube cards are the little buttons that pop up on the screen when you're watching a YouTube video. They allow creators to direct their viewers to outside web pages. If you're using YouTube for your brand, be sure to mention your newsletter in your video and include a YouTube card that links to it.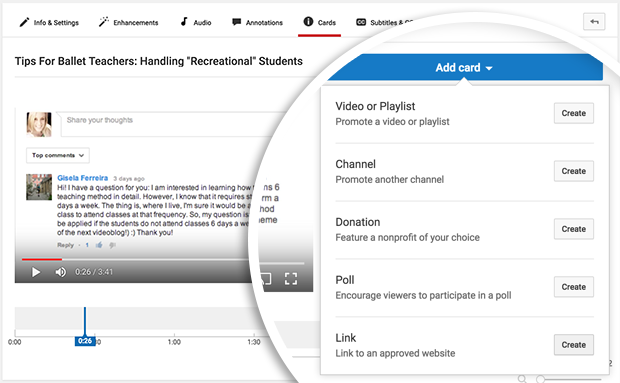 6. Advertising
Custom & Lookalike Audiences
One of the greatest digital inventions for marketers is the lookalike audience for Facebook ads. Simply export your list (or a targeted segment of your list like your highest LTV customers) and then upload to your Facebook Business Manager to create a lookalike audience. Facebook will then use your list to anonymously find other users who "look alike" based on various known data points and behavior.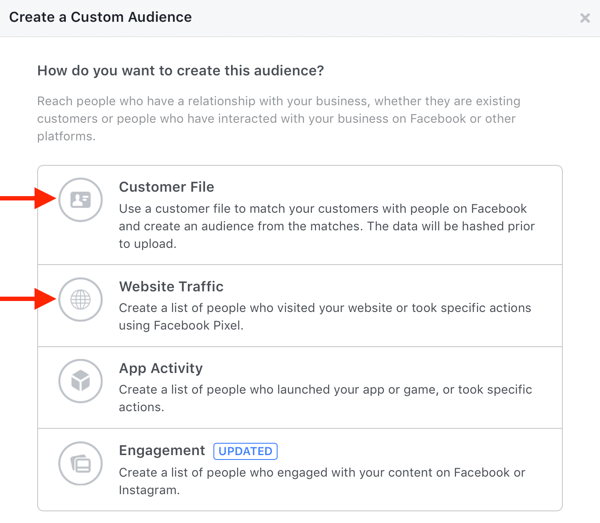 Lead-generating Facebook & Instagram ads
Facebook and Instagram lead generation ads are designed to deliver email addresses directly to your ESP or database. Unlike other ad types, lead ads include a contact form for people to fill out if they're interested in your product. Facebook pre-populates the lead form with user information they already have. Because the ad does most of the work of filling in the data, users are more likely to complete the form, delivering you a new lead. Lead ads are a great way to directly build your newsletter, promote your giveaway, quiz, or referral program.
Facebook retargeting ad
Take advantage of your installed Facebook pixel and build a retargeting audience to remarket your newsletter, giveaway, or quiz. Facebook even allows you to suppress the list with your current email list so you're not wasting valuable dollars and offers on people who are already on your email list.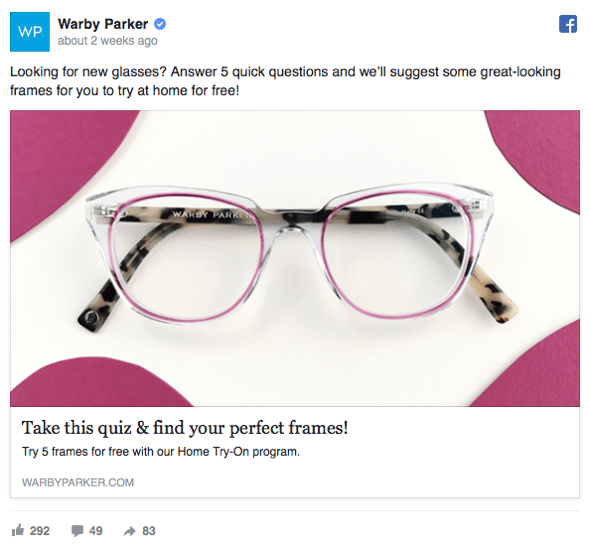 7. Product updates
Back in stock notification
Back in stock notifications are similar to abandoned cart emails in that they are highly relevant and personalized to a product that a user has expressed clear interest in. Instead of just marking your inventory for a product as out of stock, include an embedded form or targeted popup that asks if the user would like to be notified when that item comes back in stock. And when it does come back in stock, you now have a significant reason to reach out to that user and opportunity to make a sale that otherwise may not have ever happened.
New product notification
If you have a large line of products or frequently launch new variations of products, many of your customers may want to be the first to know about new products. Especially in the case of limited-time, collectable, or products that sell out fast, you can use this to your advantage to create an entire list of new and existing customers who want to be the first to be notified for new products.
8. In person
In-store
Feature an in-store sign-up sheet at checkout that invites customers to subscribe for VIP benefits. You can also get email addresses when helping a customer by telling them briefly about the cool stuff they'll receive by joining your email list.
Put signage around your store that encourages shoppers to use their phones to join your email list. You can also put your text-to-join information on your business card, on flyers, brochures, and direct mail pieces.
Customize your credit card receipt with a field/line where customers can jot down their email address while they're signing. Or, simply ask them to write their address on the back of the receipt. At the end of the day, enter the addresses into your database or send back to the team to be entered into the system.
Direct M=mail
Sometimes you have a physical address but no email address. Send a direct-mail offer they can only get by going to your website and joining your email list. Or if you want to have an option to join by phone as well, there are solutions that allow customers to text a number with a keyword that you specify to join your email list.
Shipping products is also a perfect opportunity to expand your email list at no cost! Include an inbox request on a card inside every package you ship. Be sure to tout your "email only" offers and direct recipients to your website's opt-in form. After they join, redirect them to a page where they'll receive their first promotional offer.
How to build your email list: Getting started…
Consistently acquiring new, quality subscribers to your email list is no easy task. By providing multiple entry points, incentives, and channels for people to enter your email list, you can maximize the potential of your email list growth. Combined with the right timing and offer, you can achieve exponential growth.
If you're curious how Cordial can help you acquire and retain customers across the whole lifecycle journey, feel free to schedule a demo with us and we'll show you how to make the most of your email program. With Cordial, you can utilize some of the key strategies listed in this post, including all the popups your heart desires and a direct integration to Facebook and Instagram. Use Cordial's rich behavioral data to quickly create audience segments and seamlessly upload to your Facebook Business account. Re-engage high-value users with targeted ads and create a persistent brand experience across email and social. By targeting the right users, you can maximize your ad spend and acquire qualified leads.[/vc_column_text][/vc_column][/vc_row]
Picked For You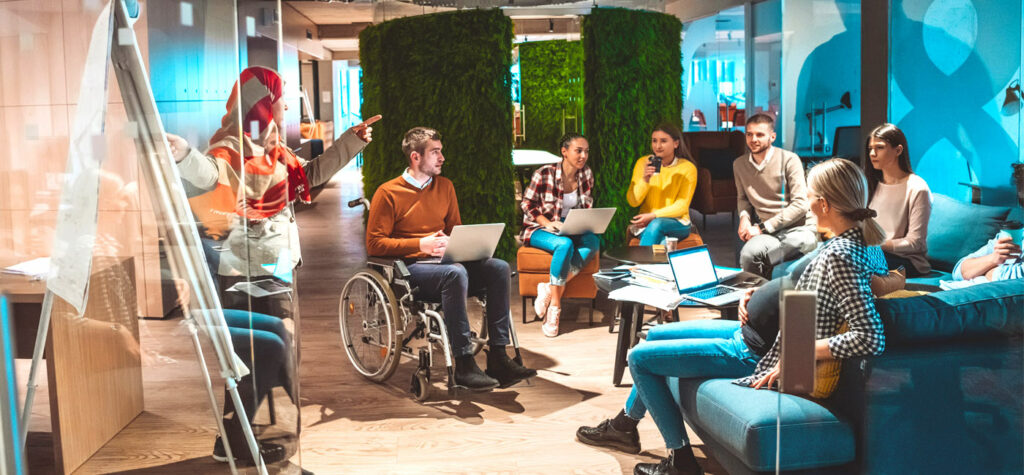 Article
As nearly half of US marketers cut spending, how is the rest of the world faring?
Advertisers around the globe are reassessing their media spending in a downturn, though some regions…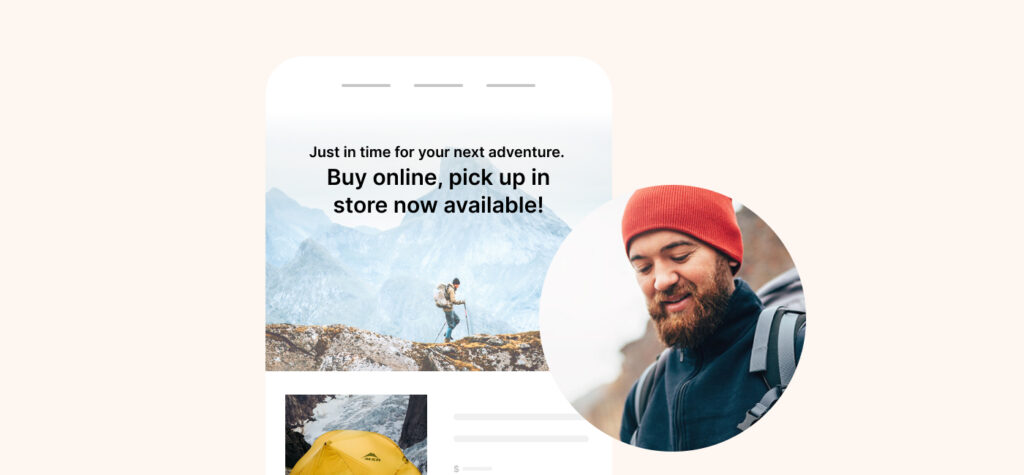 Article
4 in-store technology trends that defined 2022
With the wave of COVID-19 pandemic restrictions and store closures at its end, 2022 has…