Return to All Resources
What customers want brands to know about loyalty program communication
3 Minute Read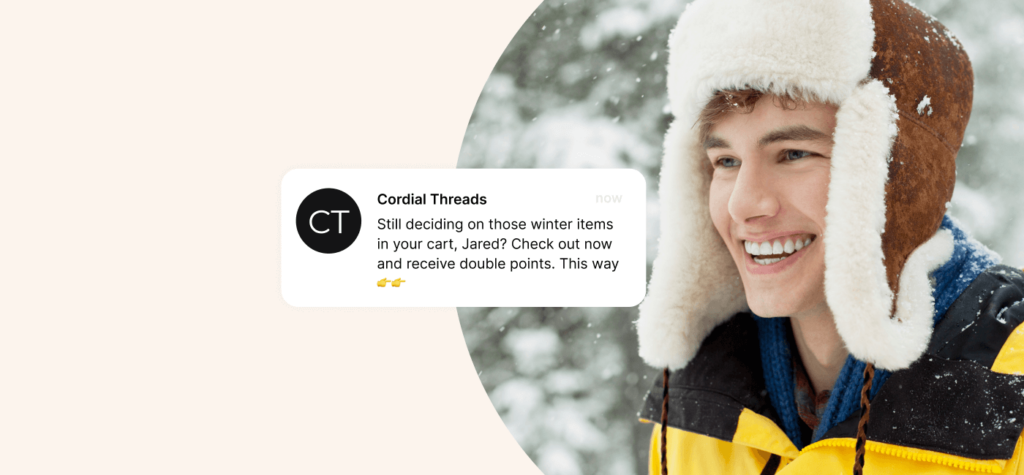 As part of our ongoing research into the customer mindset, we recently surveyed consumers on various aspects of customer loyalty programs, from the incentives that make them sign up to the frustrations that drive them away. In this post, we'll share some insights specifically around contact methods and how people use loyalty programs.
For more details, you can scan our comprehensive list of 100+ Customer Loyalty and Rewards Program Stats.
Communication preferences
When it comes to receiving communications about loyalty programs, email is still king – 66% of consumers said it's their preferred channel. However, mobile apps are gaining ground, preferred by 30% of consumers overall.
There were some generational differences:
Nearly half (48%) of Millennials prefer mobile apps, compared to only 10% of Baby Boomers.

Gen Z and younger Millennials are much more likely than older consumers to prefer text messaging.
This aligns with broader trends of younger consumers being digital-first in their preferences. Mobile apps allow brands to seamlessly integrate loyalty programs into the shopping experience. They can connect rewards directly to purchasing habits through the app. Push notifications can also remind customers to continuously engage with the program. It's important for brands to provide both email and app-based communication options to reach customers through their preferred channel.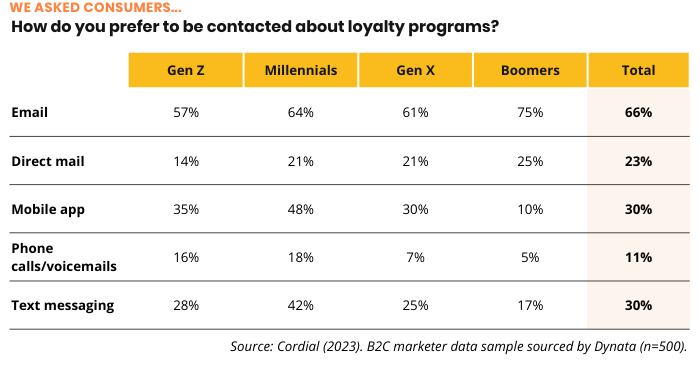 Frequency of contact
Brands need to strike the right balance with how often they contact loyalty program members. Too frequent, and customers get annoyed. But too infrequent, and they can forget about the program entirely.
Our research found weekly touchpoints hit the sweet spot for most consumers. However, preferences vary:
27% are fine with daily contacts
22% said monthly or less is preferable
Testing into the ideal frequency for your audience is recommended and weekly communication is a safe starting point. Measure engagement over time and adjust as needed to find the recurring touchpoint that works best.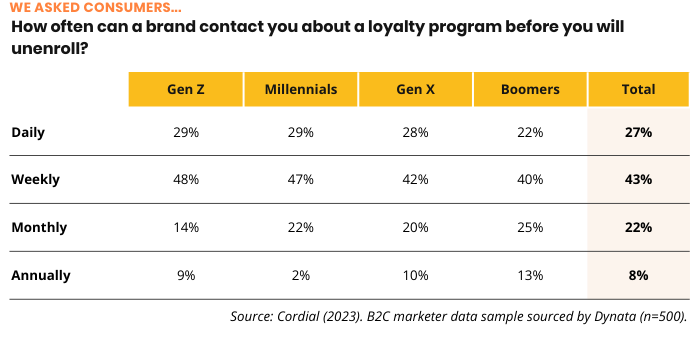 Purchasing for points
Many consumers engage in manufactured spending – buying items for others while being reimbursed – just to rack up loyalty points or rewards faster.
44% admitted to doing this overall
58% among Millennials and Gen Z
Only 25% among Baby Boomers
Brands need to be aware of these habits and how customers essentially "game" loyalty programs. The most avid point-chasers are often not a brand's most profitable customers.

Quitting programs
Nearly one quarter of consumers (23%) said they would quit a loyalty program if they felt it wasn't easy to use. And the top reason for actually quitting is not using the program frequently enough.
This shows the impact of minimizing friction through intuitive design. Ensure the program is simple to understand and use. Automate workflows and leverage data to deliver personalized, relevant offers at the right times.
Send reminders about key features or unused rewards before they expire. Surprise and delight occasionally with unexpected perks. Consistency, relevancy and value are critical to keeping members engaged over the long term.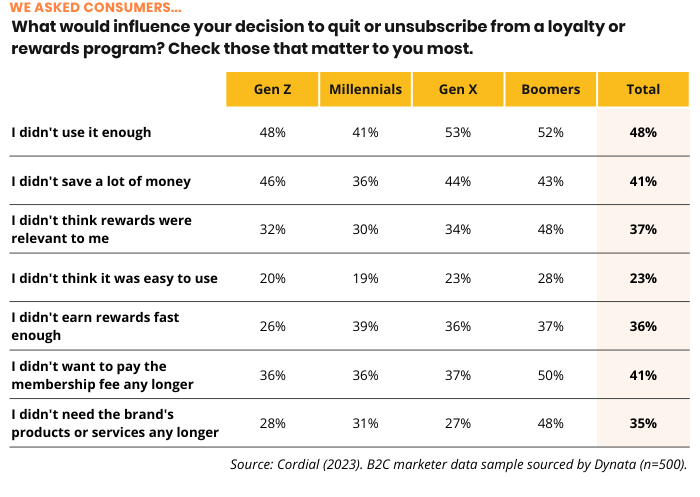 About the survey methodology
Sample sourced by Dynata on behalf of Cordial during March 2023. We surveyed 500 B2C marketers and 1,000 adult consumers, age 18 and older, who live in the United States. The sample was balanced by age, gender, region, ethnicity, Hispanic origin, income, and children in household according to the U.S. Census. Age ranges for the generational groups cited in the study are: Gen Z (18-24), Millennials (25-42), Gen X (43-57), Boomers (58-75). For complete survey methodology, including weighting variables and subgroup sample sizes, please contact marketing@cordial.com.