Return to All Resources
Back in stock emails: Creative ways to take advantage of strong purchase intent
8 Minute Read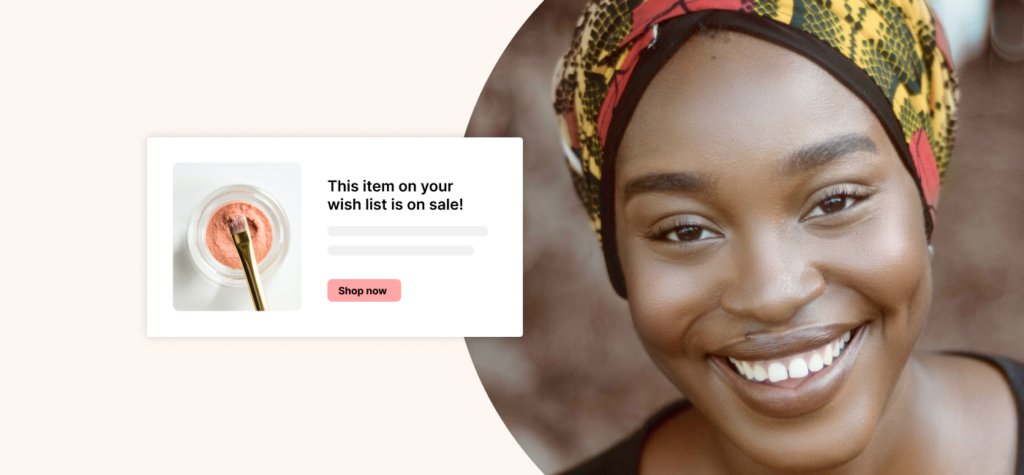 Wouldn't it be nice if shoppers just told you what they wanted, and then bought it? Back in stock emails are the untouched revenue lever you need to take a second look at.
E-commerce is a fiercely competitive environment for every brand online. If one of your products is out of stock, shoppers can find, and potentially purchase, a competitive product within seconds. All it takes is a google search, an Amazon search, or a recommendation from a friend — all of which are instantaneously available.
You may do limited runs of products, have flagship products that sell out certain times in the year, or just face the occasional inventory issues. But the fact remains that without a strategy to recover demand, you're leaving money on the table.
So how do you combat against lost revenue?
Back in stock emails — triggered and sent various different ways — are a simple, yet effective way to capitalize on purchase opportunities at scale. Back in stock alerts are key buying signals that have high purchase intent. Marketing Sherpa produced a case study on a brand that achieved a whopping 22.45% conversion rate on their back in stock email alerts.
Let's look at some of the creative ways to utilize back in stock emails.
How to use back in stock emails
1. One-time blast campaign
The most common way to employ back in stock emails is via the good ol' fashion batch and blast campaign. A single campaign can highlight a suite of products or a single product. Based on your sending preferences and product line, you can use one or both of those strategies.
Back in stock campaigns are most relevant when paired with a discount, seasonal change, or product announcement. But that doesn't mean they have to be, either. Back in stock campaigns are known to be a revenue lever and is a great way to engage your subscribers with products they might be interested in.
2. Product page email capture
The first and most popular way to automatically trigger back in stock emails is to give shoppers a way to enter in their email address directly on the product page of those products that are out of stock. Depending on your email capture practices and web design, there a few different ways you can capture email addresses.
Some brands prefer to capture the email address directly on the product page with an embedded form, usually close by to the out of stock notice. Others enlist the help of a popup, usually in the form of a lightbox, full-screen takeover, or a pop-out from the side or bottom of the screen.
These popups can be triggered by:
A button on the page: The shopper clicks on the button that says "Get notified when back in stock" which triggers the popup, prompting them to enter their email address.
Exit intent: The shopper reads that the product is out of stock and then moves the mouse to click the back button or enter in a new URL, which triggers a popup asking them if they'd like to receive an alert for when this product is back in stock.
Time-based: The shopper views the product page for at least 15 seconds, which triggers a popup asking them if they'd like to receive an alert for when this product is back in stock.
3. Cart abandonment
Have you ever added something to your cart and then come back to complete the purchase a few days later only to find out that the products you wanted were sold out?
Let me tell you, it's frustrating.
And from the brand's perspective, it can be frustrating as well to see that shoppers are trying to purchase products in their cart that you can't fulfill yet. And even if shoppers aren't trying to complete the purchase yet, you want to be able to save them that frustration and offer a way to get notified when the products they want are back in stock.
With a tight integration with an e-commerce platform like Shopify Plus, Magento, Demandware, or even a custom-built solution, and the ability to send data back and forth in real time, you can trigger back in stock email alerts to all shoppers who have products in their carts that are no longer in stock. The trick to making this work at scale with automation is to have real-time bilateral data flow between your messaging platform and your e-commerce platform.
Instead of losing out on those products completely and discouraging shoppers from using your site, you can send timely emails to notify shoppers when it happens and reduce lost revenue opportunities.
4. Browse abandonment
Similarly to cart abandonment, browse abandonment emails take advantage of leading purchase indicators. Because of the nature of browse abandonment, emails will be sent to shoppers who are subscribed to emails or who have already purchased a product with your brand before. This makes for an ideal segment of shoppers to remarket to.
Taking advantage of browse behavior data, you can trigger back in stock emails to shoppers using sophisticated logic to send the right email at the right time.
For example, if a shopper views the same product multiple times in a single session but doesn't give their email address on-page or through a popup, you can later trigger an email for that product with an enticing offer like free shipping or limited-time coupon code.
As another example, a shopper might view a product that's out of stock and then come back the next week to see if the product is back in stock. This behavioral browse data is an indicator that the shopper has strong purchase intent and is a prime candidate for a triggered email alert when the product comes back in stock.
As long as you can get that level of behavioral data into your messaging platform and ready to use, you can easily set up creative browse abandonment emails to take advantage of shoppers with strong purchase intent.
5. Wishlist remarketing
Whether your brand calls it a "favorite," "heart," or just your classic "wishlist," wishlist remarketing is one of the most creative ways to trigger a back in stock email.
Think of your wishlist as a "Cart Lite." Although the purchase intent isn't as strong as adding a product to a cart, adding a product to a wishlist is still a considerable signal to use for remarketing messages. Wishlists are used to save products to purchase later, to buy for someone else, or to compare and contrast against other products.
Products might stay in someone's cart indefinitely, so you have to get creative with the ways that you remarket those products and get them into the cart for purchase. Some products in a shopper's wishlist may inevitably go out of stock without the shopper even noticing. For subscribers and customers, a back in stock email regarding the previously out of stock products could be the message they needed to push that product to the cart and convert.
Examples of back in stock emails
1. Clear intent
One of our beloved clients, REVOLVE, has a fantastic example of a back in stock email. The purpose of the email is front and center, in large font, leaving no room for shoppers to question why they're receiving that email. A subtle, but key highlight is the "You may also like" section that offers product recommendations. Brands can utilize this section to make recommendations based on purchase behavior, browse behavior, wishlists, and many other crucial data points.

2. Specific product
Tommie Copper has a great example of a back in stock email that hones in on a specific product. They even go the extra mile to re-educate shoppers on many of the product's features and benefits. Consistently re-educating, reminding, and remarketing products is the key to stay top of mind for shoppers and convert them into repeat customers.
3.  Alert
Saks Fifth Avenue is a prime example of a back in stock email to shoppers who gave their email address to receive an alert when the product comes back in stock. Using language like "Your Wait List item(s) is in stock" ties it directly back to the shopper and makes it easily understood why the shopper is receiving this email.
From a marketer's perspective, it's always clear and obviously understood why an email is being sent. However, from a shopper's perspective, it's hard to keep track of all the websites you visit, products you view, and emails you receive in your inbox. Clearly communicating why someone is receiving an email is always a great way to ensure relevance.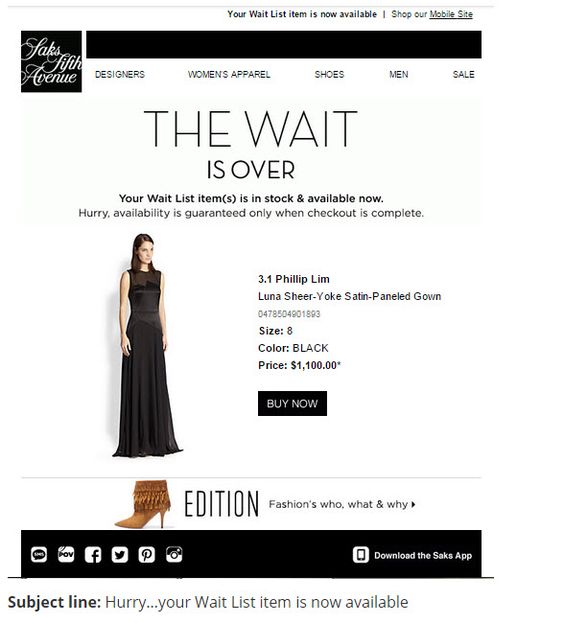 4. Coupon code
This example from Roxx by Hot Point focuses on using a coupon code to entice shoppers interested in back in stock products. Notice the use of repetitive coupon codes in red, which makes it both eye-catching and easy to read.
Back in stock emails are going to vary in size, shape, and form depending on your brand and messaging strategy. But it's safe to say that they can be an incredibly effective way to engage your subscribers. If you're looking for a messaging platform that can capitalize on virtually any data point and tightly integrate with e-commerce platforms like Shopify Plus, Magento, Demandware, or even a custom-built solution, check out Cordial.