Return to All Resources
Customer loyalty programs: Who's joining and why?
4 Minute Read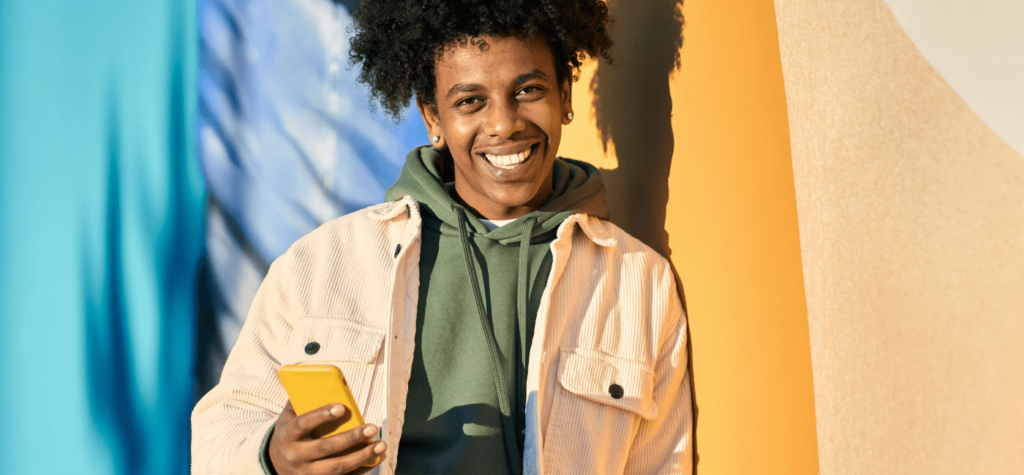 Customer loyalty programs are becoming increasingly popular among both consumers and brands. For marketers, understanding enrollment trends and what incentives motivate different customer segments can help you design an effective program.
Data from our consumer survey provides insight into current loyalty program participation across demographics. It also reveals the various incentives that consumers value most when considering whether to join a brand's program. Let's dive in…
Who's joining loyalty programs?
When it comes to loyalty program participation, Gen Z tends to lag behind other generations: 
Nearly 25% of Gen Z consumers are not enrolled in any programs at all—twice the rate of other age groups. 

Only 6% are enrolled in 5 or more programs. 
The takeaway: This data suggests that Gen Z may be more reluctant to join loyalty programs or see less value in them compared to older consumers. Brands targeting younger audiences may want to re-evaluate their program's value proposition and simplify the signup process. Offering incentives more tailored to Gen Z could help overcome reluctance.
In contrast, Baby Boomers have the highest enrollment rates overall:
39% are members of at least 5 loyalty programs, demonstrating their enthusiasm for participating.
The takeaway: Brands targeting Boomers may want to emphasize their loyalty program benefits in marketing to drive sign-ups. Highlighting ease of use and savings could appeal to this demographic.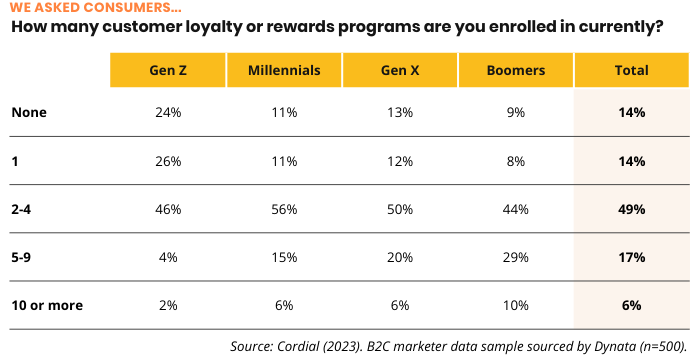 When it comes to how quickly consumers will join a loyalty program, one in five say they would consider signing up after shopping just once with a brand. However, Gen Z tends to need more convincing: 
One in five Gen Zers say they would need to shop with a brand at least 10 times before considering joining its program. 

This compares to just one in 10 of older generations reporting the same hesitation. 

Overall, 78% of consumers say they would consider joining a loyalty program after shopping with a brand five or fewer times.
The takeaway: Brands may want to pay attention to these thresholds and consider offering small immediate incentives to encourage signups earlier in the customer journey.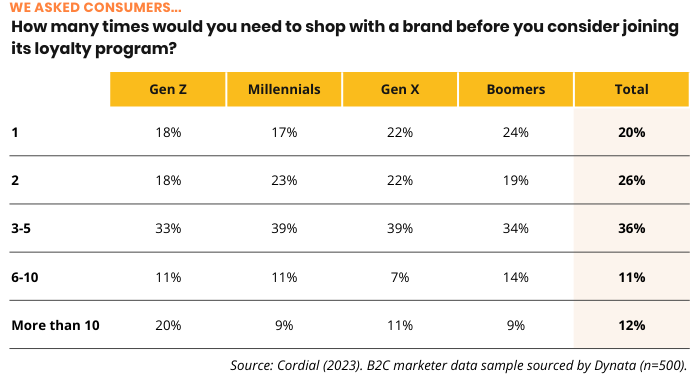 What motivates consumers to join?
When considering signing up for loyalty programs, the top incentives consumers desire are:
58% say saving money on everyday purchases

56% say getting free perks

49% say immediate discounts and exclusive offers
The takeway: Brands should focus on lead generation offers that provide instant gratification and ongoing savings.
For Gen Z, exclusive offers are the number one motivator encouraging them to join. Brands targeting Gen Z may want to highlight special deals only for program members. Offering exclusive early access to new products or flash sales could attract this demographic.
Millennials appreciate being able to participate in VIP experiences at a higher rate compared to other generations. Providing exclusive events and opportunities could attract more Millennial sign-ups. Consider offering members-only concerts, parties, or pop-up experiences.
Generation X is most motivated by free perks and immediate discounts. Brands seeking Gen X loyalty would do well to offer free welcome gifts and instant savings for joining. Free shipping, birthday gifts, and first-purchase discounts are good options.
And Boomers are primarily driven by the ability to save money on daily purchases when deciding to enroll. Lead with money-saving rewards like % back or annual credits to get more Boomers to commit to your program. Highlight ease of earning and redeeming rewards.
While non-cash rewards are appealing to many, only 23% say a frequent purchasing plan influences their decision to join a loyalty program. Leading with purchase requirements may not be an effective strategy for acquisition. Emphasize the rewards first, requirements second.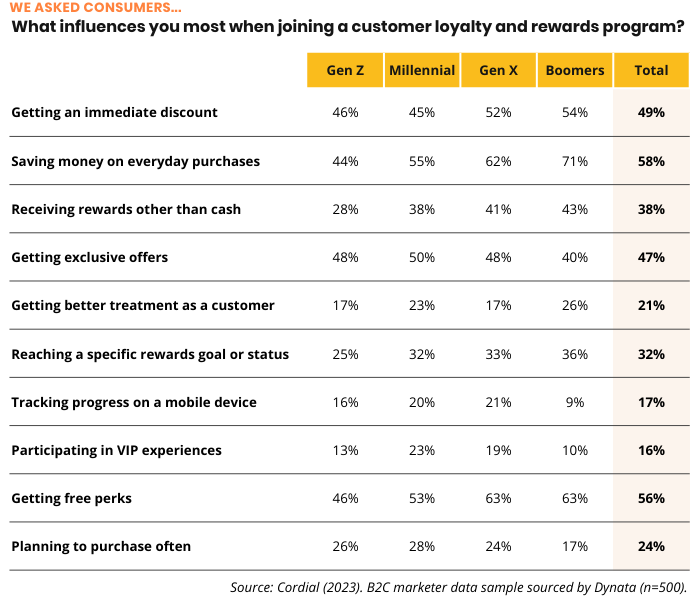 Additionally, about three quarters of consumers say they would be motivated to join a brand's loyalty program if they felt it meant they would be treated better as a customer. Providing VIP service and support to loyalty members can be a compelling advantage. Make sure to highlight specialized treatment and appreciation perks in your program's messaging.

This data from our consumer survey provides marketers with valuable demographic insights to inform their loyalty program strategy. By tailoring program enrollment requirements and benefits to match what matters most to their target audiences, brands can drive engagement and retention among current and potential loyal customers. Consider generational preferences, income levels, marital status, parenthood, and more when structuring your program for maximum appeal and ROI. 
Want to learn more about customer loyalty programs? Here's what customers want brands to know about loyalty program communication.