Return to All Resources
5 ways to connect social media content with email marketing campaigns
7 Minute Read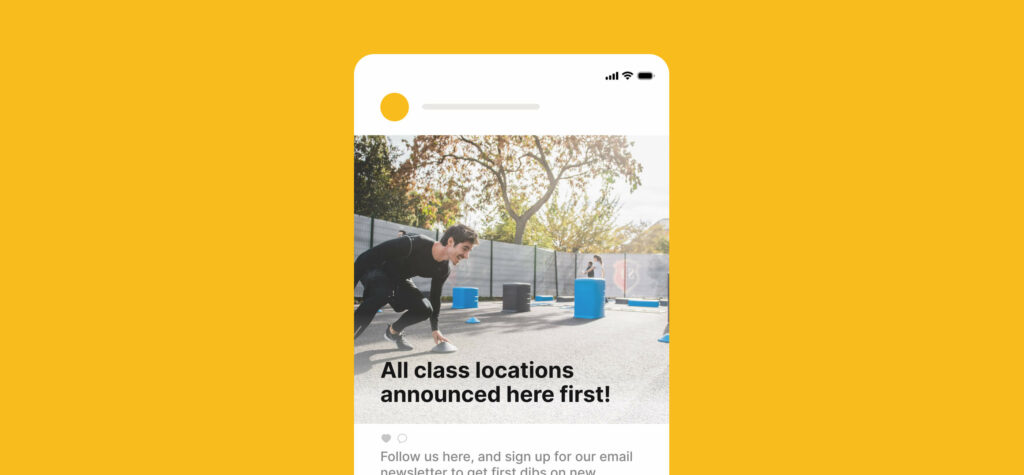 With the recent news about Google's decision to remove cookies for advertisers, it's imperative (now more than ever) to diversify your marketing efforts and ensure all marketing channels are fundamentally connected with your brand goals and initiatives. There is no way around the reality that Google plans to eliminate Cookies by 2024, and marketers and advertisers must find more creative ways to target and reach their audience.
As you're prioritizing your SEO strategy, it is vital that you reconsider your advertising strategies. Here are five ways to leverage social media beyond engagement and on-platform objectives to integrate your various marketing touch points for your campaigns.
1. Stay updated with your Meta pixel and Meta's API conversion requirements.
Before diving into this, let's address the elephant in the room. You may ask, "What is the difference between a Meta Pixel and Meta API conversion?" I'm glad you asked! Facebook Conversions API (also called CAPI) was formally known as Facebook Server-Side API. CAPI is designed to help businesses maintain data privacy while simultaneously delivering personalized advertising experiences to customers and audiences without browser cookies.
A Facebook Pixel is one component of the CAPI. It's a piece of coding for your website that allows you to measure, optimize, and build audiences for your ad campaigns. Facebook Pixels alone may rely on browsing cookies, but by pairing it with CAPI, you will have a full-funnel conversion experience with no browser cookies necessary.
Meta technologies are constantly changing and evolving. It's crucial to stay current with these changes and keep your features up to date. An outdated feature can cause errors within your campaign or even cause your campaign to be rejected due to CAPI errors.
To ensure everything is updated, go to your Meta Business Suite settings, check the websites associated with your account are verified, review the status of your Pixels (located within Events Manager), and check Business Suite notifications for anything that needs immediate attention. Meta is excellent at providing updates when things occur with targeting parameters, and they often appear at the very top of your menu. Please read them before you close them to remove them from your dashboard. They will most likely answer the questions you have that involve those massive updates that happen often.
2. Integrate your email marketing campaigns with social media.
Sometimes your social media audience differs from those that engage with you through email marketing campaigns, but powerful conversion magic happens when the two intertwine. The average American uses social media for approximately 2.5 hours a day and checks their emails an average of 20 times a day! Integrating these two significant consumer behaviors will have a very positive impact on conversion rates.
Consider marketing synchronicities with social media and email marketing, including cross-promotion. Are you inviting your social media fans to join your email list? Are your social media channels connected to your email templates with a clear call to action? If not, do these things immediately while being mindful of platform nuances.
For example, Instagram allows four bio links, but links within posts or comments are not clickable. Add an opt-in landing page to your bio links and build evergreen posts throughout the year to remind fans to join the email list for exclusive deals.
3. Utilize social media advertising to build your email list.
Of all the social media advertising objectives, this conversion objective is by far my personal favorite. Although all are great objectives for various desired outcomes, the lead generation objective allows advertisers to run campaigns that integrate with your chosen CRM. You can gain more email subscribers through this objective with an easy opt-in process.
As an advertiser, you can choose to have them opt-in on the platform or direct them to a landing page. The on-platform experience allows users to click the opt-in button, and it auto-populates all information required for completion. It's so simplistic that it removes all barriers of doubt for the audience.
This ad objective allows you to use your advertising dollars to gain email subscribers for your lists. When the ad is complete, you have something tangible that belongs to your brand: consumers that happily opted into your email list. Consider this a total win-win on the investment return for your advertising spend.
4. Personalize the incentives for your audience.
Personalization is an essential piece to the successful integration of any of your marketing efforts. Still, it can significantly impact your goals when you create unique offerings for engaged fans through social media.
Now that we know that we can build your email lists through social media advertising. Let's take that a step further and incentivize your engaged audience. You can create retargeting campaigns within advertising parameters that remind customers to purchase items in abandoned carts or increase the frequency of ads they linger on to increase the chances of purchasing through repetition.
If you're looking for ways to incentivize your organic social media audience, start with exclusive deals for your advocates. Platforms like Facebook and Instagram now offer a marketplace for users to purchase directly from the platform. With Facebook Shop and Instagram Shop (remember that these are two different features), retailers can have product sales directed to their website or have direct sales through the shop, which improves conversion rates. Additionally, within Shops for both Facebook and Instagram, you can create special offers and promo codes exclusively for the fans on that platform. By personalizing offers based on the platform, customers will have a bonus reason to follow you on various platforms and engage with your content to seek out new deals and offers.
For example, the women's clothing brand, The Deep Pout South, rewards its email subscribers with special exclusive offers that can only be used on their Instagram account and Instagram shop during what they call "Social Saturdays." During these promotional events, email subscribers are notified of highly discounted products through Instagram, and the deals are only available during a specific time period. This is a phenomenal way to engage your audience via email, rewards the action of following on social media, and can likely impact your open rate due to high customer anticipation.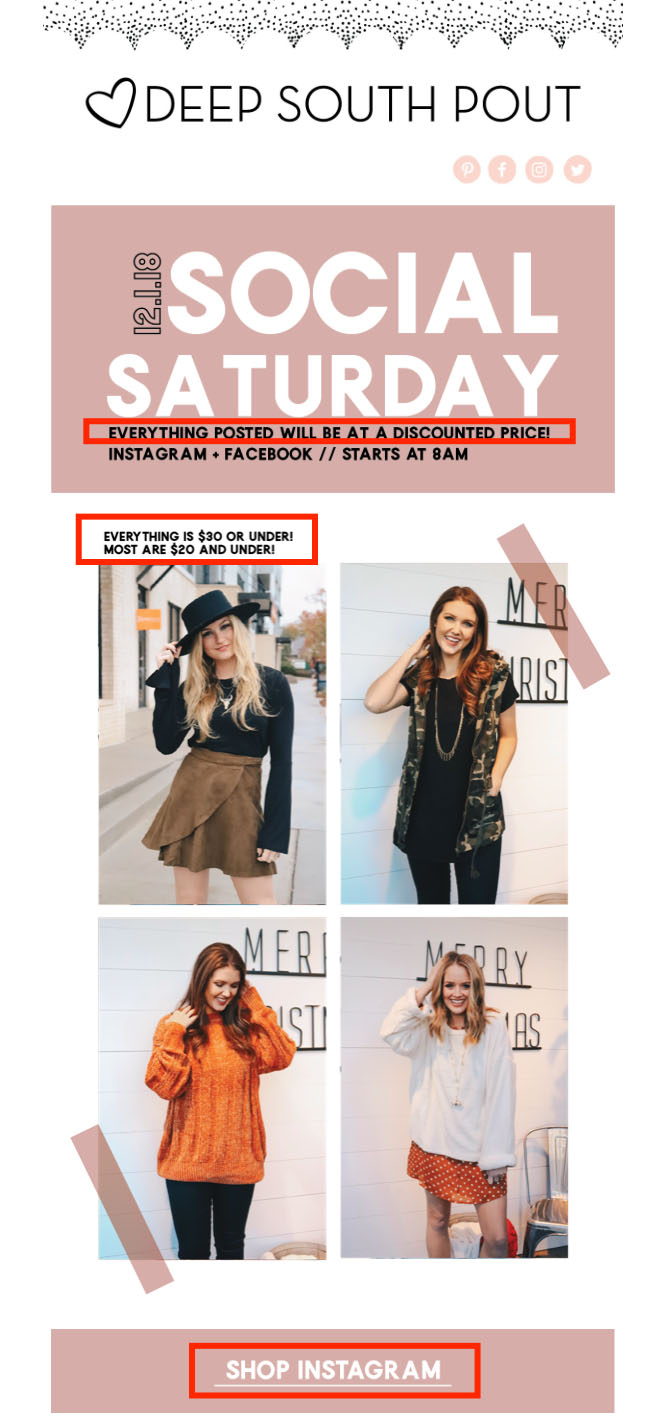 5. Don't forget to read your data.
The best synergy for marketing success requires your data and the story behind it. Data alone could tell you that you had a massive amount of engagement on one post, and the story behind the data will tell you why people were so inspired to react or comment. As you're integrating marketing channels, remember to connect your data points for a full view of what your data is telling you. For example, if you have something similar to a "Social Saturday" experience within your loyalty program, remember to review how many people clicked to your social media platform(s) during your promotional period and then review their behavioral journey afterward. All of that data matters, along with the why behind it.
A marketer's goal is to create as much synergy as possible to cultivate a consistent presence and message to one's audience. Leveraging social media into the mix is a positive and powerful integration for maximizing community engagement and conversion.
As you learn more about your customers through data, personalization, and segmentation, remember to maintain a heart of curiosity toward all your learnings. It will be the guiding light of fulfillment in your marketing journey.
Picked For You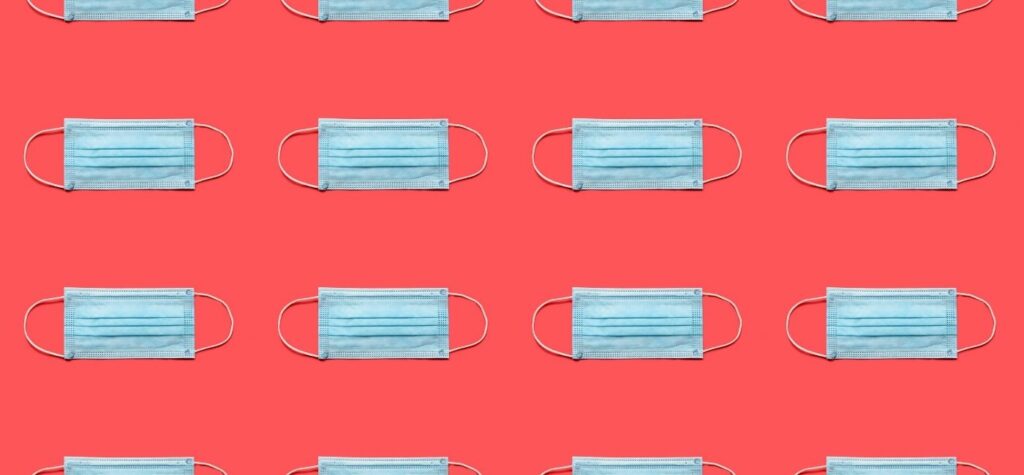 Article
How to manage your COVID-19 messaging in Cordial
In these tough, uncertain, and often chaotic times, messaging streams and communication channels can change…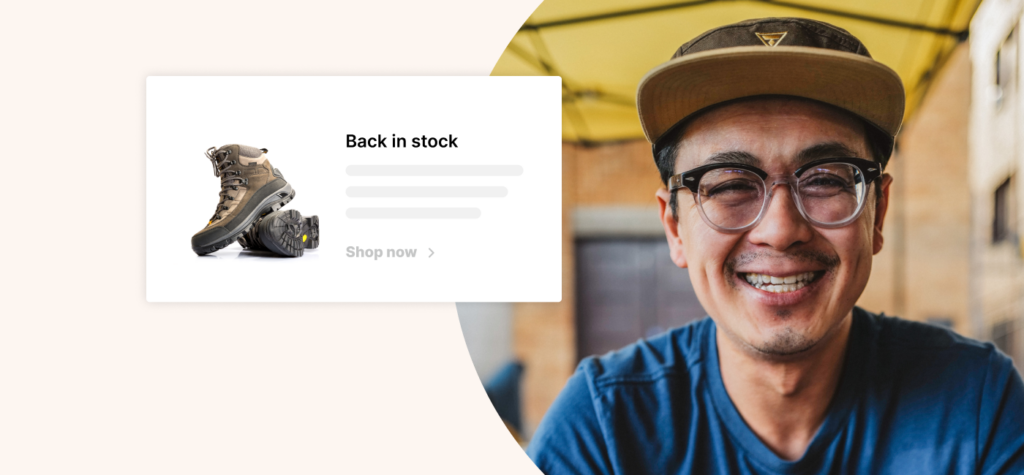 Article
Intro to growth marketing in the age of personalization
As the digital transformation of brands continues, so do marketers' approaches to the entire customer…