Return to All Resources
I just reported your email as SPAM and deleted your email blast (and I don't feel bad)
22 Minute Read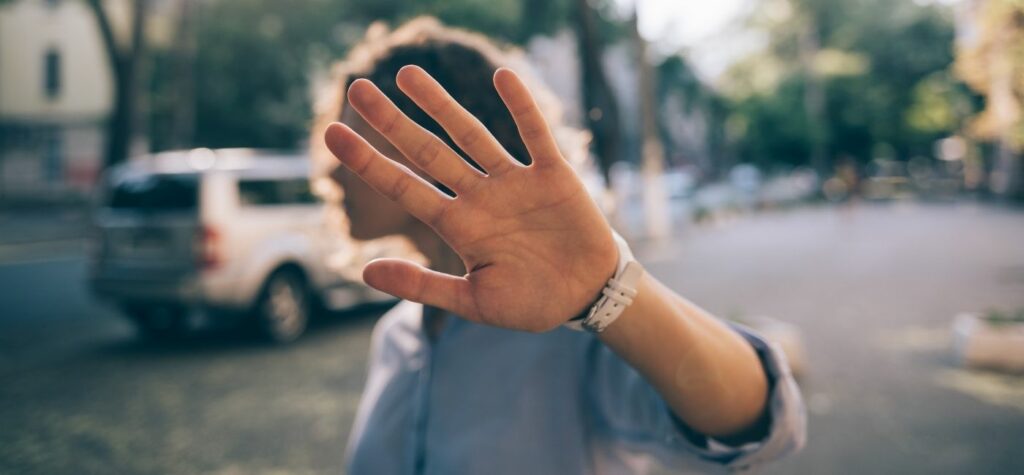 How do people react when you tell them what you do for a living? One time, a relative of mine said in response to me telling him that I work for an email marketing technology company, "Oh so YOU'RE the reason I get spam!" I was dumbfounded. Still, there's some truth behind these kind of statements: an unignorable amount of people associate email marketing with spam.
Like many marketing channels today, email is extremely saturated. According to a study conducted by the Radicati Group, in 2017, the total number of business and consumer emails sent and received per day reached 269 billion and is expected to continue to grow at an average annual rate of 4.4% over the next four years, reaching 319.6 billion by the end of 2021.
Marketers are sending more emails each year, yet a DMA Insight says 53% of consumers say they get too many irrelevant emails from brands. In the same study by the Radicati Group, they reported that 17.3% of emails sent are classified as spam. 17.3% is not a small number—that's about 46.5 billion per day!
The fact is that now more than ever, the balance of power is in favor of the consumer, and marketers have to act accordingly. There is a movement happening right in front of us to give the consumer more power than ever before with laws and policies to protect privacy and consent to receive marketing communication.
GDPR and Google's smart unsubscribe feature are just two of most recent examples of power being placed back the hands of consumers.
I won't reveal the identity of the brand, but I recently went to a well-known chain store for the first time to get my car serviced. I definitely did not opt in for any email list or give consent to be contacted via email. Yet, four emails in my inbox:

So, I did what any reasonable person would do: I reported their email as SPAM and deleted their email blasts (and I don't feel bad). Admittedly, it hurt me a little bit as a marketer in the email technology space. But there's no excuse for bad practice.
Now, why do I bring this up? While you may not be practicing the same poor email tactics of the aforementioned spammy brand, there are some valuable lessons we can learn to convert into best practices for email marketing in 2021 and beyond.
Jim Collins' book Good to Great examines the performance of 1,435 "good" companies over 40 years and writes about the 11 companies who became "great" and the difference between them. Similarly, there are distinguishing factors that set companies apart from doing "good" email marketing to doing "great" email marketing for your email blasts and automations.
Committed to not being just good, and looking to build a great email marketing program? These email marketing best practices will help.
Best practices to prevent marketing emails going to SPAM folders:
1. Prioritize relevance
The core reason why someone hits the SPAM button, unsubscribes, or deletes your email without reading is not that they hate you, your brand, or your products. It's because it's not relevant to them.
Knowing your customers, and communicating with email (or via any communication medium, for that matter) that are relevant to their interests, timing, or reason for being on your email list is one of the most important factors in sending great emails.
Having an amazing subject line, incredible offer, or mind-blowingly-good design are all in vain when it's not relevant to your customer. First and foremost, consistently sending relevant emails is a step forward to great email marketing.
1.1 Closely align with your customers' interests
Segmentation and personalization continue to be the most effective email marketing strategies according to the DMA. It's no secret that they work when well-executed at scale.
Segmentation. Segmentation aids in consistently delivering relevant emails to customers by taking attributes like age, gender, location, and purchase history into account when sending out a campaign blast.
I love the way Jordie van Rijn describes it as "the art of thinking in groups." By only sending an email that you know is 100% relevant to that segment, you are eliminating all ambiguity from your customers' minds about why they're receiving that email as well as drastically decreasing the chance that your email will be marked as SPAM, deleted, or unsubscribed from.
Segmentation has two goals:
Identify who an email is MOST relevant to
Identify who an email is NOT relevant to
Excluding segments that an email is not relevant to will help your emails perform better and protect your customers from receiving an unwanted email that might make a negative brand impression.
Several great ways to start segmenting your list could include:
VIPs (e.g. big spenders, active purchasers, top-tier loyalty program customers)
Active subscribers (e.g. recently opened an email, clicked the last three emails, recently purchased)
Long-time subscribers (e.g. on list and still active for longer than one year)
At risk (e.g. haven't opened last four emails)
Newbies (e.g. subscribed in last month)
First-purchasers (e.g. made first purchase within last month)
One-and-done (e.g. have only made one purchase in known history)
Men (e.g. gender is known as a man of any age)
Women (e.g. gender is known as a woman of any age)
Close to store (e.g. known proximity to a retail store is within 20 miles)
Age-based (e.g. under the age of 25, 26-40, 50+)
Active readers (e.g. open 50%+ of blog updates or newsletters)
Segments can be created using demographics, geographics, psychographics, behavioral data, and more. But remember, segmentation should be used to identify who an email is MOST relevant to as well as who an email is NOT relevant to—so only create segments that will help you accomplish one of those two goals. The last thing you want is a hundred segments with no idea what to do with them!
Personalization. Whereas segmentation is the act of identifying groups (or segments) of your customers to email, personalization is the act of using customer data in a relevant way to dictate the content of an email. In other words, segmentation identifies who to send to, and personalization dictates what is sent to those customers. Segmentation and personalization are often confused with one another, but there is a very clear distinction between the two. Many marketers will describe what they're doing as personalization, when in reality it's just micro-segmentation. The tell-tale method to figure out if someone is doing personalization or micro-segmentation is to ask the question, "how many content variations are being created for an email?" If a different email variation is being sent out for each segment, it's micro-segmentation. However, if only one email is being sent out for each segment but the content for each email varies for each recipient, it's personalization. Personalization individualizes the content of an email, whereas micro-segmentation relies on creating a different content variation for each segment.
Personalization aids in delivering relevant emails to customers by using data unique to each customer to customize the content in an email. Personalization can use many of the same data points that are used for segmentation, but the difference is that personalization uses that data in the content of the email.
Several great ways that leading brands are personalizing emails include:
From Name (e.g., if the customer is a female, from name is a female name)
Subject Line (e.g., including a contact's first name or location)
Preview Text (e.g., including a contact's first name, location, purchased item)
In-email Copy (e.g., including birthday, age, location, purchased item, name, last date purchased an item)
In-email Imagery (e.g., hero image that appeals to an age demographic, product image similar to recently purchased item)
In-email Product Promotions (e.g., recommended products, similar products, complementary products)
In-email Content Recommendations and Snippets (e.g., "content you may like," similar content)
Loyalty Status (e.g., VIP sales, new loyalty member)
You can use personalization by leveraging demographics, geographics, psychographics, behavioral data, and even contextual data like POS data, sale data, product information, inventory, and in-store data. The key to effective personalization is being able to deploy it at scale without sacrificing production time, design, performance or creativity.
1.2 Having impeccable timing
A great example of timeliness in email marketing is the use of email automation and triggers. The most effective triggered email types for e-commerce brands are cart-abandonment emails and welcome emails. Leveraging real-time behavioral data, marketers can create triggered email automations and workflows that are automatically deployed in a timely manner.
Customers are more educated, tech-savvy, and fast-moving than ever. It's incredibly important to be able to respond and interact in real-time, just like they are.
Abandoned cart emails. Triggered email automations are proven to be one of the best-performing email types because they're so closely tied to the intent of the customer. By delivering a relevant email in a timely manner, brands are able to recover lost revenue while still delivering a great experience to the customer. BigCommerce, a leading e-commerce platform, found that the average revenue per abandoned cart email is $5.64, compared to only $0.02 for promotional emails, and $0.18 per welcome email you send.
Abandoned cart email are automated money-makers, and a simple email like this can help you stand out from the rest:

The right automated series of emails (or even a single email) will depend entirely on your business, but a great three-email series could include:
Cart Abandonment Email 1: Reminder
Cart Abandonment Email 2: Discount with deadline
Cart Abandonment Email 3: Deadline reminder
In the first email, you want to remind your customer that their item is still in the cart and needs to be completed. The most common reasons the checkout wasn't completed could be extra costs, not wanting to create an account, a long or complex process, not having payment method(s) handy, or that they simply forgot about it or got distracted in the checkout process.
Offering a discount prematurely could result in unnecessarily forfeiting revenue or training your customers to wait for a discount, and a simple reminder might be the nudge your customer needs to complete checkout. Price may not be the main reason why they abandoned the cart, so you don't want to offer a discount right out of the gate. Including a picture of the item(s) they left in their cart and addressing possible objections may help convince your customers to complete the purchase.
If they haven't completed the checkout after the first email reminder, a second email with an expiring discount may help push the transaction through. This email is intended to create urgency, giving your customers a compelling a reason to act regardless of the initial reason for abandoning and gives you a relevant excuse to follow up one more time.
A third (and final) email reminder for the expiring discount is the last-ditch effort to push your customers to purchase. While a third email may seem desperate or pushy at first glance, it's a courtesy to send a reminder for an upcoming deadline and is also a critical second chance to convert those who may not have opened the second reminder email.
Your customers are acting in real-time—so should you.
1.3 Reminding customers why they're on your list
Speaking of moving fast, it's easy to assume that customers are making the connection between an action they take on your website and an email they receive in your inbox. While it might baffle you why someone is unsubscribing from or deleting the first email they receive from your brand, it's important to remember that your customers are interacting with several brands on several devices simultaneously and it's easy to lose track of it all.
Attention spans are short, and the internet is noisy. It's critical to make a fantastic first impression and remind your customers why they're receiving emails from you right from the beginning.
Welcome emails have on average 4 times the open rate and 5 times the click-through rate of a standard email marketing campaign. So you better make the most of your welcome emails!

I particularly like this welcome email from Rapha for a couple reasons:
There is no ambiguity as to why the recipient is receiving this email by explicitly saying, "Thank you for signing up to receive Rapha emails."
There will be no surprises why the recipient is receiving certain kinds of emails because they adequately set expectations by saying, "We'll keep you informed about the most important things happening in the world of cycling, new product launches, and upcoming events and rides."
It's clear what sets Rapha apart from the rest with a dedicated section describing their policies on returns, repairs, test rides, and an offer for a jersey.
The call to action is clear with two large buttons above and below the fold to "Shop New Arrivals."
This is just one example of a welcome email, and there are many different formats and styles that you can use for your business. The important part is that the welcome email is contextual to how and why someone joined your email list. Depending on your email acquisition strategy, someone could join your email list through a product purchase, viral campaign, website pop-up, discount incentive, blog, social media ads, or interactive quiz.
Tailoring your welcome email using personalization and segmentation in your email automation tool can help you create a memorable brand experience that's both relevant and timely.
2. Convey personality
"Personality? I thought you said email marketing was the money-maker." I get it, email marketing isn't as sexy as Instagram Influencers or Retargeting Facebook Ads, but every email needs personality. Without personality, your emails will undoubtedly become like the other yawn-worthy, tasteless emails in your customers' inboxes.
The Hustle, a daily newsletter for millennials in business, or as they describe themselves, "Your smart, good looking friend that sends you an email each morning with all the tech and business news you need to know for the day," manages to infuse their personality in every single email that goes out.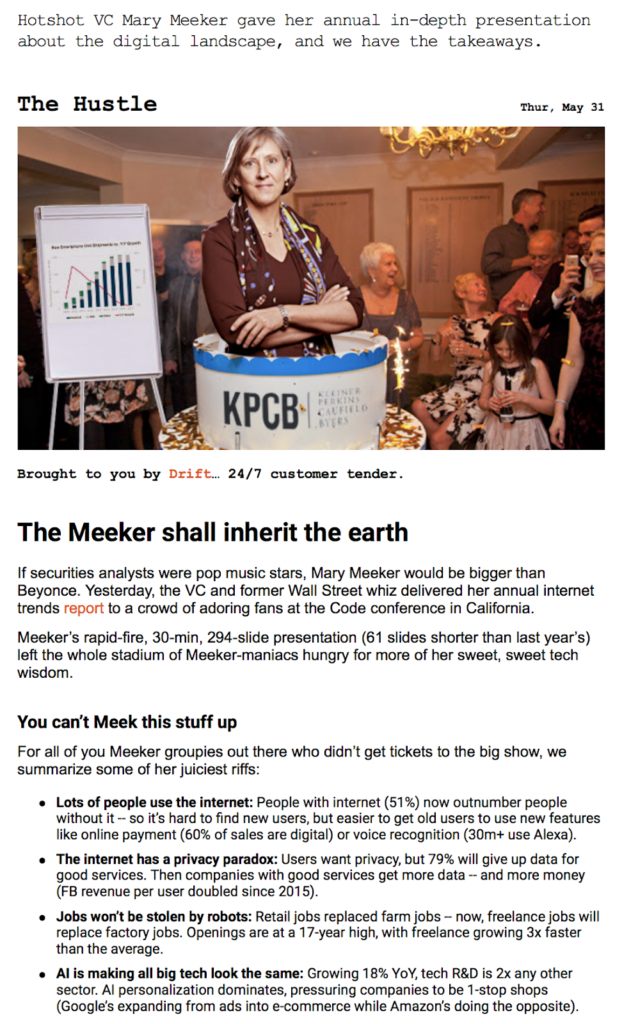 And another example: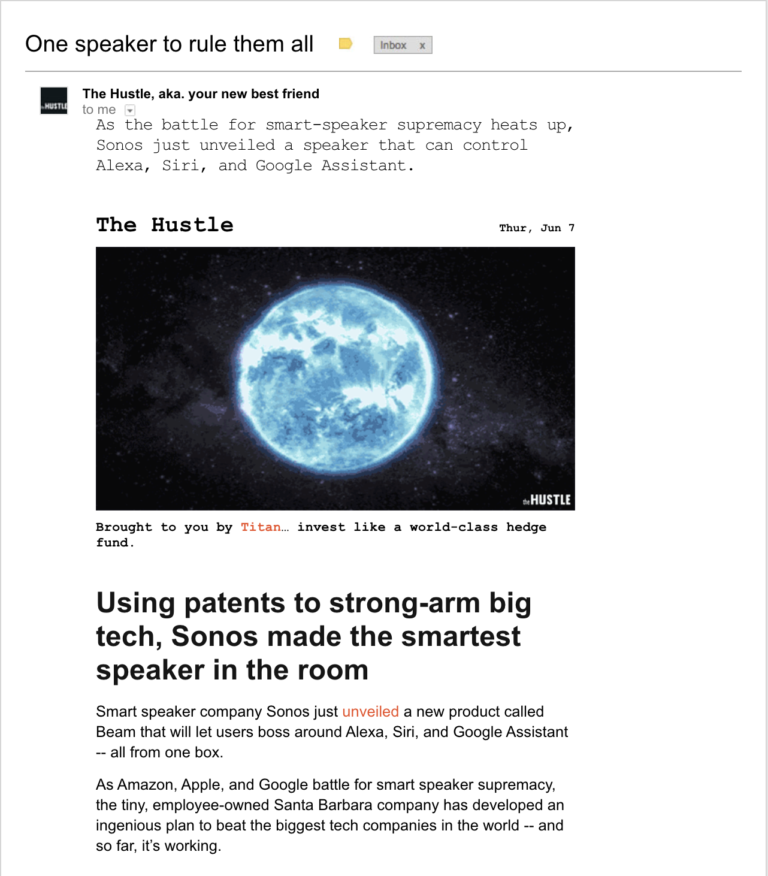 Their clever personality is what allows them to hang with media-giants like the Wall Street Journal, Reuters, and Business Insider. It's also what allowed them to build a 100,000 subscriber list in just five months. And it's what can help you stand apart from the competition to make your emails go from good to great—whether you're an ecommerce brand, media company or publisher, travel or hospitality brand, or marketer in any other industry.
2.1 From Name & Address
Details matter to communicate a great personality. As you may have noticed in the above examples, The Hustle customized their From Name to be "The Hustle, aka. your new best friend." This matches their personality as the "smart, good looking friend that sends you an email." The Hustle has wisely chosen to embody and reflect their target persona. But this same strategy can easily be implemented for your business as well. If you're feeling daring, a fun idea to personify your From Name could be to change it to "Your Friends At <Your Brand>."
One of the best ways to immediately kill any chance of conveying personality is to have your emails go out from a "no-reply@" or "marketing@" alias. Your From Address, in a similar vein as the From Name, is another opportunity to infuse personality in even the minute details. Even simple From Addresses like "friends@," "news@," or "crew@" can contribute to the detail of personality in emails.
2.2 Email Copy
Writing email copy that both converts and conveys personality is no easy task. Email copy is both an art and a science. The art is in crafting the right combination of words to convert someone into a customer and the science is in knowing your audience and product line to find the words in the first place.
Know your audience. Use what you know from web and social analytics and interactions with customers to build your buyer personas or customer avatars. When you know your customers, it's easy to write email marketing copy that makes them want to engage. A quick and easy hack is to go to social media and see how your customers are talking about you. Study the words they use, punctuation, voice, and style of writing. If you're really feeling curious, find other brands they follow or interact with and study those interactions as well.
Cut to the chase. People now generally lose attention after eight seconds, highlighting the effects of an increasingly digitized lifestyle on the brain. I'd go as far to say that that attention span is even shorter when skimming through your inbox. Emails require concise, punchy copy. Make sure your emails follow a clear logical structure, keep sentences short, and avoid long or uncommonly used words.
Use psychological triggers. If you haven't already read Influence: The Psychology of Persuasion by Robert Cialdini, I recommend you go ahead and invest the best $10 you'll spend on your marketing education. The main six psychological triggers, or "laws of influence," that are taught are reciprocity, commitment and consistency, social proof, liking, authority, and scarcity. While they sound complex, these are fundamental factors we use to make even the simplest decisions every day.
Here's a quick summary of the six laws of influence and some ideas for how to use them:
Reciprocity: when you do something nice for people, they will have a deep-rooted psychological urge to do something nice in return (e.g. discount, social media shout-out, great customer service will result in advocacy, referrals, continued engagement)
Commitment & Consistency: the desire to be consistent with previous actions, opinions and assertions (e.g. participating in a poll, giveaway, referral, or loyalty program)
Social Proof: where people assume the actions of others in an attempt to reflect correct behavior in a given situation (e.g. customer testimonials, showing the number of customers or subscribers, ratings and reviews)
Liking: when people like you, or believe that they are "just like you," they are more inclined to want to please you (e.g. supporting a non-profit or cause, producing helpful content, giving advice)
Authority: when people trust or see you as an expert in something (e.g. using influencers, demonstrating superior knowledge, materials, or process, awards)
Scarcity: when there is a limited supply or time period to act, people are more likely to act (e.g. pre-orders, low stock, discount expirations, sales)
2.3 GIFs
The GIF, otherwise known as Graphics Interchange Format, is an image format developed in 1987 and has been an internet staple across many different mediums. While some debate the pronunciation, there's no doubting that GIFs are effective to use for humor, showing multiple images, and bringing motion to an otherwise static medium.
While animated GIFs don't work everywhere, support across most email clients is exceptional. Animated GIFs work in all webmail clients and most desktop and mobile clients. The main exceptions are Microsoft Outlook 2007, 2010, and 2013, which all refuse to animate the GIF and instead displays only the first frame of the animation.
2.4 Calls To Action (CTAs)
Conversion rate, aka the number you look at carefully through the gap of your fingers as you cover your face.
The key to improving it? Calls to action (CTAs). CTAs are the buttons throughout an email that tell your customers what to do, where to click and what to buy. Having a single, clear call-to-action for each email allows you to steer the customer toward the goal you want them to complete—a conversion. While you may have multiple CTAs for a single email, make sure they're all aligned with the purpose of sending that email. Ask yourself, "what do I want to achieve by sending this email?"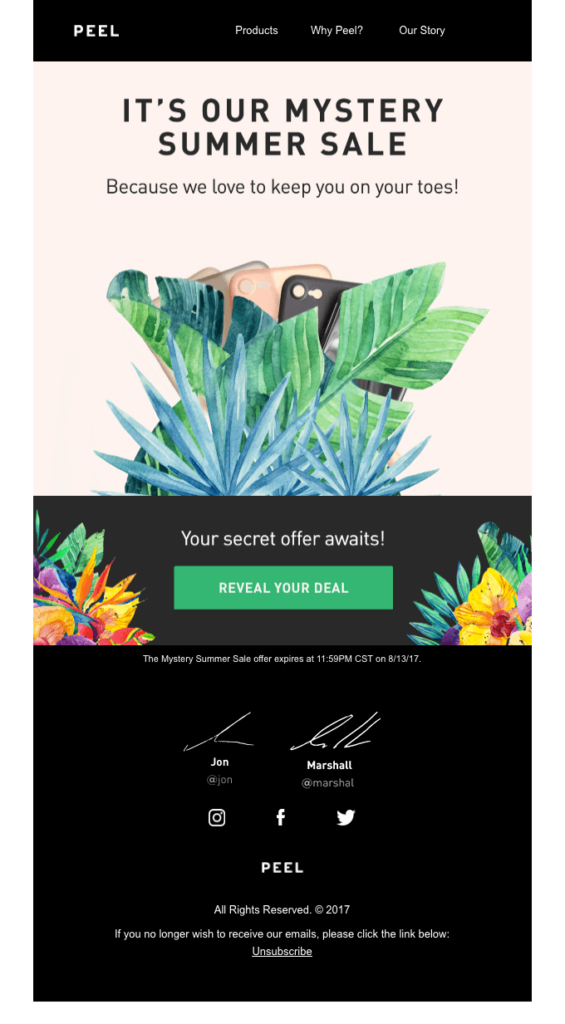 Some quick and dirty best practices for CTAs:
Make sure the action is clear: Use crystal-clear language to describe what the button does and remove any ambiguity about what will happen when the reader clicks the button.
Use colors and sizes that stand-out: While you still want to stay on brand and not be obnoxious, CTAs should attract the readers' eyes and act as a focal point for the email.
Placement is key: Having at least one CTA above the fold will not only increase conversion, but also quickly tell the reader what the email is about.
Here are a few tips on what *not* to do when it comes to CTAs:
Don't go crazy: You don't want your page to be so covered in CTAs they might as well be wallpaper for all the attention they get.
Don't be irrelevant: Make sure your CTAs align with the intent of the message and that they are always relevant and useful to the reader.
Don't let the CTA overshadow the content on the page: Think of CTAs as a quick wave "hello" instead of shouting "over here!" in a megaphone.
Don't let the CTA blend in so much that the eye naturally ignores it.
Don't just add CTAs and never test them: A/B test every single CTA you have again and again. Small changes can seriously increase conversion rate.
3. Live the customer experience
Brian Solis, an analyst at Altimeter Group focused on consumer behavior, wrote a great article about how customer experience is the new marketing and customer experiences are the new brand. "Experiences become memories…good or bad," he wrote. And I couldn't agree more.
Think about the experience you are providing to your customers—the user experience, brand representation, ease of use, ease of understanding, and emotions evoked. Are you providing the best possible experiences?
3.1 Pop-ups
Recently I was shopping for a certain item and came across a website that looked promising for what I was looking for. Within 3 seconds of landing on the website, not one, not two, but three pop-ups had all stormed my screen, toppling one another, clumsily trying to get me to opt in or see certain deals.
After closing everything out, my motivation to buy was killed. There I was, excited that I had found something promising and ready to pull out my credit card, when all it took were some invasive pop-ups to kill the mood.
Don't get me wrong, using highly targeted and strategically placed pop-ups throughout your site to collect emails, direct attention, and incentivize engagement are great ways to build your email list and make sales.
However, make sure that your pop-ups are not only converting well, but that they're also providing a helpful, positive customer experience.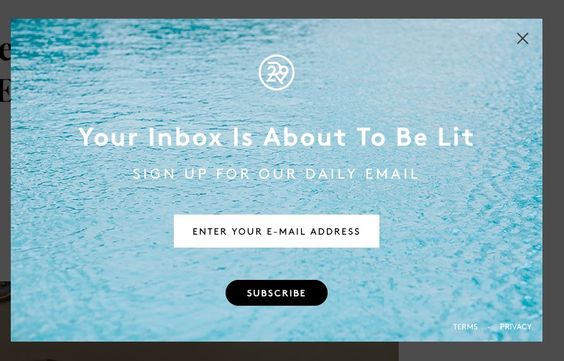 Some great ways to align high-converting pop-ups with a positive customer experience are to:
Match the customer intent of each page with the CTA of each pop-up (e.g. offering a product discount may not be the best customer experience or highly-converting CTA for a blog post)
Make them an offer they can't refuse (e.g. a one-time offer for a discount when viewing a product page is irresistible)
Place it where it makes the most sense for your website visitor (e.g. a full-screen takeover for a homepage, a bottom-right lightbox for a blog post, a lightbox for exit intent)
Keep it simple (e.g. minimal text, a clear offer, and easy to read text)
Take a hint with lack of engagement (e.g. if a known user is back for the second, or third time, and still hasn't interacted with the pop-up, consider hiding completely for that user segment or find a more effective way to engage on-site)
Get what you want, and quickly stop asking (e.g. how obnoxious are acquisition pop-ups on sites you've already signed up for email with?)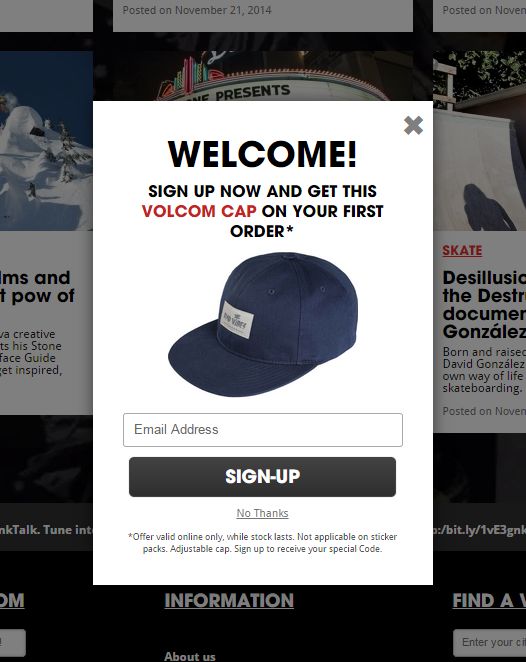 Taking customer experience into account for your pop-ups will not only help you find ways to increase conversion in the short-term, but also help you ensure increased lifetime value by eliminating intrusive experiences that leave a bad taste in your customers' mouths.
3.2 Layout & Length
Sometimes, a better looking email doesn't always translate into an easier to read email. Creating a better customer experience for each email means putting yourself in your customers' shoes and thinking about how they interact with it. Two great tests to put every email through are:
How long does it take you to read through your email?
How many "scrolls" does it take to reach the bottom?
You might find that shortening your emails to be read in less time and take less "scrolls" to reach the bottom will improve conversions as well as the customer experience.
This email from Bose is a perfect example of using crystal-clear layout to allow readers to power through the email in a short amount of time with a reasonable amount of scrolls. With the use of large images, clear CTAs, minimal text, and clearly defined sections, Bose has done an effective job at optimizing for customer experience.
3.3 Simplicity
Trying to write the "perfect" email can often lead to adding complexity, including many sections, products, CTAs, and content to cover the bases. Think back to the last great email campaign you read. Was it long-winded with paragraph upon paragraph, section upon section, of creative vocabulary and thematic layers that you eagerly read through? Didn't think so.
When considering the earlier mentioned statistic of shortened attention spans, successful emails are focused, concise, and simple. In other words, in the age of the goldfish attention span, simplicity wins.
Research has shown that most readers skip rambling introductions, so use discretion when deciding what needs to be included in the opener, in addition to the rest of the email. Addressing your goal right off the bat can quickly engage the reader and show you value their time.
Take this email from Allbirds, for example. Silicon Valley's most popular new shoe brand has ingeniously opted for a concise email to welcome new subscribers with ~43 words in the email body, a single CTA, and a single GIF for imagery.
It's all about relevancy, personality, and the customer experience
In summary, taking your email marketing from good to great is no easy feat, and this is no extensive list. But relevancy, personality, and customer experience are going to be major factors as the market continues to shift in favor of the customer.
Picked For You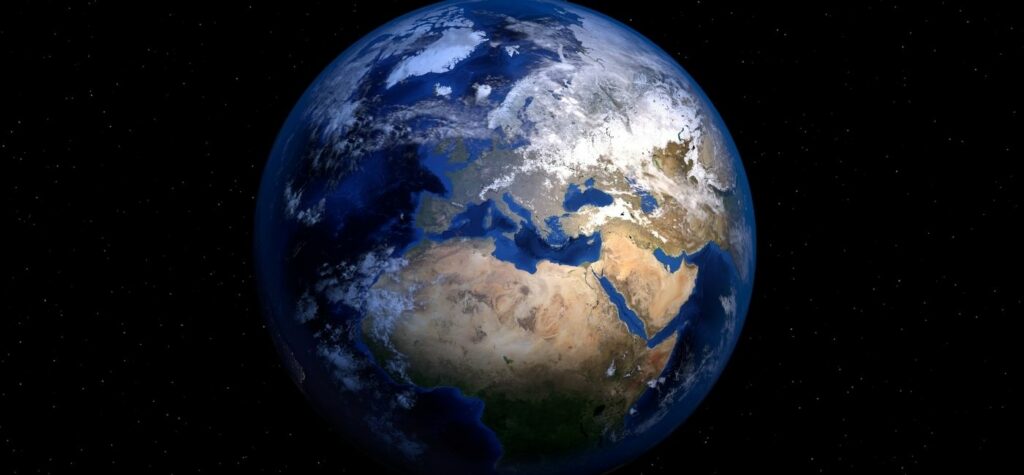 Article
What is domain reputation and why it's important for every marketer
Open rates dropping, click-to-open-rates shrinking, campaign revenue declining… Any of these three scenarios are enough…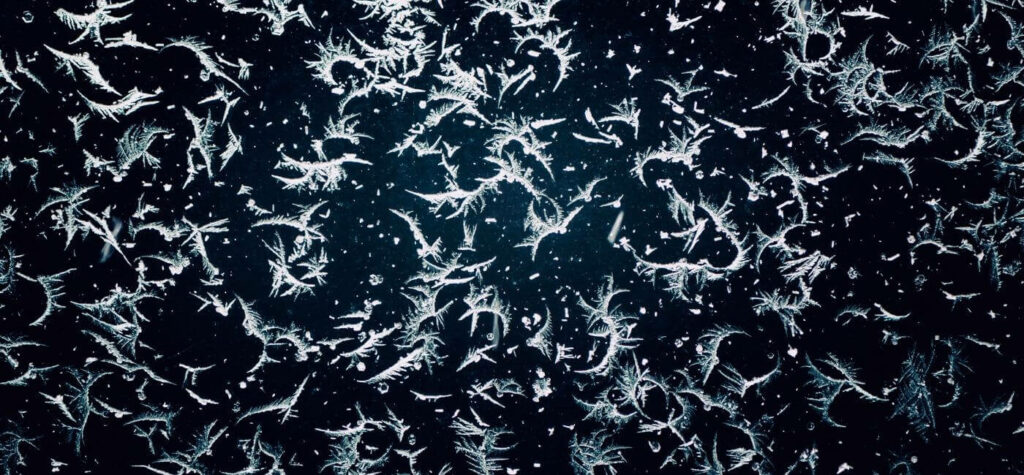 Article
How to manage your seasonal brand's email database
Last week, we shared a lot of information on the value of doing a little…