Return to All Resources
Stand out in the inbox like bareMinerals & Church's Texas Chicken with Gmail Annotations
4 Minute Read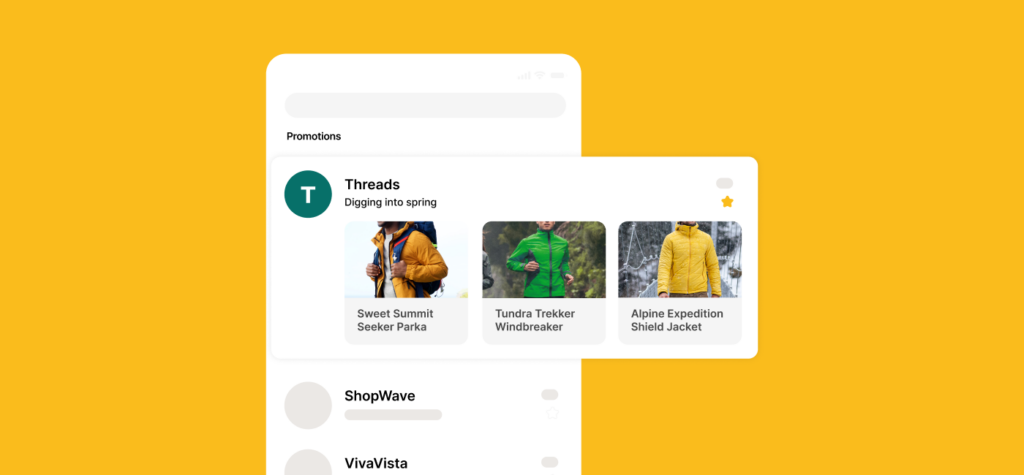 In the ever-evolving landscape of email marketing, staying ahead of the curve is essential to achieving outstanding results. Enter Gmail Annotations for the Promotions Tab, a feature that can transform your email campaigns and elevate your brand's visibility within the Gmail inbox.
What are Gmail Annotations?
Gmail Annotations are an innovative way to make your emails stand out in a crowded inbox. They allow you to add extra information, images, and details to your email subject lines and preheaders, giving recipients a preview of your email's content before they even open it. This added context can significantly improve open rates and engagement.

Types of Gmail Annotations in the Promotions Tab
Product Carousel: Showcasing a carousel of products in your email with descriptions and prices.

Single Image Preview: Using a single image to preview content inside of the email.

Deal Annotation: Highlights special offers, discounts, or promotions.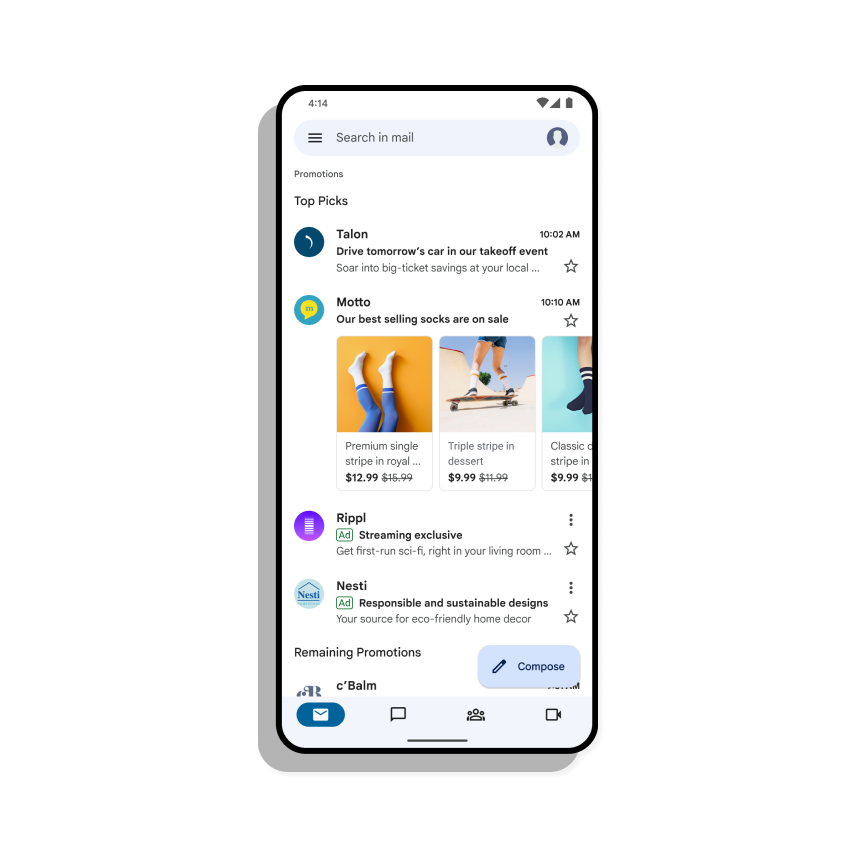 Brand examples from Cordial clients
Discover how a couple of our clients have successfully used Gmail Annotations to boost their email marketing campaigns:

How to set up Gmail Annotations
Getting started with Gmail Annotations is a straightforward process:
Enable Annotations: Ensure your email sender address is authenticated with the Google Annotations Support Team (you can reach out to your CSM to connect the dots here).

Provide Metadata: Add the necessary metadata to your emails, including image URLs, offer details, and relevant information. Use the structure provided on Google's

Developer Annotation Site

.

Test Your Annotations: Use Google's

Structured Data Testing Tool

to verify that your Annotations are correctly implemented. If you see them show up, then you know you are good to go. If something is broken, it will notify you in the preview screen. 
Optimizing for Gmail Annotations
Deal Annotations, Product Carousels, and Single Images will not show up for everyone that the message is sent to (Google has a secret recipe of who actually receives the annotations and who doesn't). Google will also recognize when it's sent to a mass audience to determine who gets the annotation in their inbox. Meaning, it will only appear during sends to a large number of contacts making it tricky to test before the message goes live (see above re: "Test Your Annotations"). 
With these slight limitations in place, it's best to follow the following tips to optimize your content and make the most of your Annotations: 
Utilize high-quality product images with little text.

The setup for the Product Carousel Annotation allows up to 10 images. Use all 10 spaces if possible to maximize the chances of passing through the quality filter. 

Avoid masking around the edges of images, and ensure all images are the same aspect ratio and file size.

Annotations provide extra space for text (think of this as a second subject line), so use it wisely to entice recipients to open your email.

Ensure that the Annotations accurately represent the content of your email to avoid misleading recipients.
Measuring the impact
While Gmail Annotations don't have a direct reporting function (yet), the impact can be quantified through monitoring your regular email metrics:
Open Rates: Measure the increase in open rates after implementing Annotations, and compare to emails without Annotations present. 

Click-Through Rates & Conversion Rates: Analyze how Annotations affect click-through rates and user engagement, sales, and orders. 

Unique Tracking Identifiers: Include unique UTM parameters in the URLs and Images provided for the Annotations, separate from other links inside your email, to be able to track downstream in your usual reporting tools. 
Gmail Annotations offer a powerful way to supercharge your email marketing efforts within the Gmail inbox. By implementing the right Annotations and optimizing your content, you can capture your audience's attention and drive higher engagement rates. 
Ready to get started with Gmail Annotations? If you're a client of ours, get in touch with your Client Success Manager, and let's take your email marketing to the next level!