Return to All Resources
The publisher's guide to intelligent creative in emails
4 Minute Read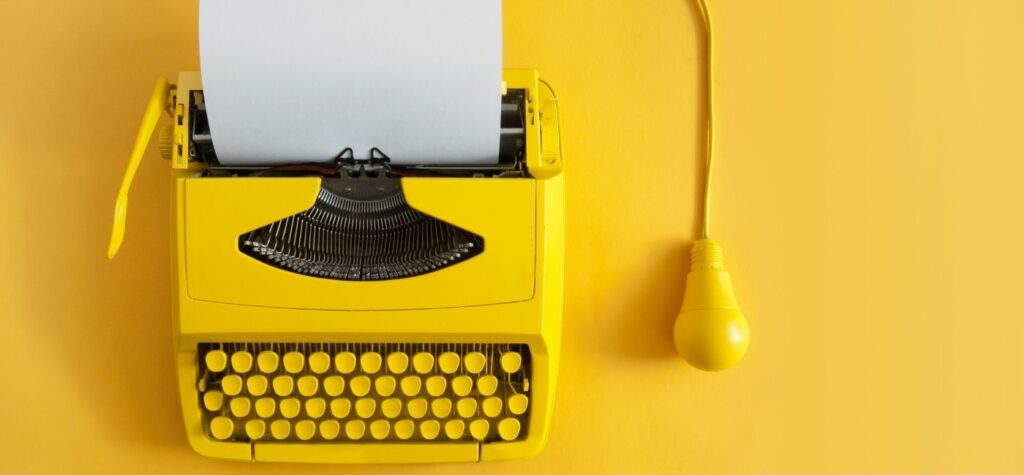 Email marketing is the go-to for marketers who are trying to drive sales. But for publishers, the story is different. There's not much you can upsell. Publishers have a wealth of content, but they need to make that content work harder for them in their emails while driving customer engagement. But how can you pull all of that off without overwhelming your team with a tedious production process? Intelligent creative is the key to solving your production and engagement problems.
Automate your newsletters
How can you create a relevant and up-to-date newsletter when you're spending the majority of your time just getting emails out of the door? You need to automate. With intelligent creative, you can create a newsletter template that's powered by web crops or your API. A new call for content is sent each time the user opens the email, so each person will see the freshest content at the moment-of-open.
It's as easy as coding one template. One of our clients was sending a very manual newsletter where the editors for each section had to send over images and hard copy to get it approved. It was a very tedious process, and they were only able to send their sports newsletter about once a week. With our automation, they were able to turn a weekly email into a daily newsletter. Once publishers solve that manual production problem, they can focus their efforts on more sophisticated and strategic campaigns.

CBS wanted to send the most up-to-date information in their NFL newsletter. So, they
used Movable Ink's web crop app to pull in the upcoming game schedule, pulled in the most recent tweets to encourage social engagement, and powered the "Keep the Streaming Going" section to encourage fans to check out popular shows.
Use behavioral targeting
You already know that your subscribers will opt out if you're sending them articles that aren't relevant to them. When you have data about your customers, you can get creative and give personalized reading recommendations to increase engagement and build stronger relationships with your audience.
Publications often have their own behavioral feeds or even use a third party like Movable Ink for behavioral targeting. So, they can easily figure out which articles people are engaging with and tap into those feeds to show people what they're most interested in. Your subscribers will see creative and articles that are customized based on their interests, and you'll save your marketing team countless hours of production time because a single email can have countless personalized variations.
The Wall Street Journal was able to use their customer data to create a curated year-in-review email that was personalized for each subscriber.
Don't underestimate testing and optimization
Attention spans wane, and you need to be in the habit of testing treatment, style, and placement to see what works best for your audience. And with creative optimization from Movable Ink, you can move beyond those A/B tests and easily optimize your creative in real-time. This is a win for publishers who want to ensure that they're always serving their customers with content and images that resonate best with them.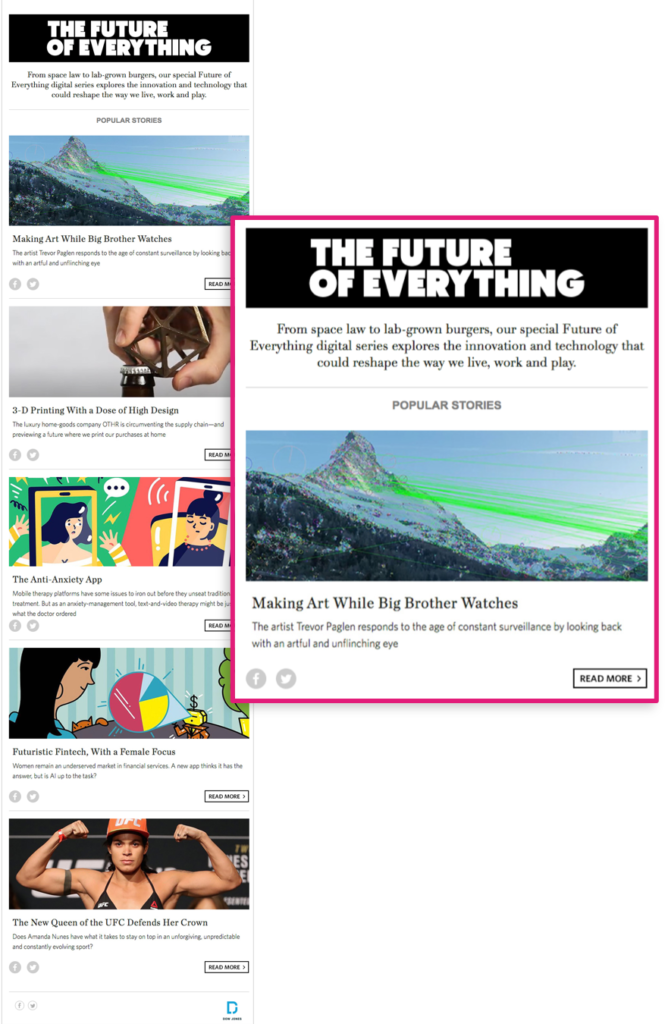 The Wall Street Journal also used live optimization to figure out which order of curated articles led to the highest click-through rate.
Upgrade your emails
When you're dealing with engagement and click-through rate, relevance is everything. And with intelligent creative, you can elevate your email marketing with the kind of visual and personalized experiences that will keep subscribers coming back all while simplifying and streamlining your team's email production process.
Movable Ink helps digital marketers create visual experiences that move people. More than 600 of the world's most innovative brands rely on Movable Ink's visual experience platform to automate the creation of unique on-brand experiences for each consumer across email, web, and display. With more than 250 employees, the company is headquartered in New York City with offices in San Francisco, Chicago, and London. Request a demo or learn more at movableink.com.
Kaya Sabo is a Senior Account Manager at Movable Ink, the leading provider of intelligent creative, which enables marketers to personalize emails at the moment of open. Kaya has over 8 years of experience in account management and client experience at Movable Ink and AppCard.
Picked For You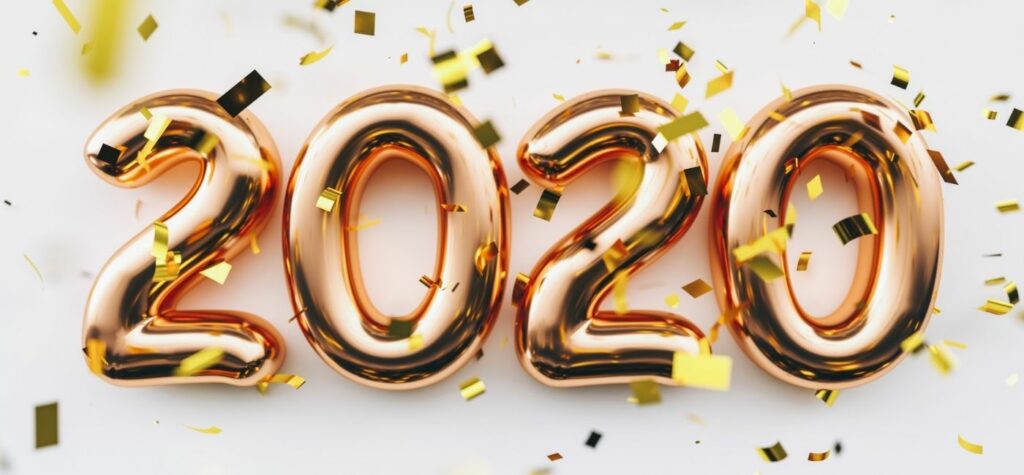 Article
New Year's resolutions to help build a competitive advantage in 2020
It's hard to believe that the new year is upon us. The holidays have come…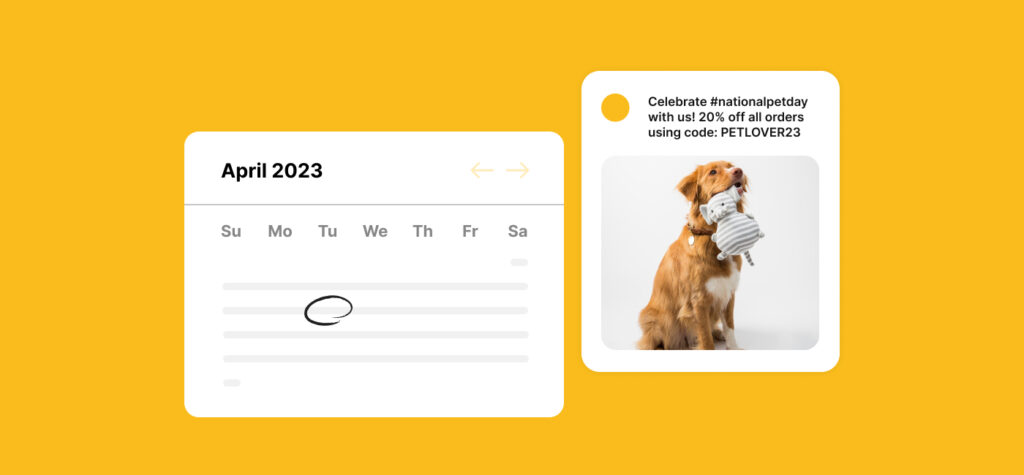 Article
300+ holiday hashtags and days of observance for your 2023 marketing calendar
As marketers, we're all familiar with the significance of holidays to consumers, but have you…