Return to All Resources
How to optimize your cross-channel marketing strategy
17 Minute Read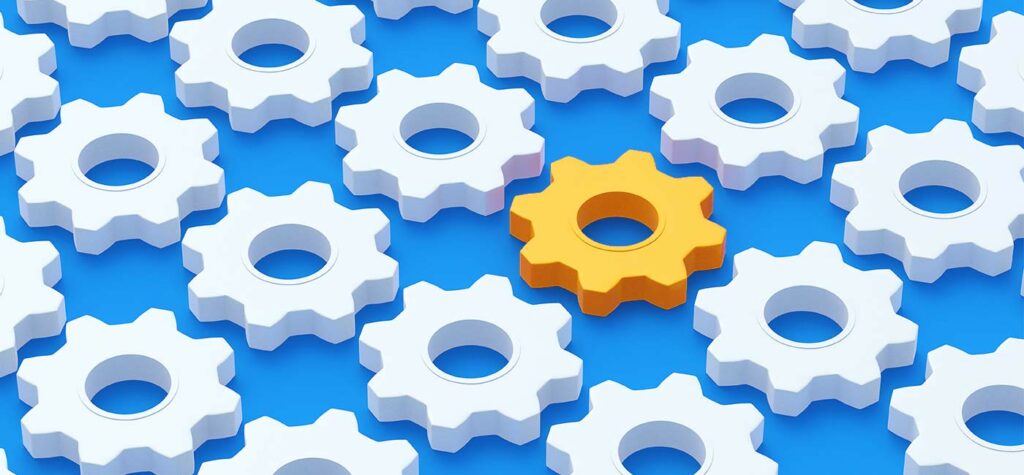 Every day, your marketing team faces the near-impossible task of sending the most relevant message at the right time. The customer journey has more twists and turns than ever before, so it's difficult to implement the perfect marketing approach across various established and emerging channels. If you're new to the world of cross-channel marketing, let us walk you through the basics, outline key business impacts, and provide a framework of actionable steps you can put into practice for your brand.
Cross-channel, multi-channel, or omni-channel approach?
In the marketing industry, we tend to use terms that teams may interpret differently, so let's level-set on a few definitions.
What is cross-channel marketing?
Cross-channel marketing is the practice of implementing multiple marketing channels to manage data, analytics, customer segmentations, and orchestration across digital and offline channels. Each channel is connected and communicates with one another, along with a central data platform, to provide a cohesive personalized experience across each channel.
What is multi-channel marketing?
Multi-channel marketing is the practice of operating in multiple channels, but each channel is operated in a silo. Each channel serves a different purpose and is not necessarily integrated with the others. A multi-channel approach doesn't always connect customer behavior to provide a consistent experience across all channels.
What is omni-channel marketing?
Omni-channel marketing is the practice of sequencing all marketing and advertising across channels and devices so that it is connected, relevant, and consistent with the customer's stage in their lifecycle. Omni-channel marketing removes all barriers between advertising and marketing medians to create the most seamless experience.
Empowered consumers expect cross-channel experiences.
Consumers don't behave in a linear line. They zig and zag between devices and channels, creating valuable opportunities for you to interact with them each step of the way. For example, in 2000, 83% of consumers required only 1-2 touchpoints during their path to purchase. In 2015, this increased to 3-6 touchpoints with a brand to complete a purchase. In other words, consumers are interacting with brands in more channels and more devices than they used to! It's no surprise that this trend has continued to grow in recent years, with 90% of consumers saying they expect brands to deliver a seamless experience across the channels they interact and purchase in.
Fortunately for brands, as consumers' online and offline fingerprints grow, they leave traces of data surrounding identity, behavior, purchase preferences and history that you can capture. Armed with this rich data set, your marketing team can provide personalized experiences along the entire customer lifecycle, regardless of channel of interaction.
Steve Costanza, Senior Performance Marketing Manager at Snipes USA points out, "User journeys are complex, and it's no longer practical to view each channel in a vacuum. We also know that different channels attract different customer demographics, and we can make a customer's first experience feel more personalized when we can show them more relevant ads, landing page experiences, and, ultimately, products." However, this requires enabling technology to operate across channels, and your teams are being held back by difficult-to-use and disconnected messaging platforms.
To successfully and efficiently pull off a cross-channel marketing strategy, your team must find a technology that can capture a diverse data set on customers in a compliant way, identify consumers, deliver messages at the right moment, and measure their efforts. Using point solutions for each channel simply doesn't cut it anymore.
Disjointed cross-channel experiences impact your business in more ways than one.
Warren Buffett famously said, "It takes 20 years to build a reputation and five minutes to ruin it. If you think about that, you'll do things differently." This is a good reminder that your marketing strategy has an enormous impact on your overall business. To uphold your brand reputation, retain and attract customers, the customer experience should be at the epicenter of your strategy.
Even if the majority of your brand's revenue is attributed to a single channel, as a customer-obsessed marketer, you know that the best brand experiences (meaning the ones that drive revenue, lifetime value, and loyalty) happen in the channels consumers prefer.
There may be one channel that is your bread and butter, for example, email. You have success in email because you know what works, what your audience prefers, and the right messaging mix.
With Buffet's quote in mind, what will happen if your customers prefer to be engaged in other channels like SMS, mobile app, or web? You wouldn't want a customer to receive targeted messages for a particular product they just bought, or inconsistent promotions and incentives across email and SMS. Instances like this create disjointed customer experiences, and for some consumers it'll only take one of these negative experiences to take their business elsewhere.
A PwC study shows 32% of consumers who love a brand will walk away after a single bad experience. And there's more than a brand's reputation at stake — customer-centric companies are 60% more profitable than companies that don't focus on customers. Remember: Customers aren't privy to what is going on behind the scenes between marketers — they only notice when a brand creates a disjointed experience.
A unique strength for each messaging channel
Now that we've established the consumer trends driving the business need for cross-channel marketing and the serious revenue impact it has, we can dive into more detail about various messaging channels your brand should be using.
Your marketing team cannot follow a one-size-fits-all approach. By design, some of the main messaging channels like email, mobile push, and SMS all bring different advantages and downfalls. While valuable on their own, when combined these channels are far more powerful for your business.

For example, maybe you're running a 48-hour flash sale and send an email to your customer base promoting the best deals of the year. The success of this campaign will be limited to only those who open and click through from your email, leaving a large portion of your audience potentially unaware of the campaign. If you're only sending emails, odds are a large portion of customers aren't checking their email until after the sale. However, if you opt for an SMS message, you're reaching customers on a device with higher engagement rates and better time-sensitivity than email.
If you use multiple messaging channels in a connected, thoughtful way, it delivers a better message for your customer and will make them more likely to have a positive sentiment and continued brand loyalty. This trust will pay off even more in the long run, as Forbes states, loyal customers are five times more likely to purchase again and four times more likely to refer a friend to the company. In the end, a positive, connected cross-channel experience = greater customer loyalty, engagement, and revenue.
How to grow your cross-channel marketing in 2023 (and beyond)
Now that we've covered what cross-channel marketing is and why your team should care, it's time to put some of these tips into action. Let's walk through some initial steps your brand can implement to build cross-channel marketing practices that will help you provide value to your customers at every stage of their journey.
1. Start with data.
Data is the basic building block of marketing decisions. You must be able to capture it and stitch it all together. The better you understand your customers the more valuable experiences you can provide. Using Cordial's data platform, you can capture limitless customer and business data to hyper-personalize each message sent to individual customers.
Questions to ask about your customer data:
Which data points are essential for personalization across channels?
What attributes about your customers or your business drive your segmentation strategies?
Which platform will be the system of record for the consolidated customer profile?
How will that data be passed between marketing systems? How often?
What is the weak link? Which system or process is most likely to fail and break the chain, and how can I proactively mitigate the threat?
Real-world use case: How Revolve delivers personalized recommendations emails
Fashion retailer Revolve pulls in 16 unique data points from the Cordial platform to personalize their product recommendations for each user. As a result, personalized recommendation emails are 2X more productive than batch messages, and equate to 65% higher click-to-open and click-to-conversion rates. Sent regularly, the Revolve team expects this email to generate hundreds of thousands in incremental revenue.
16 unique data points Revolve uses:
Abandoned browse
Currently hearted
Favorite category
Similar items (to browse history)
You may also like
New favorite designer
Also purchased (based on orders)
Abandoned cart
Saved for later
New arrivals by price
Brand affinity buyer
Best sellers by state
Best sellers by state and country
Best sellers in the last 365 days
Best sellers in the last 7 days
New arrivals
Best sellers by country
Best sellers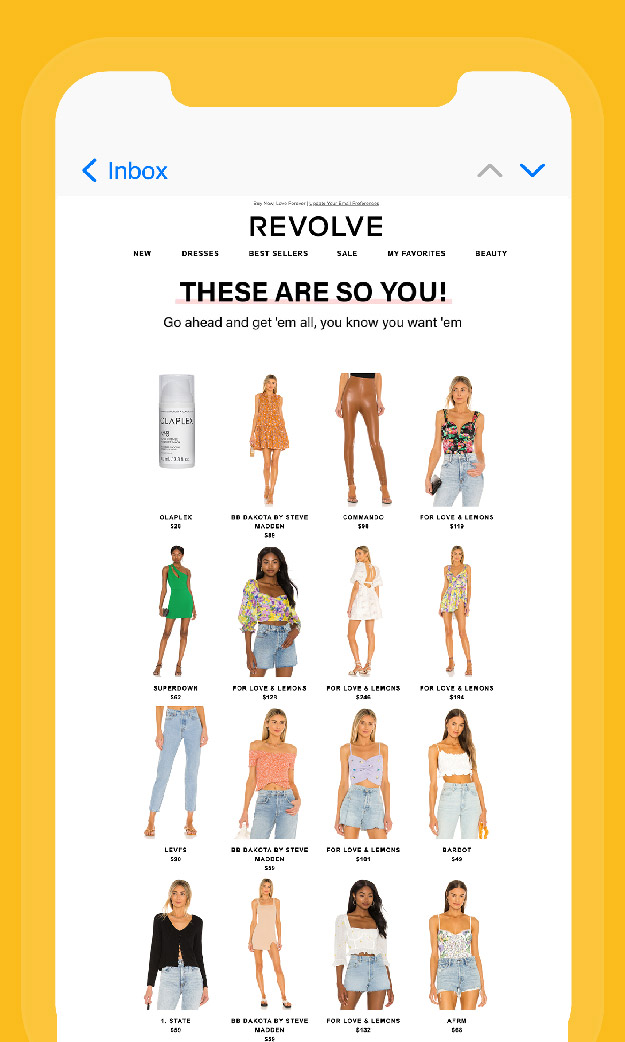 2. Grow your audience through cross-channel marketing.
Capturing customer sign-ups provides numerous benefits. It grants you a better idea of a single view of each customer across the devices they use. For prospective customers, it allows you to interact with them and begin building relationships with your brand. There are multiple ways of capturing first-party data such as unique discounts or offers in exchange for providing email and/ or phone numbers, or include seamless opportunities for customers to opt-in throughout their purchase experience.
Questions to get you started:
Have you walked through the sign-up process? Is it easy to use across devices? Are there any points of friction that would deter a customer from enrolling?
How many times are you asking for opt-ins?
What's the minimum data you can ask for to drive conversion?
Are you using incentives to capture email addresses and phone numbers, and if so, is your current incentive effective?
How can you extend your reach so your mobile app users also opt-in for emails (and vice versa)?
How will that data be passed between marketing systems? How often?
Are you providing customers the ability to opt-in to SMS and email marketing during the checkout process?]
Real-world use case: How Nurx drives cross-channel acquisition
Nurx utilizes their email and web channel to encourage users to opt in to SMS and download their mobile app. Understanding that not all consumers are the same, Nurx allows their customers to select their communication method. This approach also creates mutual value for Nurx and the customer — Nurx can collect more data on each customer, and their customers receive their preferred channel of communications.

3. Determine the right channel mix.
Understanding which channel to use to interact with individual consumers requires thoughtful planning and a deep understanding of customer behavior. Each customer has their own preferences and must be treated accordingly. One of the best options is to explicitly ask customers what their preferences are. Customize your preference center to allow customers to tell you what messages they want via which channel. But, not all customers will fill that out and you might not have the ability to change your preference center. So what other data can we use to understand channel preference? Engagement.
Querying your customer database to understand who has engaged in which channel, the recency, and frequency of that engagement, what the last channel was before purchase (and the first), can all help you narrow in on key segments to customize cross-channel journeys for. If you currently have limited channels enabled or limited customer data, consider which ones are the best fit for the message you're sending and tailor outreach efforts based on your knowledge of what will resonate most with your audience.
Key questions to consider:
How am I taking into consideration the preferences of each of my customers and interacting with them in their preferred channels?
Has the engagement in any of my channels plateaued? How can another channel help re-engage customers?
What channels are missing from our marketing mix?
How can we test and validate the value of new channels we're introducing?
Are you implementing best practices for mobile app messaging, for instance, and other channels?
Real-world use case: How Paper Mart uses first and zero-party data to understand channel preferences
Paper Mart enables customers to state their specific interests and preferences to receive hyper-relevant and personalized communications to capture valuable zero-party data. Their audience can designate communication preferences and can be reached in channels like email and SMS to maximize engagement and decrease subscriber churn.

4. Create relevant and intelligent cross-channel moments.
Once you understand your customers based on the data you've collected, built an engaged cross-channel audience, and decided which messaging channels to use, it's time to narrow down the messaging type and intent for your outreach.
Some of the most common message types include transactional communications related to order information all the way to more strategic promotional communications. Across the entire customer journey, you can use cross-channel marketing to create relevant and intelligent experiences that deliver the revenue outcomes you want and need for your brand.
Did you know that on average, acquiring a new customer is 5x more expensive than retaining an existing customer? That's why it's crucial that you choose the right message and channels to keep customers happy and coming back for more.
Transactional messaging
Transactional messages are an effective way to keep customers happy and aware of any order updates, but adopting an engaging cross-channel approach with transactional emails can make the experience fun for the customer while promoting brand loyalty and providing potential upsell opportunities. For example, Revolve saw an opportunity to personalize their order confirmations and shipping notifications. Within two weeks of migrating from their legacy ESP, Revolve saw a 17% increase in engagement rates by including dynamic, relevant content into these transactional emails.
Brands have traditionally sent transactional messages to keep customers aware of order-specific info, such as order confirmations or status updates. However, if the order is placed on your app, a mobile push notification for the order confirmation is also appropriate. If there are any updates to the order, an SMS message can notify the customer right away, instead of important information getting lost in their email inbox.
Each of these transactional messages is appropriate to send by email, SMS, and mobile push. The customer is waiting for this information and is eager to be notified about relevant updates. Here's an example of an SMS message that opens an app to check-in:

Post-purchase messaging
Another type of transactional message that will create a cohesive customer experience is post-purchase messaging. This is a great way to check in with your customers and find out if they are completely satisfied. It is also a great time to recommend any complementary products for cross-sell or upsell, and provide helpful tips for using their new product.
Make these messages fun by:
Inspiring your customers to share photos on social media
Giving your customers coupon codes to share with their friends and family
Asking for reviews of the product or your app in exchange for something
Encouraging supplemental channel opt-ins if they're only signed up for one
Loyalty and rewards messaging
You've acquired your customer, they've made their purchase, and now it's time to grow them into brand loyalists. Loyalty messaging is particularly relevant for B2C and retail brands. If you don't have a rewards program, now is the time to start one! Rewards programs are a great way to encourage repeat purchases.
Once a customer is part of your loyalty program, they expect you to know their loyalty status on each channel you communicate with them: email, mobile app, SMS, call center, in-store, etc.
Eddie Bauer emails out Adventure Rewards updates to customers enrolled in their loyalty program. Included in the email is a quick link to redeem in-store, a reminder of their current level, and the capability to add the reward directly to their mobile wallet. All of this is orchestrated out of one cross-channel messaging and data platform: Cordial.
Triggered messaging
Many brands leverage abandoned cart and abandoned browse triggers, which are often among the highest revenue per message tactics in the marketer's arsenal. Advanced brands layer in additional data points to further personalize and drive urgency:
Low inventory for your favorited item, cart/browsed item
Low inventory for your size/style/color
Low inventory/high views on product in cart
Promotional messaging
Last but certainly not least is the tried-and-true promotional email, whether for win-backs, campaigns, or more personalized offers. Promotional batch messages work well across channels when a consistent message is used, like Revolve:

5. Test and optimize.
When it comes to trying out new channels, messages, and campaign strategies, don't forget that you can always test and iterate until you find what works best for your customer. And of course, the world is always evolving, so what worked best last year or last month, may no longer be the right approach.
As you're getting started with cross-channel marketing, it's important to test out a combination of current messages, promotions, and channels to determine what the most efficient mix is for your business. Amanda Oles, Demand Generation Manager at Datto can attest, "Email will always be queen but never be scared to test out a new channel. You won't know if it works for your business/industry until you try!"
Questions to consider in cross-channel marketing:
Thinking about the customer journey, is there an opportunity to introduce or use a channel differently (i.e., transactional, loyalty messaging) to enhance the customer experience?
What barriers are preventing me from testing and trying new channel combinations?
What KPIs am I tracking to determine the effectiveness and performance of each channel?
Are you keeping track of new regulations for consumer data and privacy?
Five mantras to follow when striving for better message — in any channel
Whenever possible, try to send a better message — not just another message. So put yourself in the mindset and space of your customer. Here are five important mantras to consider whenever you're crafting messaging for your brand, regardless of channel. Follow the links to listen to curated inspirational talks for each:
Fine-tune your cross-channel marketing approach.
As the best marketers know, there is no one-size-fits-all approach to creating memorable customer experiences. Whether your company is connected to every channel under the sun or has been laser-focused on one messaging channel and is trying to diversify, the key is that you use data to inform your decisions and always put your customer first.
When in doubt, designing for the best customer experience won't lead you astray. We've covered a lot in this ebook in terms of email, SMS, mobile, and other top marketing channels, but at the end of the day, you have to use data and customer knowledge to formulate what works best for your business. Selecting the right messaging channels is the first step you need to master in order to create the most personal and relevant cross-channel experiences for your customers.
Don't be afraid to get creative and experiment to find the optimal channel mix for your business.
Use data to inform your decisions.
Keep a consistent tone across your channels.
Allow your customers to tell you their preferences.
Ready to see how partnering with an industry leader like Cordial will help you optimize your cross-channel marketing approach? Speak with a Cordial expert today.