Return to All Resources
Using push notifications to push brand loyalty and customer engagement
4 Minute Read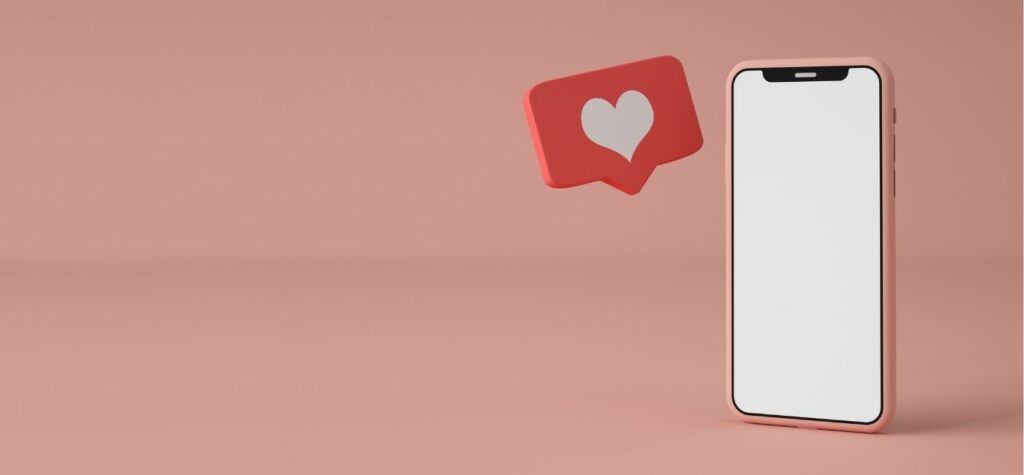 Mobile applications, more commonly known as apps, turned 10 in 2018. Over the last decade, many brands have spent a hefty portion of their marketing budget creating an experience that can live in the pocket of millions of consumers. In the first quarter of 2019, mobile device users have roughly five million apps to choose from across Android and iOS, which means getting screen space on a device is no easy feat. Typically your app users are your most fervent brand loyalists. They hold your store credit card, are a member of your loyalty program, and are often repeat customers. If you build it, they will come—but how can you make them stay a while? Push notifications.
Push notifications are the most engaging way to ensure users have the latest information on new features and functions within your app, get personalized recommendations that can deep link them directly to specific products or sections and give them timely information about their specific status with your company. Since the average consumer has ~80 apps on their cell phone, your push notification marketing strategy should remind them to open your brand's app when it's most relevant to them. The first 90 days after a customer downloads your app are the most critical. If you devise a strategy of frequent, relevant messaging during this time, you can increase retention from 2x – 10x. The four most important things to note about your push strategy should be that messages should be timely, relevant, actionable, and personal.
Timely
A push notification at the right time is much more likely to get engagement. The first example below was sent at the average time this user logs a meal in MyFitnessPal. The second example was sent immediately based on in-app behavior. Other common examples of timely messages: the dreaded flight delay from your airline app, or the more exciting notification from Netflix that your favorite show is streaming a new season.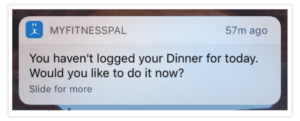 Relevant
A push that responds to specific user behavior is more likely to be read, not dismissed as with unsolicited notifications. The Lyft example is great because many ride-share apps already have an understanding of your location patterns. Receiving a message like this after a long day can feel like a friend offering you a ride home. The second example is user-specific, letting them know the status of their individual order. With the rise of online shopping and two-day shipping, consumers are likely anxious to know exactly when their order has hit their doorstep.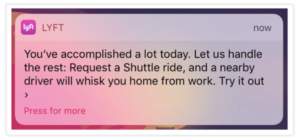 Actionable
One of the best ways to increase the stickiness of your app is driving users to open it regularly. In the mix of your messaging campaigns, include tactics that require users to come back for a specific reason. In the first example below, OpenTable sent a push notification about three hours after the user's reservation time, reminding them to leave a review while the meal was still fresh on their palate. In the second example, Hotel Tonight sent a push immediately after in-app browsing with helpful advice to secure the best pricing. Both of these notifications drive users back to the app right now to perform an action that benefits them—and the brand.

Personal
There's nothing like feeling that technology is talking to you like a friend, not a machine. Apps are designed to work for the consumer, not the marketer. In the first example, Bandsintown does a great job of reminding the user that they're in charge; giving them an opportunity to control when and how many messages they receive, within the app. In the second example, Netflix knows exactly how many hours you've spent watching cooking documentaries and makes a suggestion for new content based on that behavior. This is what getting personal looks like in push.


Have we inspired you to create a customer-first push messaging strategy for your brand's app? Request a demo of Cordial and we'll show you all the ways you can take your mobile marketing to the next level.