Return to All Resources
Why customers are leaving your loyalty program (and what you can do about it)
6 Minute Read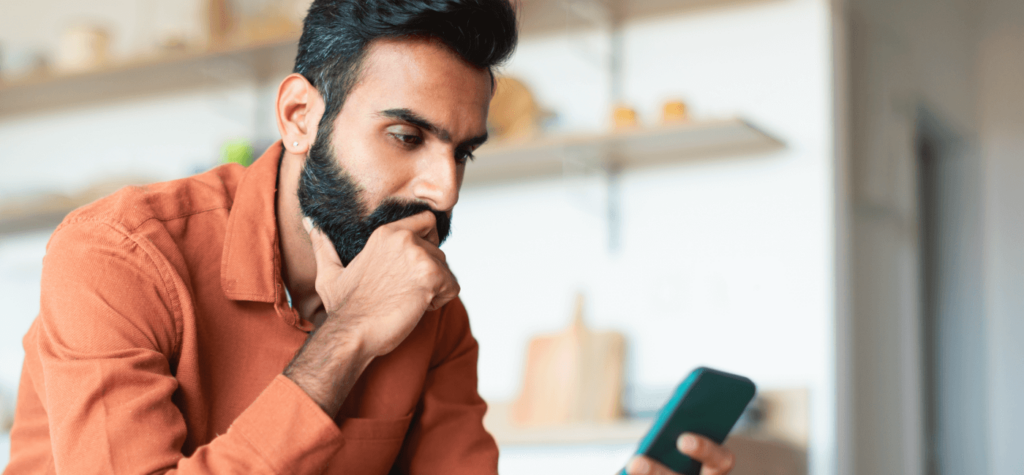 Customer loyalty programs are meant to build lasting connections between brands and consumers. But despite these efforts, customers still get frustrated and end up abandoning loyalty programs. What causes this disloyalty, and how can brands improve their programs? By understanding common frustrations, brands can proactively reshape experiences to meet customer needs better and build customer loyalty.
Data from our consumer survey provides valuable insight into customer loyalty program participation across demographics. It also reveals the various frustrations and reasons for leaving customer loyalty programs. 
The top 5 frustrations of customer loyalty program members
Our data reveals the biggest annoyances and dissatisfactions your customer loyalty members may have with your program: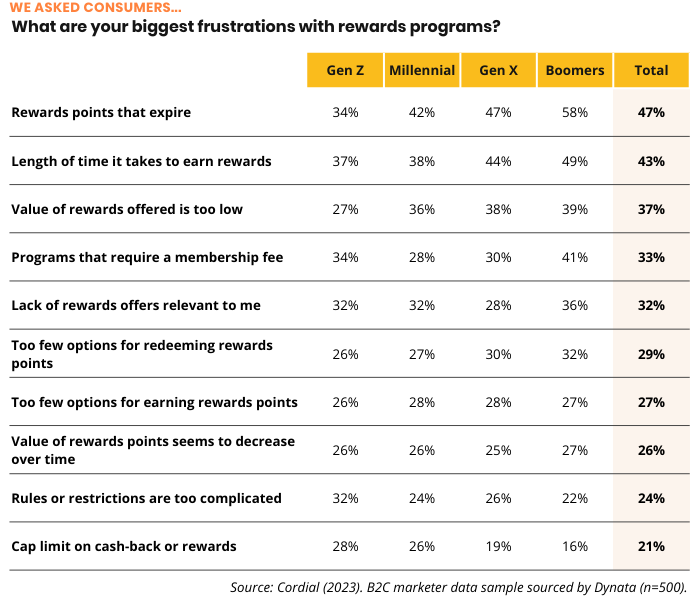 1. Their customer loyalty program points expire.
Expiring points that vanish before they can be used is the #1 frustration, reported by 47% of the consumers we surveyed. When customer loyalty program points expire unused, members feel like the time and money they spent accumulating those points was wasted. It breeds frustration when hard-earned rewards simply disappear.
The solution: Make points non-expiring so unused points never disappear from accounts. Allowing hard-earned rewards to vanish breeds resentment among members. If that's not an option for your brands, consider extending expiration timeframes or sending automated reminders about soon-to-expire points. Brands like Chik-fil-A use non-expiring points to increase satisfaction.
2. Their customer loyalty program points accumulate too slowly.
Another top complaint is slow reward accumulation. About 43% of consumers don't like how long it takes to earn meaningful rewards through loyalty activities. For example, airlines frequently require thousands of miles flown before customers receive free flights or seat upgrades.
The solution: Speed up reward earning rates so members can access redemptions faster. Reduce thresholds for reaching reward tiers and milestones. Allow customers to earn extra points on certain days or purchases. Send automated messages on double point days or if a certain product or service is eligible for more points earned. More rapid gratification increases customer loyalty and satisfaction. Brands like Starbucks have sped up rewards earnings with quicker promotions.
3. They're not seeing enough savings or value.
37% of consumers say one of their biggest frustrations with customer loyalty programs is that the value of rewards offered is too low, according to our survey data. Members feel the return on their loyalty is underwhelming when reward redemptions don't provide enough aspirational value or real savings.
The solution: Increase reward values to feel more worthwhile to members. Evaluate if current offers provide enough incentive and adjust accordingly. Sweeten redemptions with extra perks not available to non-members. Consider bonuses like anniversary gifts, bonus points events or seasonal specials. Hotel programs like Hilton Honors offer milestone bonuses and often provide extra points promotions to reinforce value. Highlighting member-exclusive savings in communications reminds customers it pays to be loyal.
4. They have to pay a membership fee.
One-third of consumers dislike having to pay membership or annual fees just to join a customer loyalty program and access benefits. Unwanted fees like annual membership charges motivate 41% of consumers to cancel customer loyalty program memberships. Many see fees as an unnecessary cost just for discounts.
The solution: Consider dropping these fees that create barriers to enrollment and activation. Or, allow customers free membership if they spend a certain amount. If you do charge an annual fee, make sure to set up automated messages to remind customers their membership is up for renewal. If your brand needs to charge a membership fee, be sure to emphasize the value derived from the program over the fee cost. For example, Amazon Prime converts many consumers to members by highlighting membership perks.
5. The rewards aren't relevant.
Our research shows 32% of members say offered rewards don't interest them personally. One-size-fits-all offers get ignored if they aren't tailored to individual preferences and needs. Members want customer loyalty programs to demonstrate relevance through personalized rewards.
The solution: Personalize rewards based on individual interests and preferences. Use data and feedback to tailor offers instead of taking a blanket approach. Surprising and delighting members with relevant rewards show the brand pays attention to what they care about. Consider personalized bonuses like free products from their favorite brand lines.
The top 3 reasons customers leave loyalty programs
81% of consumers say they would switch loyalty to another brand with a superior program. While frustrations cause resentment, certain factors push members to actually close accounts and quit customer loyalty programs entirely: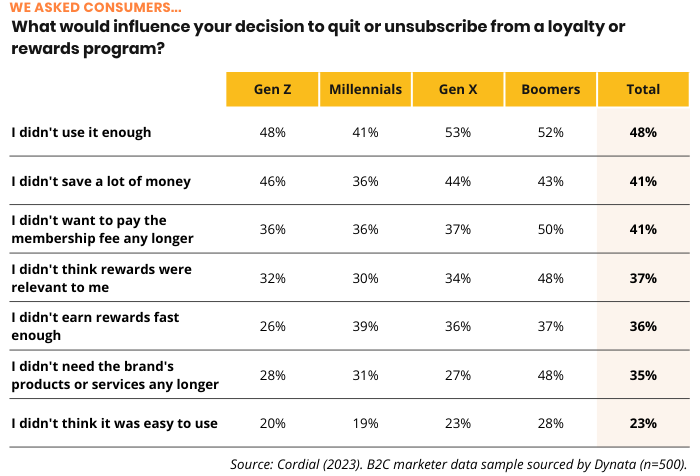 1. They're receiving too much communication about the program.
Excessive contact and communication irritates members. 73% of consumers report potentially leaving if a brand contacts them weekly or daily about their program according to our research. Omnichannel messaging should enlighten, not annoy. Too much outreach overwhelms customers.
The solution: Here's what consumers want brands to know about customer loyalty program communication. Carefully manage program communications based on frequency preferences. Too many messages train members to ignore and opt-out. Ensure subscribers control preferences and honor channel and frequency selections. Audit messaging cadence and segment out highly engaged members. Instead of a blanket blast approach, retail programs like Petco allow members to select the types and frequency of alerts they want to receive.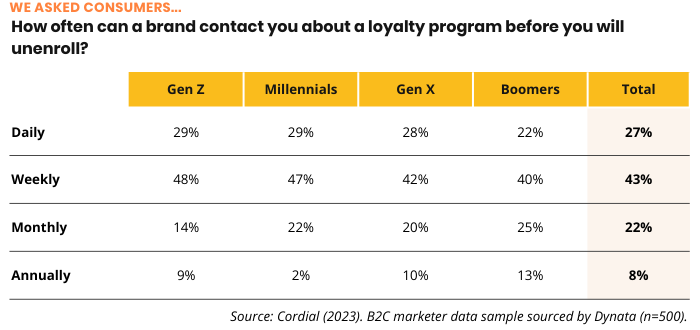 2. They're not using the program enough.
The #1 reason given for leaving a program is simply not using it enough over time. Without meaningful activity, 48% of consumers see no reason to remain enrolled. Driving regular engagement is essential to proving program value.
The solution: Driving active engagement through compelling rewards and experiences is key. Use customer data to personalize offers based on interests and tailor relevant messages. Expand reward-earning opportunities beyond transactions. Engage members through social, events, and advocacy activities. Sephora's Beauty Insider loyalty program high-tier Rouge members gain access to exclusive events that promote community.
3. They didn't save enough money.
The third most common reason for leaving is rewards simply not providing enough monetary savings to feel worthwhile. If they don't see savings, 41% of consumers will leave a customer loyalty program. Members want to see a clear return on their loyalty investment. Underwhelming savings undercut retention. 
The solution: Audit whether your customer loyalty program delivers measurable member savings vs non-members. If not, increase reward values and sweeten redemptions to feel more worthwhile. Highlight concrete money saved in messaging. Consider seasonal "bonus bucks" promotions or member exclusive sales. The key is tying program activity clearly to monetary savings.
Optimizing and building customer loyalty programs to alleviate these common frustrations can reduce churn and create lasting brand affinity. To learn more, check out the aspects of customer loyalty programs that consumers consider the best. By taking the right actions tailored to their customers, you can connect with customers in meaningful, long-lasting ways.