Return to All Resources
Tap into the power of customer data to earn loyalty
4 Minute Read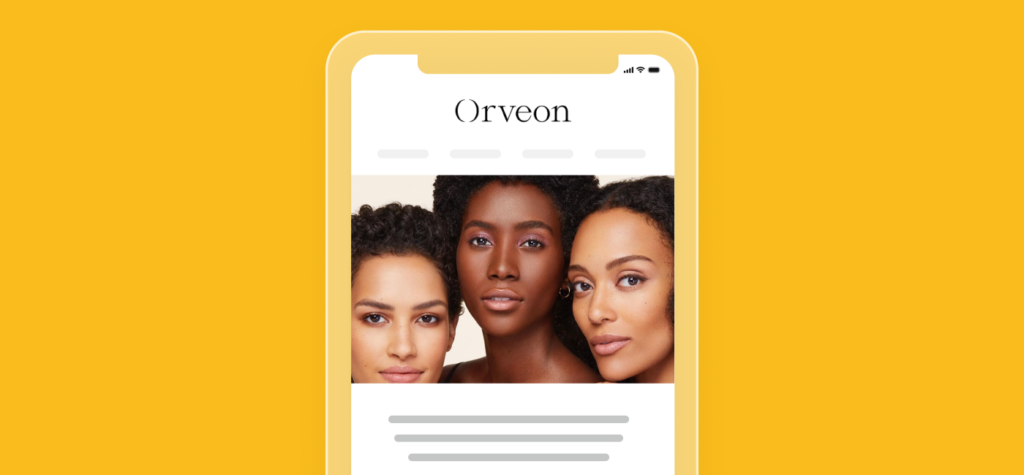 Marketing teams have access to more customer data than ever before, but to truly provide relevant, personalized experiences, they need to consolidate fragmented data into unified customer profiles.
Marketing experts from Cordial and Orveon, a collective brand behind popular cosmetics companies like bareMinerals, BUXOM, and Laura Mercier, came together to discuss strategies for maximizing customer intent signals and driving loyalty by leveraging unified data.
Watch the on-demand webinar below or continue reading about their key takeaways.
Watch now
The power of a unified customer profile
Brands often have customer data spread across various sources—website interactions, loyalty programs, past purchases, surveys, third-party data, marketing channel activity, and more. Centralizing this data into a customer data platform (CDP), that can also execute complex customer journeys and real-time personalization,  is critical.
With Cordial's flexible data platform, Orveon has unified data points from all of these sources to build holistic customer profiles. This complete view of each customer provides invaluable visibility for personalizing experiences.
Ongoing data consolidation also enables Orveon to add new information from emerging channels and continue expanding their customer knowledge. Unified profiles are the foundation for intent signal tracking and optimization.
Identifying and acting on intent signals
Customer actions—like abandoning a quiz on a website—signal interest in the topic and present an opportunity for hyper-tailored follow-up. Other common intent signals include searching for specific products, adding items to the cart, or interacting on social media.
With unified customer data, brands can track intent signals like these across channels and continue the conversation in a way that captures interest. For example, Orveon uses Cordial to identify when customers abandon quizzes on their website. They then send customized emails encouraging the customer to complete the quiz, which captures their interest and leads to higher conversion.
Personalizing messages based on intent signals and other customer data drives higher engagement, conversion, and revenue over generic communications.
Personalizing across channels
Unified customer profiles enable brands to dynamically personalize messaging across channels based on data like purchase history, loyalty status, product interactions, and more.
Orveon leverages Cordial's platform to tailor on-site banners, email content, SMS messages, and push notifications for each customer. This could include displaying abandoned cart reminders, sending tips for using recently purchased products, or showcasing loyalty status and available rewards.
The depth of personalization is endless when brands can access rich customer data in real time across channels. Testing different personalized messages also helps optimize engagement and loyalty.
Driving loyalty program success
For brands with loyalty programs, omnichannel personalization is invaluable for making members feel recognized and providing VIP access. Orveon rewards social engagement with points and sends tailored emails and SMS to encourage loyalty members to redeem points and reach higher tiers.
On-site overlays give members special offers after purchase, while push notifications deliver exclusive perks and content directly to their phones. Customer data powers experiences that strengthen loyalty across touchpoints.
Continuously test and optimize
While unified customer data is extremely valuable, brands must test and optimize messaging to maximize its impact. Simple A/B testing of email subject lines, content, send times, landing pages, and more can significantly lift open rates, clicks, and revenue.
Results will vary based on seasonality, so testing across holiday periods versus summer months is key. Continually experimenting and iterating will refine messaging and improve customer engagement over time.
Orveon developed a rigorous cadence for proposing, designing, and analyzing tests focused on metrics like email engagement and conversion. Their mantra is "always be testing, always be retesting" as they work to optimize communications.
Turn data into lifelong relationships
In today's crowded marketplace, unified customer data and understanding intent signals are essential for brands to deliver personalized experiences that build loyalty and maximize lifetime value.
Consolidating data into complete profiles, tracking intent, optimizing through testing, and engaging loyalty members omnichannel are proven strategies for success. Platforms like Cordial make data readily accessible everywhere so brands can focus on using it to forge lasting connections.
The future belongs to those who can turn fragmented information into unified insights and transform impersonal messaging into personalized relationships. Successful brands will tap into the power of customer data to earn loyalty one message at a time.