Return to All Resources
Trends impacting the 2022 holiday shopping season and looking forward to 2023
5 Minute Read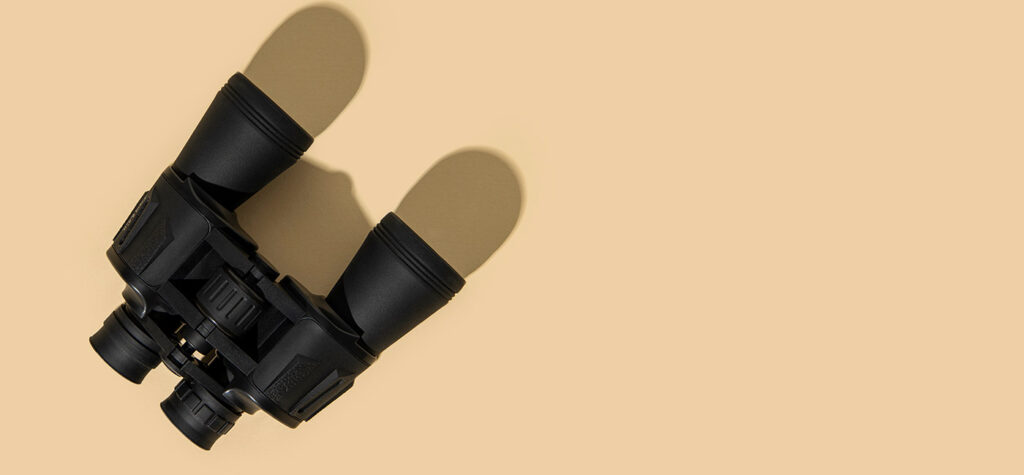 Recommended for you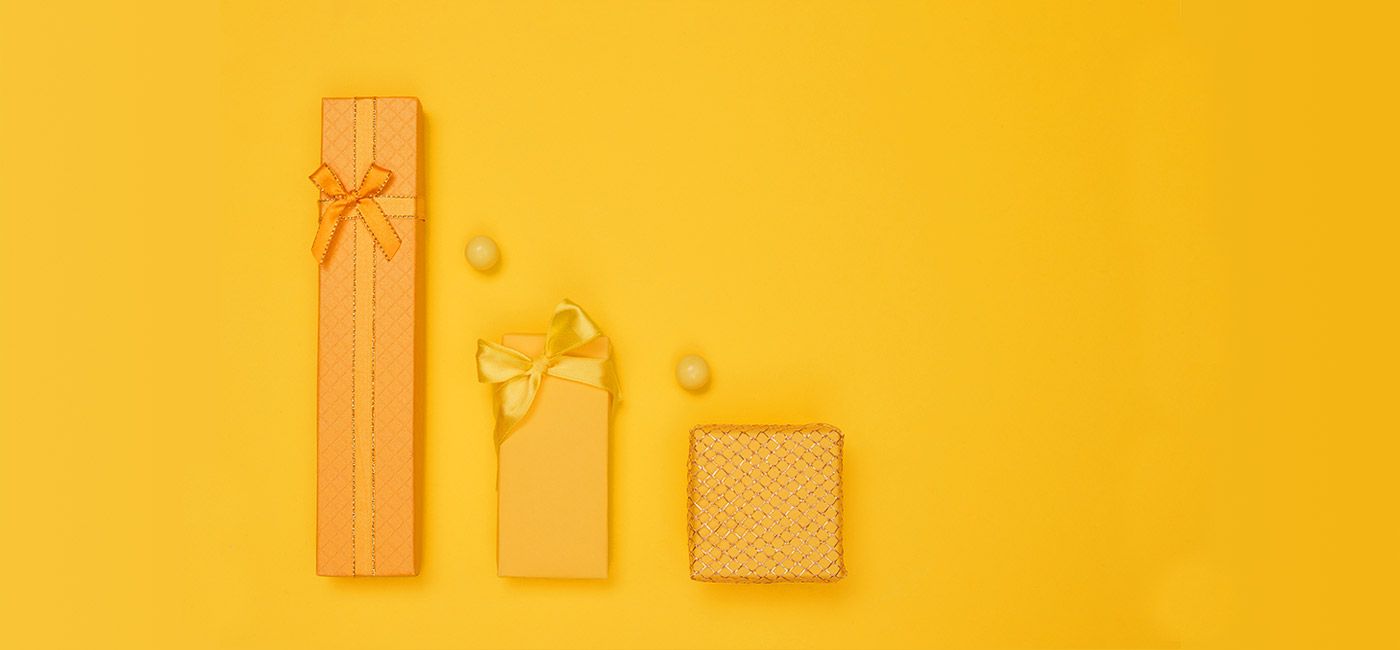 Key takeaways from Cordial's 2022 Holiday Shopping Consumer Survey
Despite concerns about an uncertain economy and inflation, according to the National Retail Federation (NRF) 62% of consumers say it's important to spend on holiday gifts and celebrations — even if that means cutting back in other areas.
That's good news for retailers who often earn as much as 40% of their annual sales revenue from holiday shopping. The bad news is that spending forecasts aren't quite as robust. PwC, for example, predicts overall spending will be down this year compared to last year's 14% increase. Others are generally forecasting modest, low single-digit growth.
With such a backdrop, retailers need to make sure they are taking proactive steps to capture holiday shoppers. Here are some of the top trends impacting the 2022 holiday season that retailers need to consider.
1. Shopping started earlier.
Worries over inflationary prices and product stockouts have consumers saying they'll start their holiday shopping earlier than ever. Deloitte surveys show that nearly a quarter of consumer budgets for the holidays were completed by the end of October.
Don't wait until Black Friday/Cyber Monday. Retailers shouldn't wait until Black Friday or Cyber Monday to grab shoppers' attention. Value shoppers may not be waiting around until then to finish up their holiday shopping.
Accelerate deals. More than a third (38%) of U.S. shoppers say they plan to spend less this year due to economic factors. Retailers hoping to grab market share need to launch deals to attract shoppers before they exhaust their budget.
Forget doorbusters. Instead of doorbusters this year, consider inflation-busters — because 85% of consumers say rising prices are top of mind and impacting their shopping plans.
2. Don't ignore surging in-store traffic.
Spending insights from Mastercard indicate significant increases in retail store traffic this year compared to last year's holiday shopping season. In-store retail sales are forecast to grow by 7.9% this year vs. 2021. Retailers need to be prepared to meet offline demand.
Staff up. It's been a challenging year to attract and retain employees even despite increasing wages. Still, consumers aren't going to put up with long lines and poor service when they're shopping this year. There are too many other options to buy gifts, so failing to keep checkout lines open or provide help from associates will result in lost sales and damage to brands.
Offer in-store promotions. When shoppers can browse, compare prices, and shop online, you need to improve the in-store experience to compete. Offering in-store promotions and special events can incentivize shoppers to visit.
Extend store hours. One of the reasons shoppers have embraced online shopping is convenience. Consider extending store hours to make it easier for consumers to shop on their schedule — and not just in the last few days before the holiday.
3. Shopping behavior has changed.
The last two years have had a fundamental change in how consumers shop and what they expect. Failing to meet these demands can lead to significant losses. For instance, hybrid shopping has become the norm, with 64% of consumers doing research online before visiting stores.
Keep online storefront, marketplace, and in-store inventory in sync. Three-quarters of shoppers are shopping online and in stores, often using multiple channels. Pricing, stock levels, and offers need to be in sync across every channel and up-to-date. Consumers will be making choices based on availability as much as price.
Compete on delivery and pickup. Amazon made two-day delivery, next-day delivery, and same-day delivery at no cost or minimal cost a default expectation for consumers. If you are unable to match, you will lose sales to those that can offer such options. Buy Online, Pick Up in Store (BOPIS) and Reserve Online, Pick Up in Store (ROPIS), and Buy Online, Return in Store (BORIS) are essential for those operating e-commerce and brick-and-mortar locations.
Offer multiple payment options. Consumers are also demanding alternate payment options besides credit cards, debit cards, and eChecks. Offering online payment options such as PayPal, Stripe, Apple Pay, Google Pay, and Amazon Pay can help reduce cart abandonment. Consider adding "buy now, pay later" options to capture consumers that need to stretch out payments.
Look for generational trends. When Cordial reviewed the results of our 2022 Holiday Shopping Consumer Survey, we found Gen Z love using in-store apps more than any other generation and Boomers care most about just getting a deal. Consider gaps in your messaging and channel approaches for different age groups, with tips from our following infographic.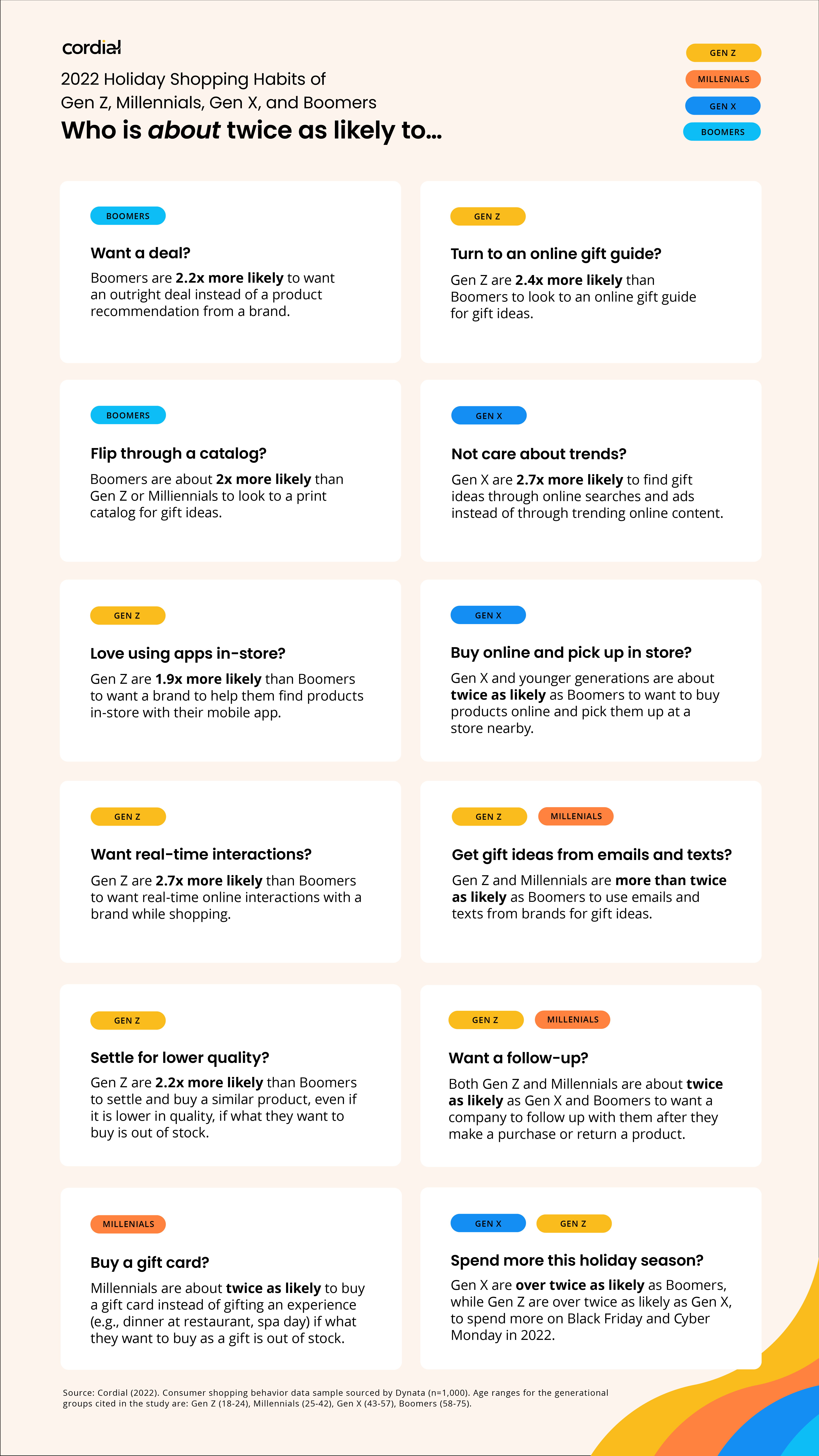 How can marketers prepare for 2023?
How consumers shop this holiday season will tell us a lot about what to expect in 2023. Three key factors that experts will be watching closely for 2023 include:
Improve e-commerce offerings. So far in 2022, 14.5% of retail sales came from e-commerce — a nearly 40% increase from pre-pandemic levels. Experts expect the shift to online shopping to continue in 2023 and retailers will need to improve their e-commerce offerings if they want to compete with the major retailers.
Reduce consumer frustrations. In-store consumers continue to be frustrated by stockouts and staff shortages. Retailers will need to monitor this closely, increase staffing levels, and explore more self-checkout options to reduce frustrations.
Revisit supply chains. Procurement experts expect supply chains to finally ease towards the end of 2023, but it may be a rough ride until then. Retailers should diversify supply chains and find efficiencies to reign in escalating shipping and fulfillment costs.
Cordial can help marketers use their data to better connect with customers and accelerate sales. Request a demo and get ready to create a better customer experience.
Picked For You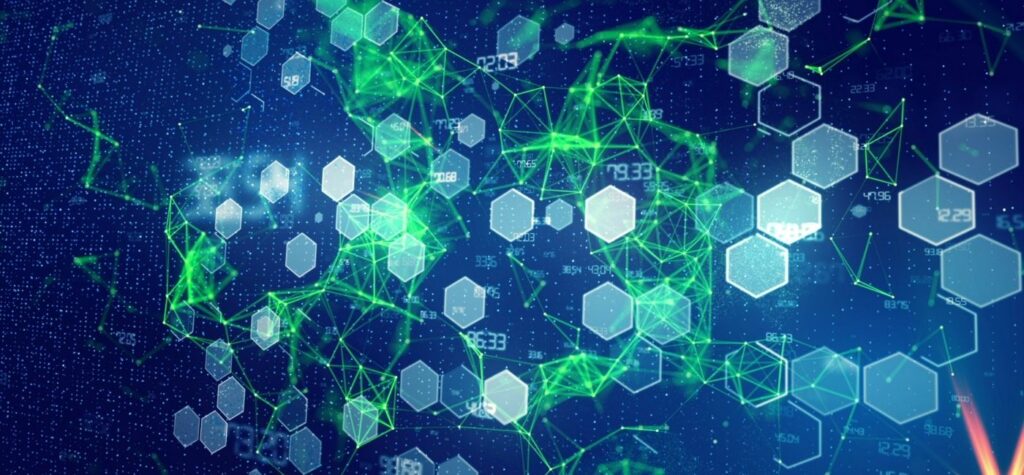 Article
Real-time data: The foundation of cross-channel marketing
As marketers learn more about consumer behavior, it's clear that buying a product isn't a…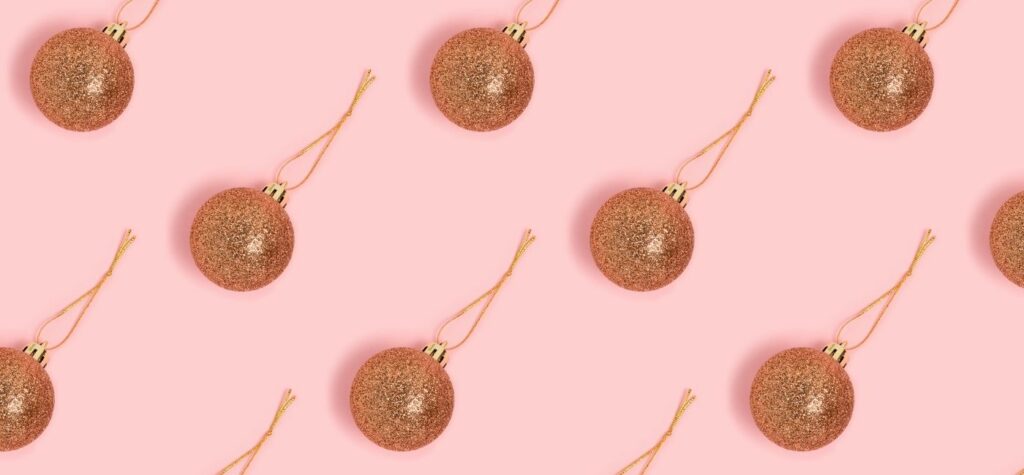 Article
Campaign management during the holiday season
Summer is barely over and we may still be a few months away from eggnog…