Return to All Resources
Discover the untapped potential of the mobile app experience
3 Minute Read
We've entered a new era in marketing. Your customers are consuming information in new ways, spending their online time in new places. According to Internet Retailing, "the move to mobile during the pandemic is here to stay, with app usage growing 30% in 2021 and no signs of slowing." 
To strengthen customer loyalty and improve the overall customer experience, your brand should meet consumers where they are with compelling, well-timed communication. Mobile apps pose a major opportunity for brands to connect with consumers in new ways. Today's shoppers use apps to shop both online and offline, using them to navigate online shopping experiences as well as when visiting brick-and-mortar stores.  
In our latest customer engagement study, we found that a majority, 70%, of consumers say they are shopping via mobile apps more frequently than they did a year ago. Gen Z and Millennials are mobile app power users with 81% and 90% respectively agreeing that they are using mobile apps more now than a year ago.
3 key stats showing consumers' love of mobile apps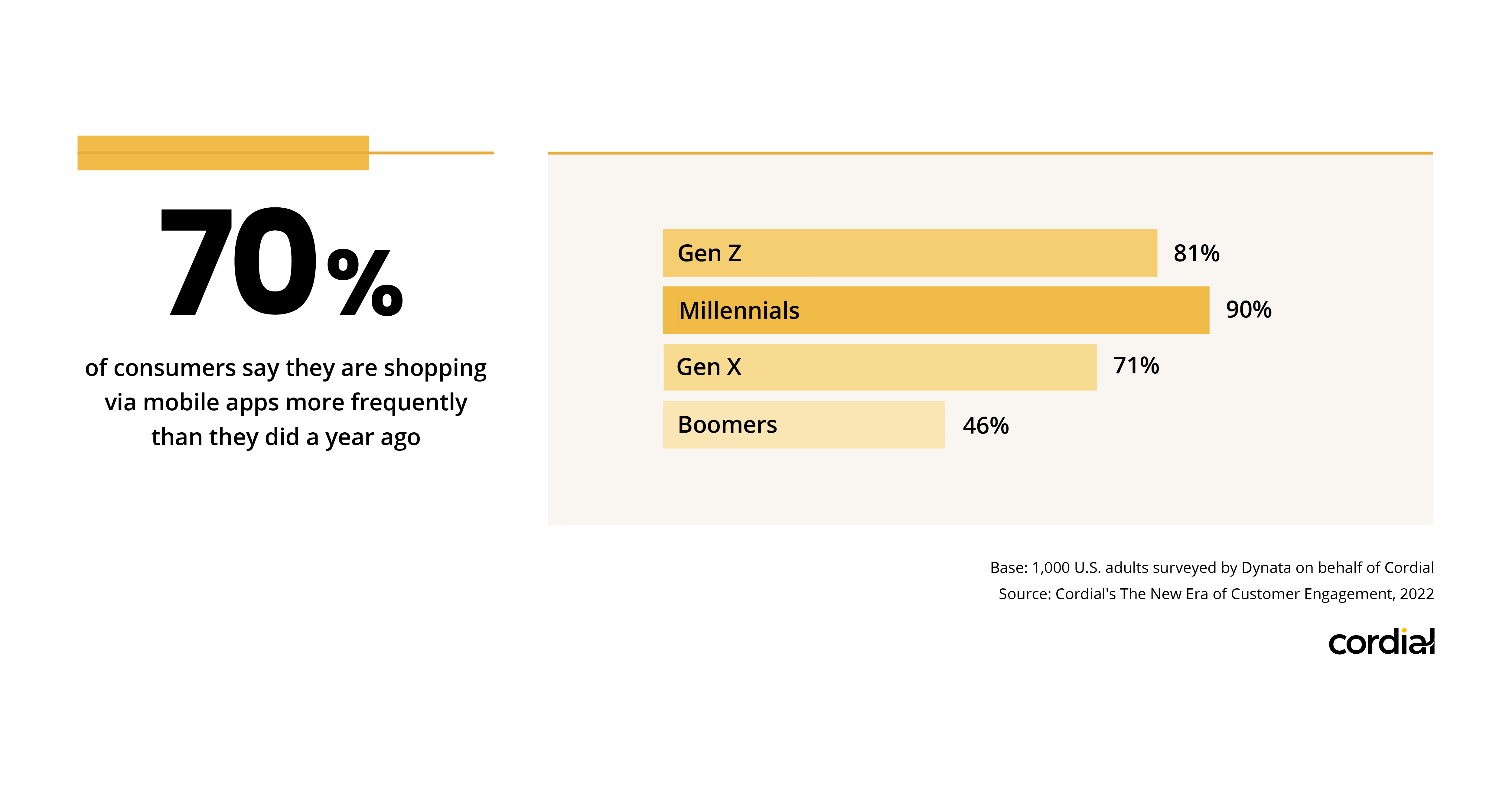 Notably, nearly half (47%) of consumers—and 70% of Millennials and 69% of parents with children in the household—shop using a mobile app a few times a week or more, most likely to save time and expedite shopping.
The convenience factor is indeed real. Consumers have grown more accustomed to mobile apps and the improved experience they offer. In fact, 76% of consumers also report that they prefer when stores and brands offer their own mobile apps over just shopping on their website and 66% of consumers say the experience is usually better using mobile shopping apps than shopping on a brand or retailers' website. The ability to receive personalized offers and communications certainly factors into the improved experience in-app vs. website.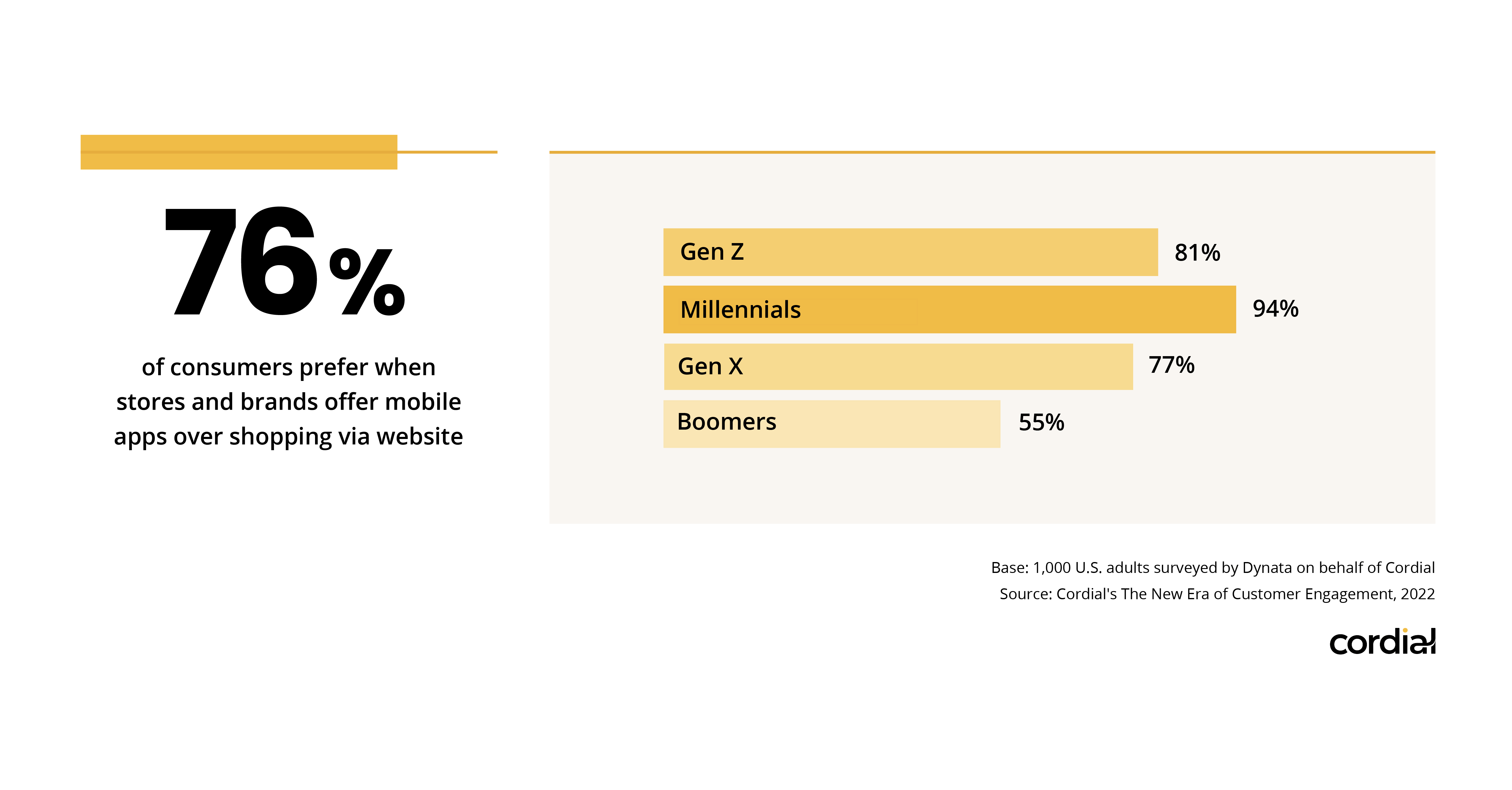 Our survey also revealed that consumers are using mobile apps to aid their in-person shopping experience. Sixty-five (65%) of consumers have used a store or retailer app while shopping in person at a brick-and-mortar location. Younger shoppers are even more inclined to do so, with 80% of Gen Z and 85% of Millennial shoppers saying they use apps in-store. Interestingly, a similar percentage of men (65%) and women (66%) engage in this practice. Clearly, there is also an opportunity to use real-time data on customer needs to engage in incredibly precise moments — and consumers want that.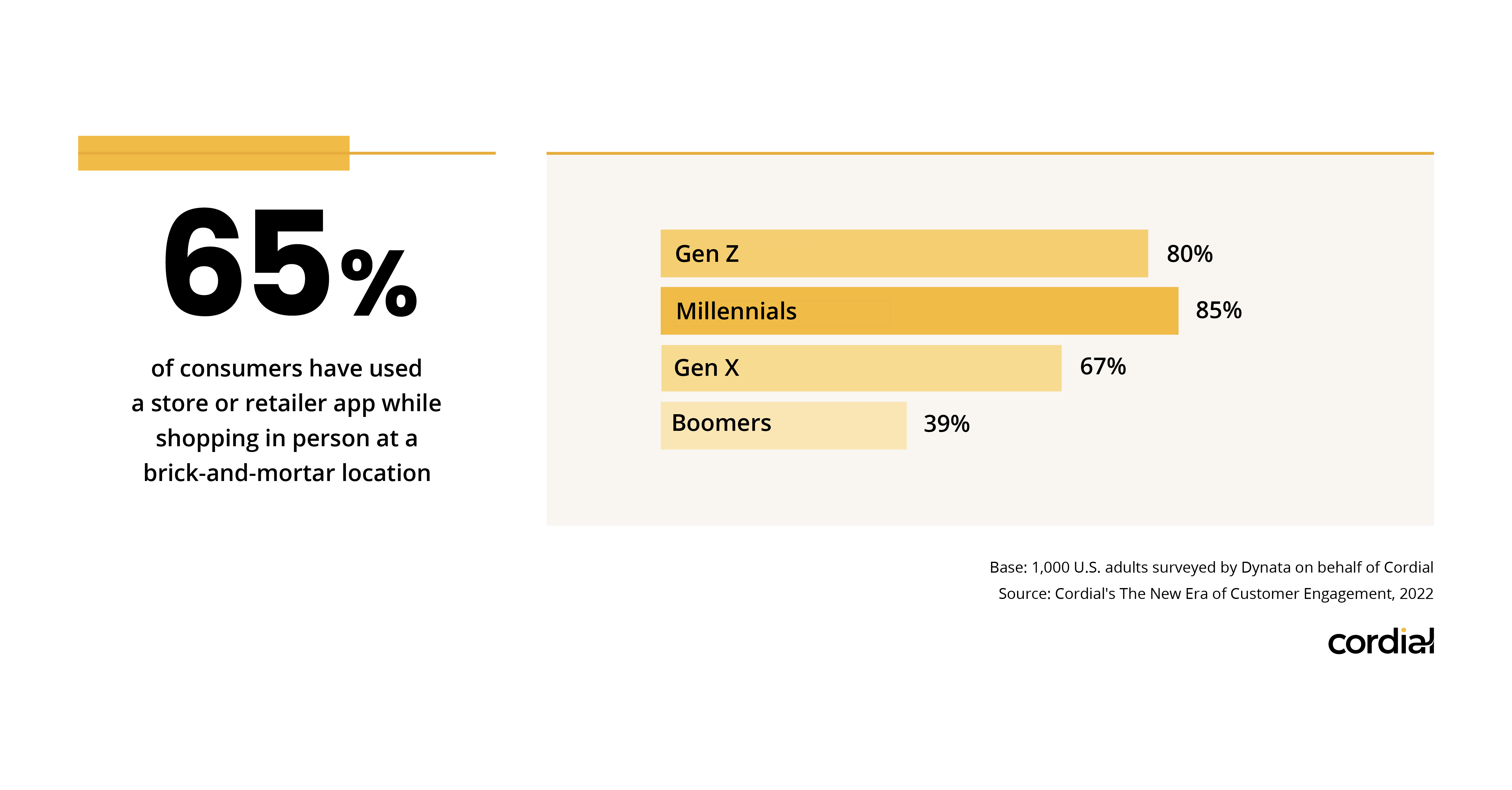 As the popularity of apps grows, brands and retailers need to make sure their app engagement strategy meets consumer expectations. Not only should apps make shopping easy and support in-store navigation, but they also provide an opportunity for proactive messaging, personalized to individual consumers — from incentives to new product discovery to in-store information. 
Download The New Era of Customer Engagement — a guide on how to approach email, SMS, and mobile app marketing in new ways — to learn how you can better deliver on rising expectations and the hyper-personalized communication your customers want.
Picked For You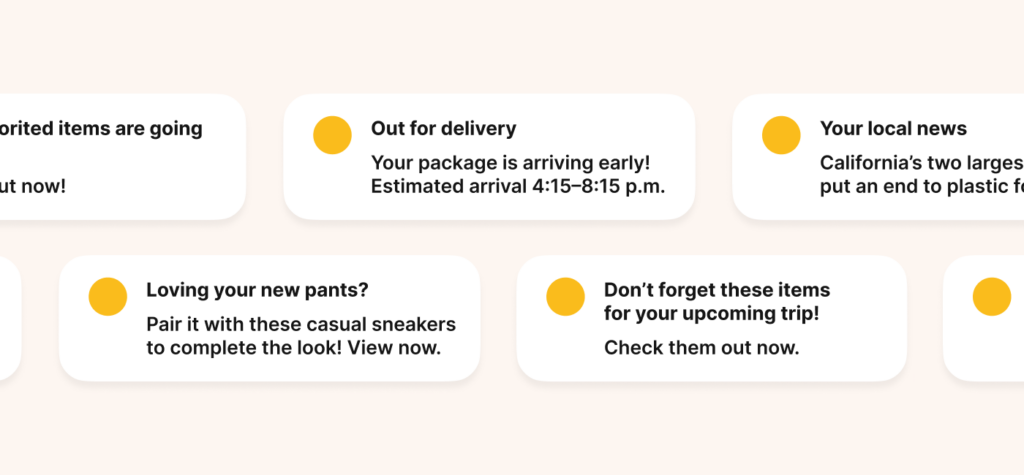 Article
5 unique ways marketers are using push notifications
While some marketers are dabbling in using all three mobile app messaging types with great…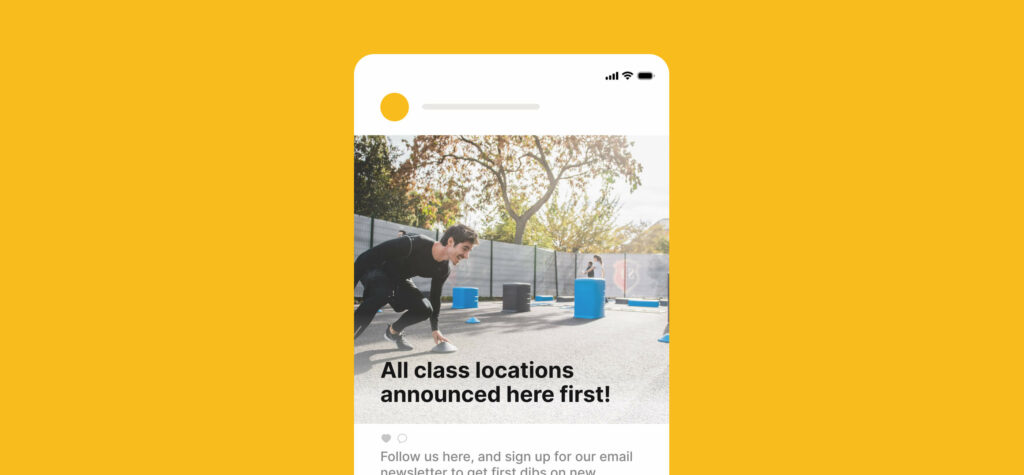 Article
5 ways to connect social media content with email marketing campaigns
With the recent news about Google's decision to remove cookies for advertisers, it's imperative (now…