Return to All Resources
Intro to push notifications
22 Minute Read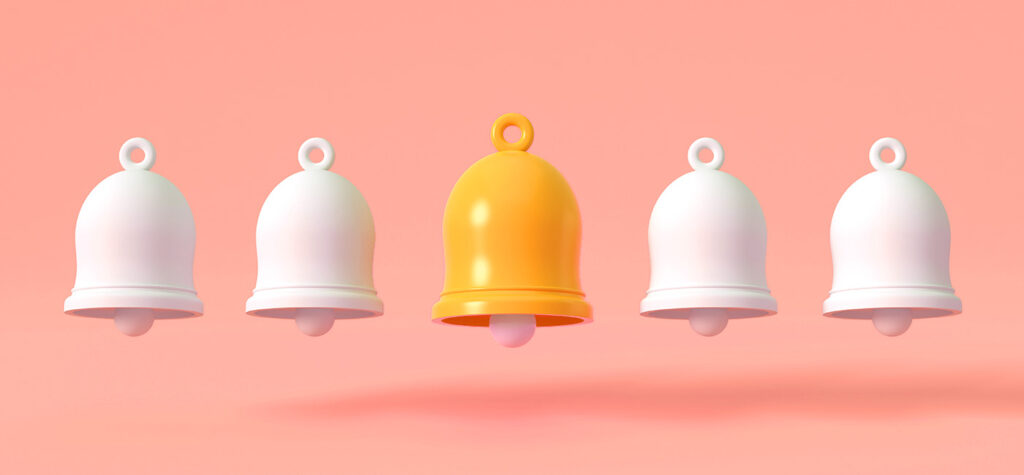 Marketing campaigns are everywhere, from billboards to television ads to snail mail. While email used to be the king of digital marketing, push notifications have taken over in the last few years. Push notifications can have high engagement and bridge the gap between the company and the customer — but they can also seem invasive if used too much.
So, what's the perfect strategy? Use real-time data to create personalized messages that the user actually wants to read and open. Jump to any section to dive in:
What are push notifications?
Push notifications are automated messages that a website or application "pushes" through to a user. They may inform users of news, sales, event updates, or new merchandise. These notifications are distinct from in-app and text messages, as they typically drive users back to the application and encourage increased engagement. 
Push notifications vs. in-app messages
Push notifications appear when people are not using the application. They provide a way for the app to continue interacting with the user even when it is not open. In-app messages occur within the application and may display more private information like transaction details. 
Push notifications vs. SMS/MMS
Push notifications are alerts that come from an application. SMS/MMS send text or media messages to users using their phone numbers. People can often respond to SMS and MMS messages, while push notifications are simply alerts from an app. 
Web vs. mobile push notifications
Web push notifications are messages that pop up while someone has a web browser open, either on a desktop or a mobile phone. The person does not need to have a specific page open to receive web push notifications. Mobile push notifications occur only on smartphones and come only from applications. 
Push notifications and privacy laws
Privacy laws have significantly impacted how companies and marketers reach their customers. These laws are constantly evolving and becoming more stringent to protect users' information. 
Until recently, iOS required apps to first ask users if they would like to opt-in to push notifications, while Android made the opt-in automatic. However, Google's recent Android 13 requires apps to request permission before sending push notifications. 
Apple's iOS 15 came out in 2021 with strict privacy policies, holding apps to a higher level of accountability regarding how they use first-party data. Similar privacy laws include the California Consumer Privacy Act (CCPA) and the General Data Protection Regulation (GDPR) in the European Union. Both give users more rights to the user to keep their information private. If your business or organization serves individuals in California or Europe, it's wise to review the specific laws and ensure you are compliant. 
Although these extensive privacy laws may seem detrimental to push notifications, they are not. In fact, they have created a surge in using first-party data, which is the backbone of push notifications.
Related resources on Cordial:
How first-party data fuels push notification marketing
First-party data refers to the information your company collects directly from the users. Examples could include demographics, purchase history, brand interactions, interests, etc. Under the privacy laws mentioned, apps can collect first-party data with the users' consent — which is why Google Play and the Apple App Store both require apps to be transparent about data collection. 
Interestingly, users are willing to share their first-party data with apps, as long as it's not sold to other brands. Segment's The State of Personalization 2021 reports that 70% of customers are comfortable with businesses using first-party data for personalization over information bought from other brands. 
With an overwhelming majority vote for first-party data, the shift has fueled push notification marketing and given companies increased access to real-time data about what users like and how they interact with their brand. That information becomes invaluable when developing personalized marketing strategies and push notifications.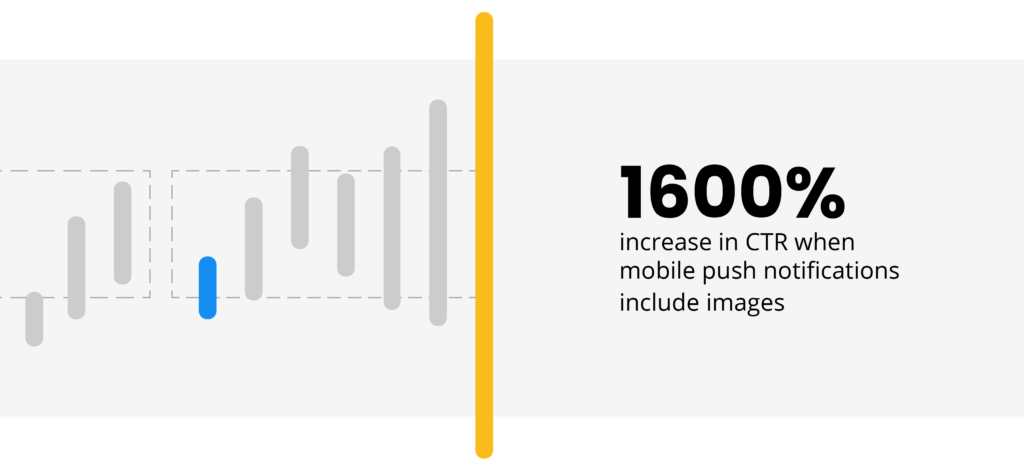 Source: OneSignal
Push notification marketing stats
Explore these statistics to see just how effective push notifications can be. And for more research on consumer preferences when it comes to messages they receive from brands, please read Cordial's New Era of Customer Engagement report.
1. When users receive too many app notifications, 39% of users turn them off.
This data comes from a 2021 Statista report that explores user behavior when they receive too many mobile app notifications. While almost 40% turn off all notifications, another 42% adjust the settings to limit notifications. 
That means over 80% of users opt to limit or remove notifications entirely if they feel bombarded by messages. Of course, if they turn off or limit notifications, your push notifications will no longer reach them. 
Another 8% of people will delete the app entirely. While this is a much lower percentage, it is still a possibility that you want to avoid. Since the vast majority of users react negatively to excess notifications, you must find out how many messages your audience wants to receive before you launch your campaigns.
2. The definition of "too many notifications" depends on the type, and only 23% of users agree multiple reminders per day are acceptable.
Thankfully, another 2021 Statista survey provides insight into what users deem to be too many. About 40% of people agree that news, information, and social media apps can send multiple push notifications daily. 
Companies sending out reminders might limit their messages to one per day, as 32% agree that was an appropriate frequency. Only 23% believed that several reminders per day were acceptable. 
The survey respondents were divided about the appropriate frequency of brand promotions. However, they leaned towards a less-is-better mentality. Over 20% said they would never like to receive brand promotion notifications, and another 18% said weekly messages were appropriate. 
3. Applications send an average of 8 to 9 push notifications per month.
Even though users are open to receiving multiple informational notifications daily, most apps don't need to send such frequent messages. The 2021 Airship report shows that apps send an average of 8.4 monthly notifications to Android users and 8.8 to iOS users. 
Media and sports apps had the highest monthly volume for Android users, averaging 114.8 and 25.3, respectively. The monthly averages were only slightly lower for iOS media and sports apps. 
The other application verticals averaged under 10 monthly notifications for both Android and iOS users. For example, food and drink applications sent about 4.6 monthly push notifications, while medical, health, and fitness apps sent an average of three. 
When deciding how many push notifications to send, consider not only the type of message but also what is standard for your industry vertical. 
4. A substantial 44% of companies receive higher re-engagement with mobile push notifications.
According to a 2022 OneSignal report, 44% of companies saw the most re-engagement with mobile push notifications ⁠— over 2.5 times more engagement than the second-most effective channel, email. Over 60% of the companies ranked mobile push notifications as the most critical customer communication channel. 
While mobile push notifications have bounded ahead of other communication channels, web push notifications are not far behind. Companies ranked them the third most effective re-engagement channel and the third most essential communication channel. 
The survey also showed that businesses believe mobile and web push notifications will be the top two most critical communication methods in the next two years. 
5. Using web push segmentation can increase CTR by 1.5-2 times.
While many studies focus on mobile push notifications from applications, web push notifications are still important and effective. Remember, web push notifications can occur on mobile devices and desktop computers. 
Gravitec published a 2019 report on web push notifications showing that they are still effective, especially on mobile devices. One tactic that increased overall click-through-rate (CTR) was using web push segmentation. By grouping contacts based on demographics, interests, or brand interaction, companies can see 1.5-2 times higher CTRs.
6. Including images in mobile push notifications can increase CTR by over 1,600%.
The previously mentioned OneSignal survey also reports how much images can increase push notification CTR across diverse verticals. While all industries reported an impressive increase in CTR when they added pictures to their push notifications, medical apps saw a 1,634% average increase. Social applications reported a 1,147% increase, house and home apps a 322% jump, and business a 128% growth. Event apps saw the smallest increase at only 23%.
No matter your business vertical, using visuals can help increase overall engagement. Even gifs, videos, and emojis can help capture people's attention and boost CTR or open rate. 
7. The median opt-in rate for Android users is 29.8% higher than for iOS users.
The Airship report highlighted the difference between the opt-in rate for Android and iOS users, noting that it is almost 30% higher for Android users. Considering the privacy policies for iOS users, this makes sense. Android — except the new Android 13 — automatically opts users in to push notifications, while iOS users must manually agree. 
As you track your CTR and opt-in rates, it's important to remember the difference between iOS and Android so you do not attribute the resulting difference to other causes. You can expect opt-in rates to be slightly lower for iOS users, no matter your campaigning tactics.
8. The education vertical has the highest direct open rates.
Interestingly, each vertical has unique open rates for Android and iOS users. For example, social apps have a 10.8% median direct open rate with Android users, but that number drops to 2.8% for iOS users. Yet the education vertical has some of the most impressive open rates for both users. The high-performing (in the 90th percentile) Android education apps report a direct open rate of over 31%. The high-performing iOS education apps have over an 18% direct open rate. 
Both of these rates are significantly higher than for other verticals. Keep this in mind when analyzing your open rates. Make sure to consider what is 'normal' for your vertical and what type of users you serve.
9. Sending push notifications at optimal times can improve open rates by 40%.
According to data compiled by Swrve, choosing the right time of day to send push notifications is critical. By choosing optimal times, like during lunchtime and before going to sleep, companies can see an increase in CTR by up to 40%. 
Of course, optimal time may vary for different audiences, so keep track of what time of day your users are opening more push notifications. If you serve customers in different time zones, consider that their optimal time likely differs from that of your local customers.
10. Personalizing push notifications more than triples the engagement rate.
A 2022 PwC study determined that brand loyalty intertwines with personalization. Customers want a personalized experience, and that is especially evident with push notifications. The OneSignal survey also reports an almost 260% engagement increase for personalized push notifications compared to general ones.
This increased focus on personalization has recently skyrocketed. According to a 2021 report on The State of Personalization, the percentage of people who would buy from a company again after a personalized buying journey increased from 44% in 2017 to 60% in 2021. 
Since push notifications have become a crucial part of the customer's journey with a brand, you should personalize the messages to improve brand loyalty and customer satisfaction. 
Common push notification use cases
1. Send traffic and driving updates.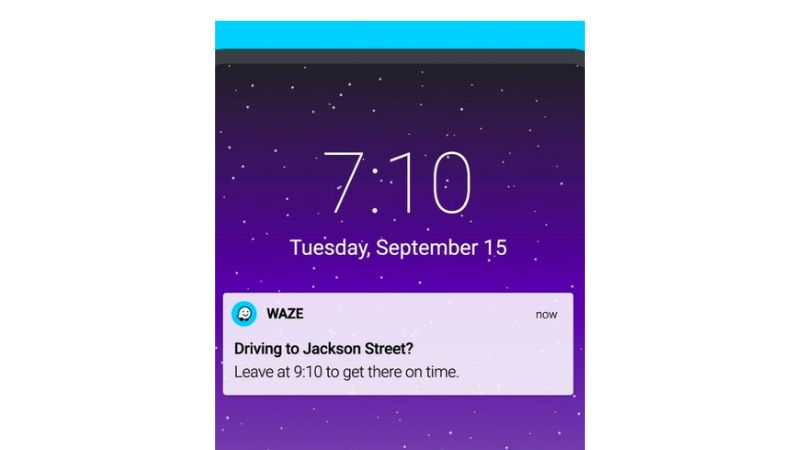 Apps like Waze, Uber, and Google Maps provide regular traffic updates to help people avoid slow-downs and reach their destination quickly. These messages typically don't require user interaction so they may receive low open rates. However, that doesn't mean they aren't effective. Quite to the contrary, these informational messages are useful, direct, and often essential. 
To provide accurate updates, the app must collect first-party data like the user's current location and their past interactions with the app. For example, the message shown likely resulted from the person using Waze to get directions to Jackson Street. Since they never started the journey, Waze used the person's app interaction to create this push notification.
2. Introduce your brand.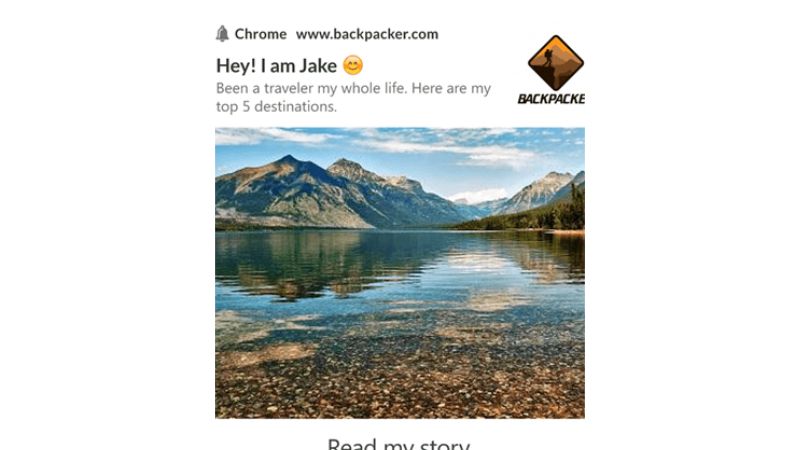 This web push notification from Backpacker Magazine welcomes new visitors to a site and offers them an overview of the brand. It's personal, fun, and descriptive, which catches the viewer's attention. Since this is an introductory message, the purpose leans more towards earning peoples' trust rather than promoting a product. 
Welcome messages and brand introductions like these do not use many first-party data points since they target new website visitors or customers. Still, they rely on some information, like how many times a user has visited the site and what items or pages they browsed. 
3. Add some fun and humor.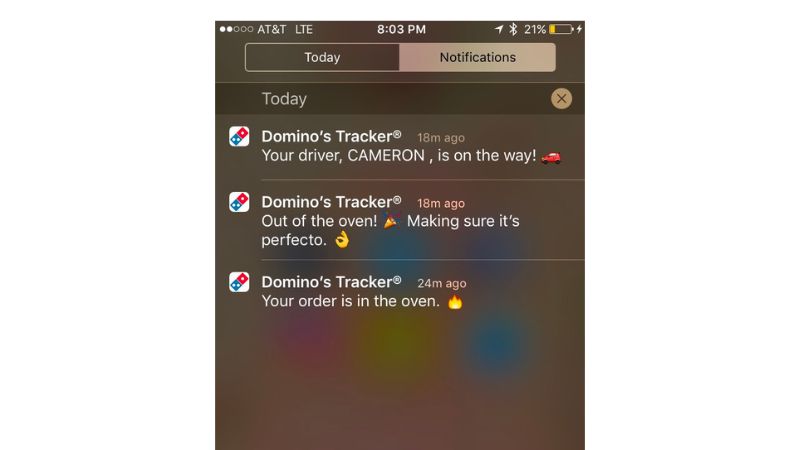 Making push notifications fun with jokes or emojis can boost engagement and put a smile on your customers' faces. This approach can be a game-changer when people receive so many notifications each day. Like the example from Domino's, make yours stand out with a touch of humor that both aligns with your brand and fits your user demographic. 
One option is to segment your contacts and try different jokes for diverse locations or age groups, which would require the application to collect that first-party data. The app can also track the user's interactions with push notifications and record which messages were more effective. Users who typically respond to funny notifications can then receive more. 
4. Remind users about items left in their cart.
Users often start shopping, get interrupted, and forget about the items left in their cart. An abandoned cart can trigger a push notification, like the example from Boxed, reminding the user that they forgot to finalize the purchase. These messages are essential for e-commerce apps. Paired with a specific discount code, abandoned cart push notifications can draw users back into the app to make the final purchase.
Of course, to create these abandoned cart notifications, the app must collect information about the person's interaction with the platform. It tracks the purchase history, or in this case, the lack thereof. The app collects data about how many items — and often which specific products — the user left in their cart. With more specific data comes a more personalized abandoned cart notification. 
5. Notify users about price changes.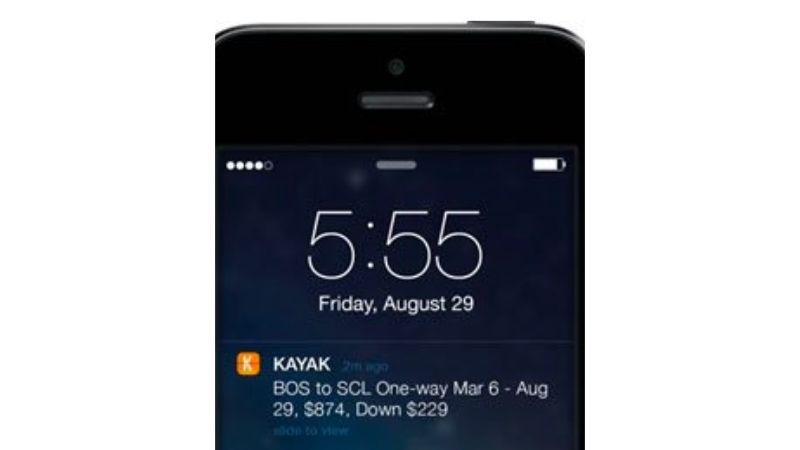 Similar to an abandoned cart notification, messages about lowered prices result from a user's search history on a website or within an application. Take, for example, the message from Kayak about reduced airfare. The notification includes specific dates and locations, which the app collected during the person's prior flight searches.
These push notifications use this first-party data to draw people back to the application. Since apps like Kayak do not have a typical virtual cart given they sell flights, they rely on these messages to remind people of their search.  
6. Offer personalized recommendations and support.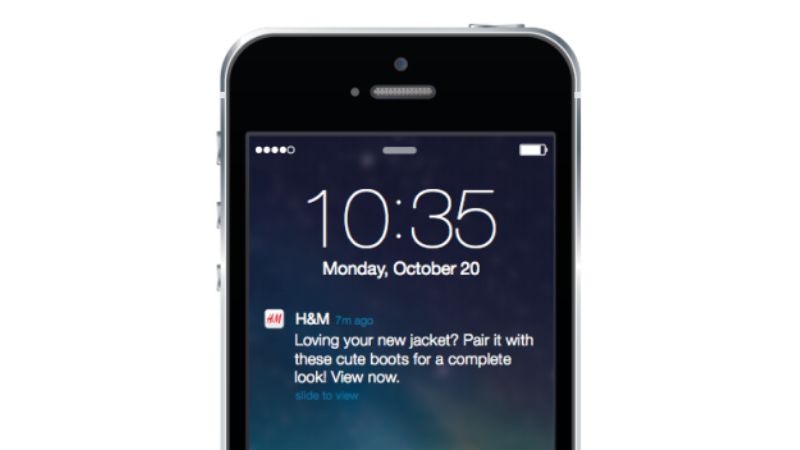 Personalized push notifications can take many forms, depending on your particular vertical. Here are two examples, one from a clothing company and another from a financial application. They offer completely different viewpoints, but each message targets the user's interests and habits. 
The H&M app used data about the person's latest purchase to suggest a new item, while Mint created a weekly financial summary based on the user's spending habits.
7. Advertise sales or coupons.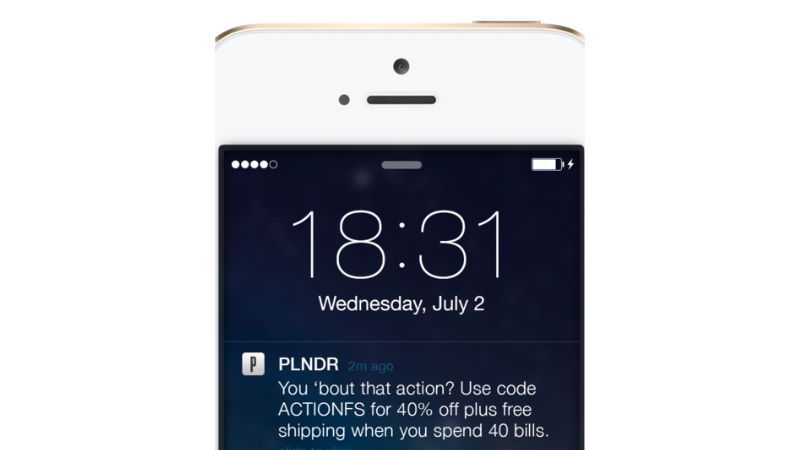 Another superbly popular use for push notifications is advertising sales. E-commerce companies, like PLNDR, can quickly spread the word about upcoming discounts or holiday price cuts. For more general sales advertisements, the app may not use much first-party data.
However, apps can send user-specific coupons. They may collect data about the last time the user made a purchase and what they bought. Coupon notifications can draw people back to the e-commerce app after a period away, or they might reward loyal customers.  
8. Get feedback on preferences.

Some push notifications request feedback so the app can further personalize notifications. Netflix offers a prime example with a simple "like or dislike" question regarding recently viewed movies and TV shows. These notifications directly collect first-party data for future messages offering viewing recommendations.
The simplicity and personalization of these feedback notifications make them successful. However, do not confuse them with push notifications asking for app ratings, as those typically push people away. 
9. Push notifications for events, news, or updates.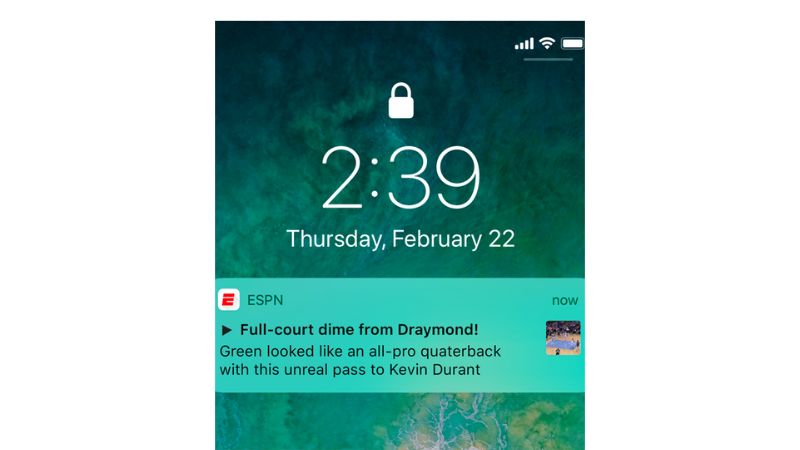 These push notifications give users real-time updates about events, whether they are national sporting events or local store sales, like the example from ESPN. The purpose is to promote that event, keep people informed, and encourage them to visit the app or website for more live details. 
Apps may use first-party data points like location, interests, or past interaction to promote events that the user will like and interact with.
Push notification best practices
1. Personalize push notifications.
As previously discussed, personalization is critical to the customer experience and brand loyalty. Consumers want an experience tailored to their interests, needs, budget, and preferences. So, collect first-party data and use that to personalize push notifications. Use their name, reference previous purchases, and offer suggestions based on browsing and buying history. 
Hey [Name]! Are you enjoying your leather-bound notebook? We found a few fine-point colored journaling pens that you might like. Don't miss out!
2. Make them useful, informative, and valuable.
Promoting your brand can be exciting, and you may want to share everything with your customers and clients. However, less is often more — especially with push notifications. Before sending out a notification, ask yourself these questions:
Is this information useful to my audience?

Does it provide critical information that my audience needs or wants?

Would users find this valuable and want more?
If any of those answers are no, then reconsider sending the push notification. And remember, what's useful, informative, and valuable for one vertical may not be so for another. It all depends on your target audience.
3. Focus on the user, not the company.
There's nothing that piques our interest more than something that we can relate to or that interests us. People want to know what they can get out of something, so keep that in mind when sending push notifications. Try something like the following: 
Hi [Name]! Congratulations! You spent 15% less this week. View your spending summary and learn how you can save even more.  
4. Don't measure push notification success only by open rate.
Many of the statistics previously noted measured the success of push rates by CTR or open rate. While definitely helpful, this measurement is not always an accurate representation of push notification success. Consider it more of a suggestive success rate.
Push notifications often receive engagement, even just at a glance — and that counts. For example, notifications encouraging people to return to their abandoned carts are likely to get much higher open rates than push notifications about traffic updates. Yet traffic updates are just as valuable, if not more so, to many users. Consider your company's vertical, typical open rates for notifications from similar apps, and what type of information your users value before putting too much emphasis on open rates.
5. Run A/B test campaigns.
One of the best ways to test which phrasing, words, CTAs, and media work best with your audience is to run A/B tests before sending out an entire campaign. Take two versions of the same push notification and send one to group A and the other to group B. Record the results and see which one had a higher CTR, as that should be the one you send out in the main campaign.
Make sure to change only one factor at a time to truly see the effect. For example:
Message A:

Exclusive deal alert! Valued customers get 15% off this week only. Shop now!

Message B:

Exclusive deal alert! Valued customers get 15% off this week only. Browse our selection!
In the example only the CTA changed, so you can truly see the effect of which phrasing connects more with your audience. 
6. Include engaging CTAs.
The end goal for (most) push notifications is for users to click through to the application or website, so you need to make the CTA as convincing as possible. The first step is to use verbs that inspire action like watch, explore, buy, browse, listen, and review. Avoid words like be, continue, click, or open, since people may subconsciously associate them more with spam or ads.
You want people to feel compelled to act when they read the notification, and it all comes down to the CTA. Examples:
Escape your routine with these new book releases. 

Browse our newest products. 

Listen to the latest podcast. 
7. Use power words.
The rest of your message must be just as powerful as your CTA. Push notifications are short, so every word counts. Use power words to ensure that your message stands out to the user. These can include eye-catching terms like:
Cashback

Express

Reminder

Exclusive

Alert

Invitation-only

Endorsed

Authentic

Trending
8. Create rich media content.
Rich media content refers to images, videos, gifs, and emojis — anything that makes the content pop. This approach helps increase your engagement rate and makes your brand more memorable. Just be careful not to go overboard with the images or emojis. Find a careful balance that reflects your brand and resonates with your audience. 
Today through Sunday, all our merchandise is 30% off! 🥳  Take advantage of the savings before time runs out! 🕦 
9. Communicate urgency.
People have dozens of things fighting for their attention all day. If you want your message to stand out and produce engagement, create some urgency. Consider terms like:
Don't miss out

While supplies last

Hurry!

Order now!

Limited-time offer

Last chance

Ends soon

Deadline
10. Track your results.
Keeping track of your metrics is critical to a successful push notification strategy. Record all your metrics, when doing A/B testing and managing push notification campaigns. Examine your engagement rate, keeping in mind that clicks aren't the only thing that matters. Compare the results of each campaign to determine whether images or emojis work well, which words resound more with your audience, and how often they want to receive push notifications. Make sure you also track retention rate, traffic, purchases, etc. to see the overall effect of your push notifications.
When NOT to use push notifications
1. When you want subscribers to rate your app
Push notifications should only include information valuable to the user ⁠— and messages requesting ratings or reviews are not worthwhile. Instead of driving people to the app or reminding them of your services, these messages may prompt users to turn off all notifications or even delete the application. 
If a user wants to rate your app, they will. Don't push them too much, or you'll risk a negative customer experience. Avoid sending messages like this:
Hey [Name]! Love using [app name]? Let us know by leaving a review! 
2. When you want new clients or customers
By definition, push notifications target your current subscribers. While they may help increase traffic to your website, that boost comes from current users, not new ones. Be careful with wording in your push notifications to ensure you are not targeting potential subscribers because your message will never reach them.
For example, this message would not work as a push notification:
Looking for an app that can save you time? Download [app name] today! 
Whether you're trying to promote your current app or a new one, these messages can push people away. 
3. When users are likely working or sleeping
Timing can be a game-changer for push notifications. Be aware of your target audience's time zone, and avoid late-night or midday push notifications.
Timing is especially critical when you have customers nationwide⁠ — or worldwide. Segmenting your contacts by time zones can help you avoid any mishaps.
4. When you have already sent out notifications that day ⁠— or even that same week
Frequency is a fine line to balance, and it may take some time for you to learn how many notifications your audience considers to be too many. If you have already sent out a push notification that day or week, ensure the subsequent messages are helpful, necessary, and relevant before sending them.
You want to avoid people opening their phones to see this:
[app name]                                    9:45 am

Check out our new line of shoes! Half off until Thursday!

[app name]                                    11:30 am

Need new running shoes? All pairs are on sale now!

[app name]                                    1:05 pm

Make sure your kids have the best kicks to start the school year right. Shop online today!

[app name]                                   3:20 pm

Hurry! Supplies are limited. Take advantage of our half-off sale now!
If you need to provide sports, news, or traffic updates, this many notifications may be perfectly fine because each one offers new and vital information. However, in this example, all the messages essentially say the same thing, which could bother the user.
5. When you need to share transaction or shipping information
Any information specific to a client's account or a customer's purchase should be shared via email, text, or in-app messaging. 
You don't want to accidentally send private information to multiple users. Plus, people should be able to access transaction information several times, so emails or in-app messages are a better option than a one-time notification. 
Avoid sending the following as a push notification:
Hey [Name]! Thanks so much for your purchase! Your package has been sent and will arrive by 6:00 pm on Thursday. Here is a link to your tracking information. [link]

What to look for in a push notification service?
Push notifications have taken digital marketing by storm. If you haven't already started using them for your business, consider finding a push notification service to help you manage the channel more effectively. Here are some things to look for when choosing the right tool:
Customer support that goes above and beyond

User-friendly format

Both automated and customized message options

Solutions across multiple channels

Access to engagement, opt-in, and subscriber analytics

Scalability to grow with your business
Luckily, you don't have to look far. Here at Cordial we can help you increase customer engagement by 250%. Schedule your demo today to learn just what makes our approach so special. 
Picked For You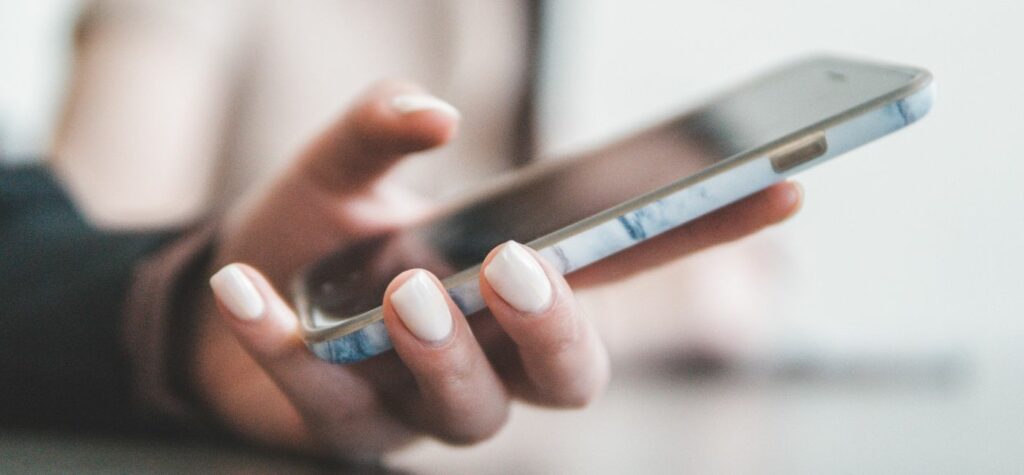 Article
Cordial expands integrations by adding OpenMarket for SMS
SMS marketing is now a necessary part of delivering a personal, high-touch customer experience. With…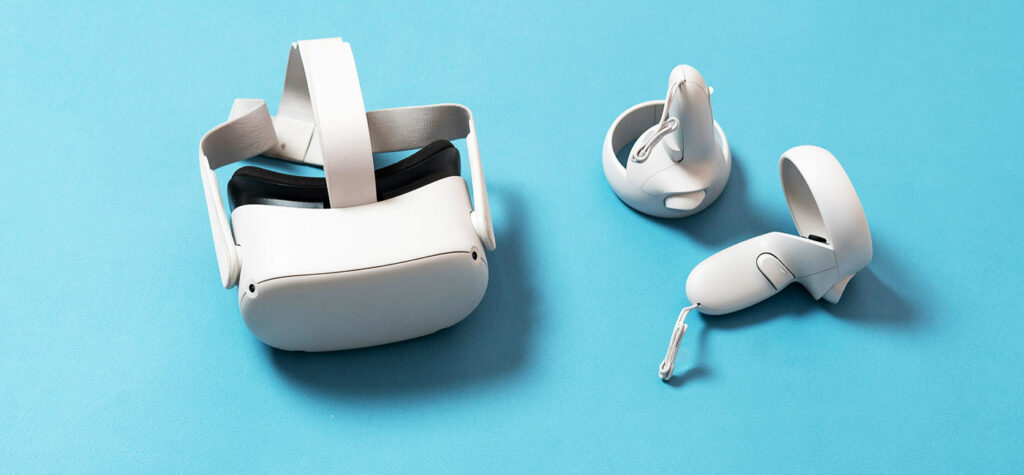 Article
5 trends that will impact the future of mobile apps for brands
By 2025, retail sales via mobile commerce will increase 67% and account for more than…