Return to All Resources
Level up your email welcome series with these 12 best practices
7 Minute Read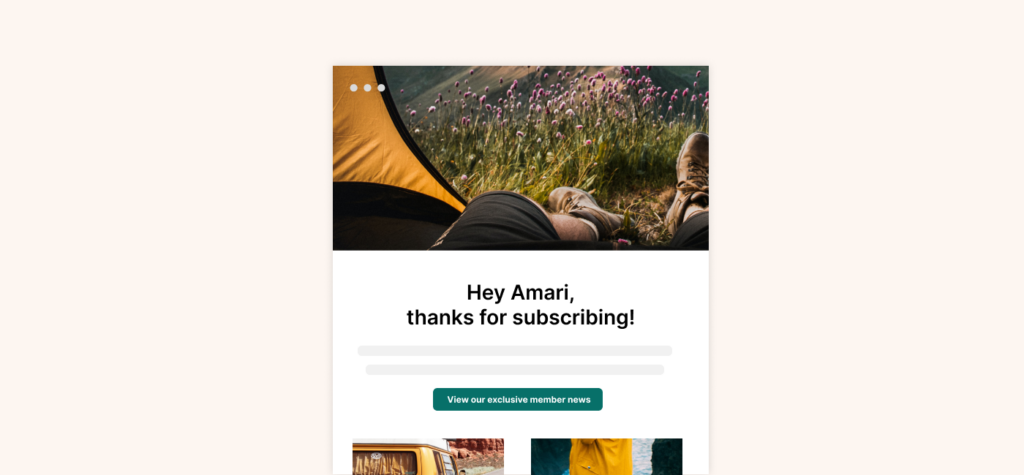 An email welcome series can be an effective driver of first purchase, repeat purchase, loyalty, ongoing engagement, and so on. But did you know that the conversion rate for welcome emails is 0.94%, as compared to 0.10% for a typical in-stream email? Or that welcome emails get more than three times more opens, clicks and revenue per email compared to regular promotional email campaigns? Bottom line, an email welcome series is a must-have in your messaging strategy. 
Welcome emails are most effective if you think of them as a campaign rather than a message. Your new customer or prospect is getting to know you, so introduce yourself a few times. You are connecting the customer to your brand, after all, so two or three well-crafted messages will help tell your story without being cumbersome. 
Best practices to optimize your email welcome series
Read on for more context on each of these best practices, but here they are at a quick glance:
Include a persuasive subject line.
Be personal.
Be genuine.
Be relevant.
Leverage customer behavior.
Get to know your customers.
Pay customers to interact with you.
Don't overstay your welcome.
Create compelling content.
Make a great first impression.
Test everything.
Drive action.
1. Include a persuasive subject line.
A good one often includes discount or personalization. Be sure to test your subject lines to discover the best-performing message.
2. Be personal.
Leverage javascript listener data, preference data, purchase data. Data, data, data. More about that in a few.
3. Be genuine.
Offer thanks, or welcome them with open arms, and be authentic. Acknowledge that they have given you the gift of their personal information and have allowed you to talk with them about your brand.
4. Be relevant.
Cadence, or when you send messages in a series, depends on your audience and the buying cycle of your customer. If there's a possibility of a repeat purchase in a very short timeframe, or if you're going to send a compelling discount with an expiration date, shorten the time between sends and connect with customers frequently in the first few days of the relationship.
Watch for them to take action, and adjust your message flow based on that. If they come to your site and purchase, they may be wading into your post-purchase stream at the same time, so you may want to give them a break and let them receive subsequent messages with a little more airspace.
Lastly, don't forget to test cadence. This will likely be something you want to initiate in a later phase, after any content tests.
5. Leverage customer behavior.
Connect with your customers personally by using javascript listener data, first visit or signup data, and more. With Cordial, you can use customer activity data from previous messages in the welcome campaign to deliver relevant content going forward.
For example: sending multiple messages allows you to learn and shift messaging based on interactions. If a customer clicks on a dog bowl in message 1, and then bought that dog bowl, perhaps you want to focus on the dog food category in message 2. They have a dog (hopefully…) and they have a dog bowl, so help them fill it. While you're at it, maybe throw them a bone in the form of a VIP discount.
6. Get to know your customers.
If you don't know anything about your customers yet, there are a few primary messages you can lean on:
Inclusivity – They've joined your list, so tell them what they're going to experience. Sales? Early notice of special events? Insider information?

Informational – Ask them to give you more info via a preference center, or by click data about what they want to see, learn, or receive from your brand.

Simplicity – Get them to do one thing with a very clear call-to-action. Ask them to click through on a product or category, forward the email to a friend, or dive into your site for hours. Just one action and you know more about them.
7. Pay customers to interact with you.
Discount codes will help with activity and conversion. Track behavior and usage of discount codes carefully, and re-offer if they haven't used it. This is a standard practice, with increased urgency as the customer moves through the campaign. You can also add a sense of urgency to non-purchasers with an expiration date. Reinforce that expiration date with subsequent messages.
8. Don't overstay your welcome
.
Decide whether to include these customers in your regular, promotional sends. If you send every day or several times a week, it's a good idea to suppress welcome recipients from promotional messages for a short time. You don't want to lose them by over-messaging.
9. Create compelling content
.
Your customer or prospect has graciously allowed you into their crowded email inbox, so deliver value through great content, from the get-go. Here are some ideas:
Show new products, categories, and colorways.

Leverage current events or seasonal messages, but don't forget to update frequently! 

Show them a category they might be interested in.

Share your brand vision, your company's passion, or the people who make your company the best in the space.

Use your best performing lifestyle content of the last X timeframe.

List your most popular products — everybody loves a top 10 list!

Leverage your best user generated content to share stories of similar customers.

Feedback, surveys, and polls — asking a question is a quick way to establish rapport.

Request a purchase review, or ask questions like, "What can we do better?"

Post-purchase follow-up — break down how to use, install, or enjoy a complex product. Offer complementary products or services. Say thank you for the purchase. Try out different promotions at various points in the welcome campaign to determine which get your audience to jump onboard.
10. Make a great first impression
.
Don't make welcoming a new customer an afterthought—create your most eye-catching graphics, use animation or video, and connect through personal, relevant, emotionally intelligent messages.
11. Test everything
.
Subject line, content, and later on, cadence, seasonal content, or even regional and geo-targeted content. Learn what works best and apply your findings to optimize your email welcome series into your most successful revenue-generating campaigns.
12. Drive action.
Keep your welcome messaging optimized and effective by reviewing frequently, and ensuring content is driving to your primary calls to action:
Click to purchase (more, again, with a discount, etc.)

Click to update preferences or complete a profile

Click to engage with lifestyle content

Click to use, learn, or explore more about a purchased product

Click to engage with social media (hello, cross-channel marketing!)

Click to add this company to your safe senders list

Click to answer a question, for example: What do you want to see? How often do you want to hear from us?
More email topics on Cordial
Make your welcome campaigns more personal, more effective
If you're a Cordial client, you have some incredible tools at your disposal with our platform—from our javascript listener to a suite of integrations. But where do you begin building the most effective welcome campaign possible?
Start in Sculpt, our state-of-the-art CMS (think "headless" and more). Begin by building or optimizing a Sculpt template to leverage across your welcome campaign—or any automated message, for that matter. Build the framework and leverage that template to create and optimize the series. We're going to be testing here, beginning with content, so streamlining your workflow using Sculpt (and eventually Podium, our visual orchestration builder) will be critical. 
And if you're new here: Cordial is a flexible, real-time platform for marketing teams and technologists to deliver personal, relevant, and emotionally intelligent messages across any channel. Schedule a demo of our platform's capabilities — which include the ability to send stellar welcome emails — and so, so much more.