Return to All Resources
How to build a cross-channel customer loyalty program
11 Minute Read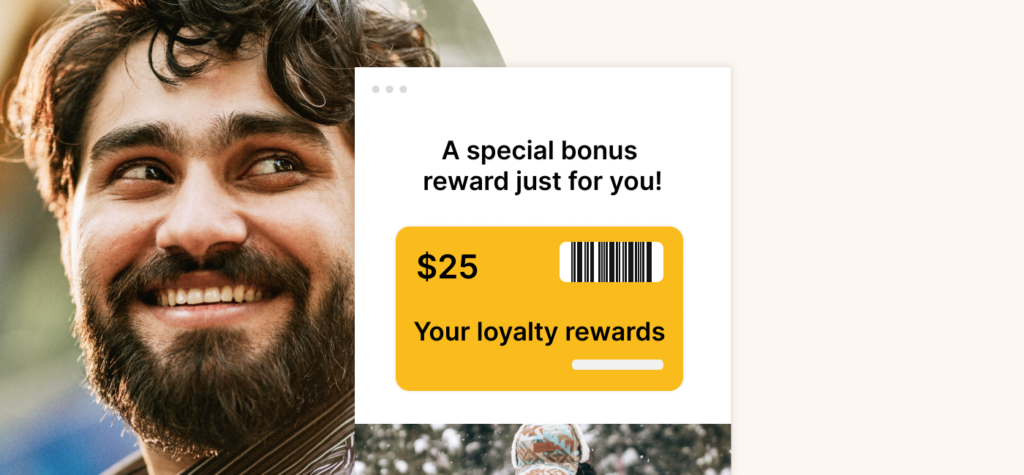 Which is more important: customer acquisition or retention? Most marketing tends to focus on customer acquisition — growing the customer base. But the real money is in retention. Harvard Business Review reports that the cost of acquiring new customers is between five and 25 times the cost of retaining an existing one. 
The key to retention is loyalty. But here's the pain point: As our marketing channel choices expand, so does the complexity around how we develop and implement loyalty programs. And today, real-time personalization is an essential component of any successful cross-channel loyalty program.
So to get started, here's how to build a customer loyalty program that works across all your marketing channels.
Popular types of loyalty programs
Your first step is to choose the type of loyalty program best suited for your business and customers. Here are some of the most popular types to choose from.
Points programs — Some of the most well-known loyalty programs are points programs (think air miles or Sephora's Beauty Insider program). Points programs offer customers points, a form of virtual currency, when they make a purchase or perform a specific action. Customers can then redeem those points for something else — a new product, discounts, and so on.
Layered programs — Layered programs, sometimes called tiered programs, offer customers higher levels of benefits for higher levels of loyalty. Loyalty levels are often determined by how much a customer has spent on the brand. So customers who spend more get more rewards: better discounts, access to exclusive events, and more.
Value-based programs — With a value-based loyalty program, you align rewards with your customers' values. Rather than offering customer discounts or monetary incentives, you can offer to give a charitable donation or support a non-profit organization.
Paid programs — Paid loyalty programs provide special discounts and exclusive products to customers who have paid extra to be in the program. This type of program can be effective if the price of the program is fair and the benefits are valuable. Part of the attraction to these programs is the exclusivity: The customer feels like they're part of a special community.
Omni-channel loyalty programs — One challenge for the implementation of loyalty programs is making sure they work for products across all channels, both online and in-store. An omni-channel loyalty program is one that offers a unified experience regardless of channel. It's designed to deliver a convenient, seamless experience for customers and also provide the most valuable data to companies.
Best practices for a cross-channel loyalty program
The most effective cross-channel loyalty programs are those that are flexible and deliver the most value to customers. Here are some of the best practices that will help make your program successful.
1. Make it easy to enroll in any channel.
The key to loyalty programs is to maximize enrollment. So make it easy for customers to join. Make the sign-up process have a low barrier with a single, simple step. For example, let them scan a QR code as they wait in the checkout line, browse your web store, or scroll your Instagram page.
2. Offer rewards in all channels.
A true cross-channel program will provide rewards regardless of the sales channel. Make sure your brick-and-mortar locations, your web store, and your app are all compatible with your loyalty program.
3. Collect data over time.
One of the main benefits of loyalty programs to brands is the data they offer. So collect customer data. But don't necessarily ask for it all at sign-up. Consider incentivizing customers to give you data over time in exchange for rewards.
4. Personalize, personalize, personalize.
Once you have customer data, use it. Offer the members of your loyalty program personalized deals based on their purchase history, product preferences, location, or other factors.
5. Surprise members with time-sensitive rewards.
Provide customers with more value by offering time-sensitive rewards. For example, send personalized SMS text marketing messages or push notifications with timely and relevant personal messages to customers near your store or who are about to make an online purchase.

How to make the most of each messaging channel for customer loyalty
Each of your marketing channels has a special role to play in your loyalty program. Here's how each one is best used.
Related resources on Cordial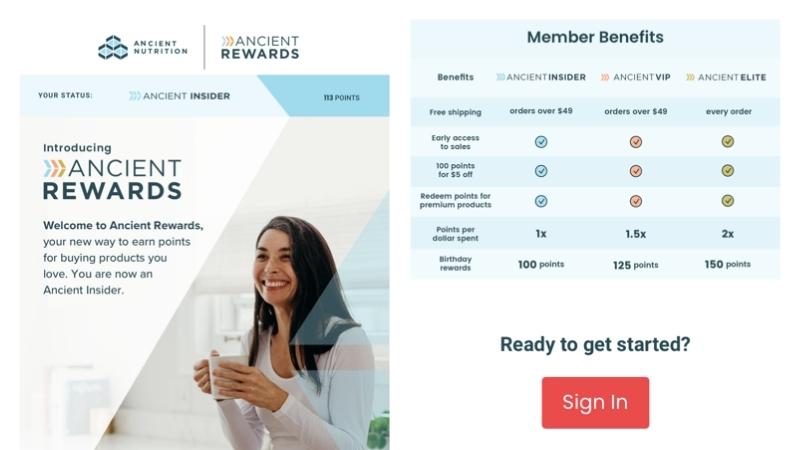 Examples of customer loyalty programs
Customer loyalty programs are nothing if not flexible. There are thousands of ways you can build an effective cross-channel loyalty program. Here are some of our favorites from the world's top brands and why they're so effective.
1. Educate your customers from the get-go.
One way to ensure that rewards program members know what an awesome opportunity they've found is to educate them. Cordial customer Ancient Nutrition has sent out introductory emails that spell out the benefits, such as in the example. They include clear copy, attractive imagery, and an easy-to-read chart.
2. Give the best rewards to your most loyal customers.
The Designer Shoe Warehouse (or DSW) has a tiered loyalty program where they give more points and better discounts to more dedicated customers. A customer's reward level depends directly on the purchases they make. DSW has mastered the art of leveling up the benefits for its most faithful customers.
3. Make it easy for the customer to benefit.
Starbucks Rewards is structured like a traditional points loyalty program. But what sets it apart is how easy it is to redeem products. In true cross-channel fashion, coffee drinkers can quickly and easily use their points for products in-store or on the app for any product they sell. Simple and effective.
4. Offer customers more than just product rewards.
Points acquired in the North Face XPLR Pass program can be used not just for product discounts, but also for special event passes and access to limited-edition collections. These exclusive experiences give North Face customers a variety of ways to benefit, and therefore a variety of reasons to engage with the brand.
5. Create a community.
Sephora's Beauty Insider program is an industry-leading points program. It has all the features you'd expect: Customers redeem these points for rewards of their choice, like free samples, product discounts, and access to events. What makes it innovative is layering in a community where consumers can share beauty tips and experiences. The result is a brilliantly engaging program.
6. Offer more than competitors.
Points programs are ubiquitous among airlines — virtually every company is part of one. With so many competitors, how does Alaska's Mileage Plan become recognized as one of the best? It simply offers more. The layered program allows customers to earn miles, travel experiences, and obtain an elite-level MVP status faster than any other program.
7. Push customers to your preferred channel.
The paradox with cross-channel loyalty programs is this: You want to give your customers the choice to use any channel they like, but you also want to nudge them toward your preferred channel.
Expedia does this brilliantly. Their customers earn loyalty points from every channel, but they get double the points when they book a flight or hotel specifically through the app. They offer customers the convenience to choose but also incentivize customers to use the channel they prefer.
8. Deliver a complete customer experience.
Amazon Prime is an especially effective example of a paid loyalty program. The offer is simple: fast (and free) shipping, movies, TV, music, and ebooks for a single subscription. The beauty is that the rewards, including free shipping, incentivizes customers to buy more without offering discounts on items.
9. Align with a cause.
Ben & Jerry's loyalty program is pretty standard: They offer customers get 10% off every purchase, plus extra perks like free cones on birthdays and the company's "inside scoop" newsletter. But they boost the program's effectiveness by aligning with social causes — as evidenced by clever ice cream flavor names like "Change is Brewing" and "Empower mint."
Combining rewards with alignment to social movements is part of the reason Ben & Jerry's has developed an extremely loyal customer base.
10. Contribute to charity.
The Body Shop's loyalty program, the Love Your Body Club, sets itself apart by giving customers the opportunity to donate their points to charity rather than redeem them for products. It's a simple feature, but it's a powerful way to demonstrate to customers that the company is engaged in philanthropy.
11. Cooperate with the customer.
REI's program leverages the uniqueness of its business structure as a cooperative. It's owned by members, so one of the benefits of the loyalty program is a lifetime membership and an ownership stake in the company. That extra bonus, on top of 10% cash back on all purchases and steep discounts on products and experiences, makes their paid loyalty program especially effective.
Five mantras to follow when striving for better messaging — in any program
Whenever possible, try to send a better message — not just another message. So put yourself in the mindset and space of your customer. Here are five important mantras to consider whenever you're crafting messaging for your brand. Follow the links to listen to curated inspirational talks for each:
Keep customers coming back with a cross-channel loyalty program
A loyalty program is one of the most effective ways to build a community of people that love your products. And not only does a cross-channel loyalty program boost customer retention, but it also doubles as a steady stream of data to power your marketing campaigns.
Having the right marketing technology tools is the foundation for any successful cross-channel campaign. So Cordial's platform gives you everything you need to execute your loyalty program messaging:
Execute loyalty program messaging across all your channels, including email, SMS, and mobile app messages.
Conduct advanced analytics to build granular customer segments.
Automate marketing messages to send the right message at the right time on the right channel.
Personalize your marketing messages using predictive intelligence and real-time customer data.
Cordial is simple to use but can have a powerful impact on the success of your cross-channel loyalty program. Request a demo today.