Return to All Resources
7 data-backed strategies to improve customer engagement
10 Minute Read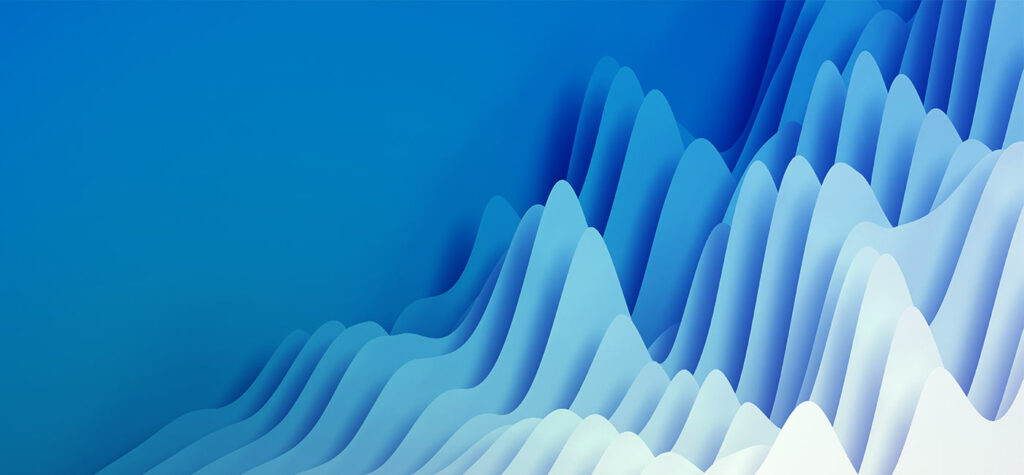 As consumer marketing continues to undergo dramatic shifts toward real-time value and personalization, the consumer journey has become more dynamic and iterative. PwC agrees and has coined the term "always-on customer" to describe the 24/7 nature of today's consumer marketing. Indeed, new research from Gartner also highlights that marketers who take an "always-on" marketing approach are the ones best poised to succeed in driving customer lifetime value.
Today, brands have to focus on relevance — engaging in ways that are highly unique to each individual. McKinsey & Company explains the essence of how relevance works:
[Marketers] must listen for the signals that indicate customers are ready to engage and design programs that respond to those signals quickly. This requires both advanced customer analytics to read the signs of customer intent and a response system that reacts to those signs by reaching out with relevant customer content across touchpoints and channels. — McKinsey & Company
To help shine a light on the shift, we've conducted research on what consumers want from marketers now and how marketers can better deliver on their expectations. What we've uncovered can help you bridge the relevance gap and deliver the personalized communication your customers want. You can review more insights in our ebook, The New Era of Consumer Engagement.
Effective messaging strategies to better engage your customers
When we broke out the results into digestible themes, we found seven key takeaways: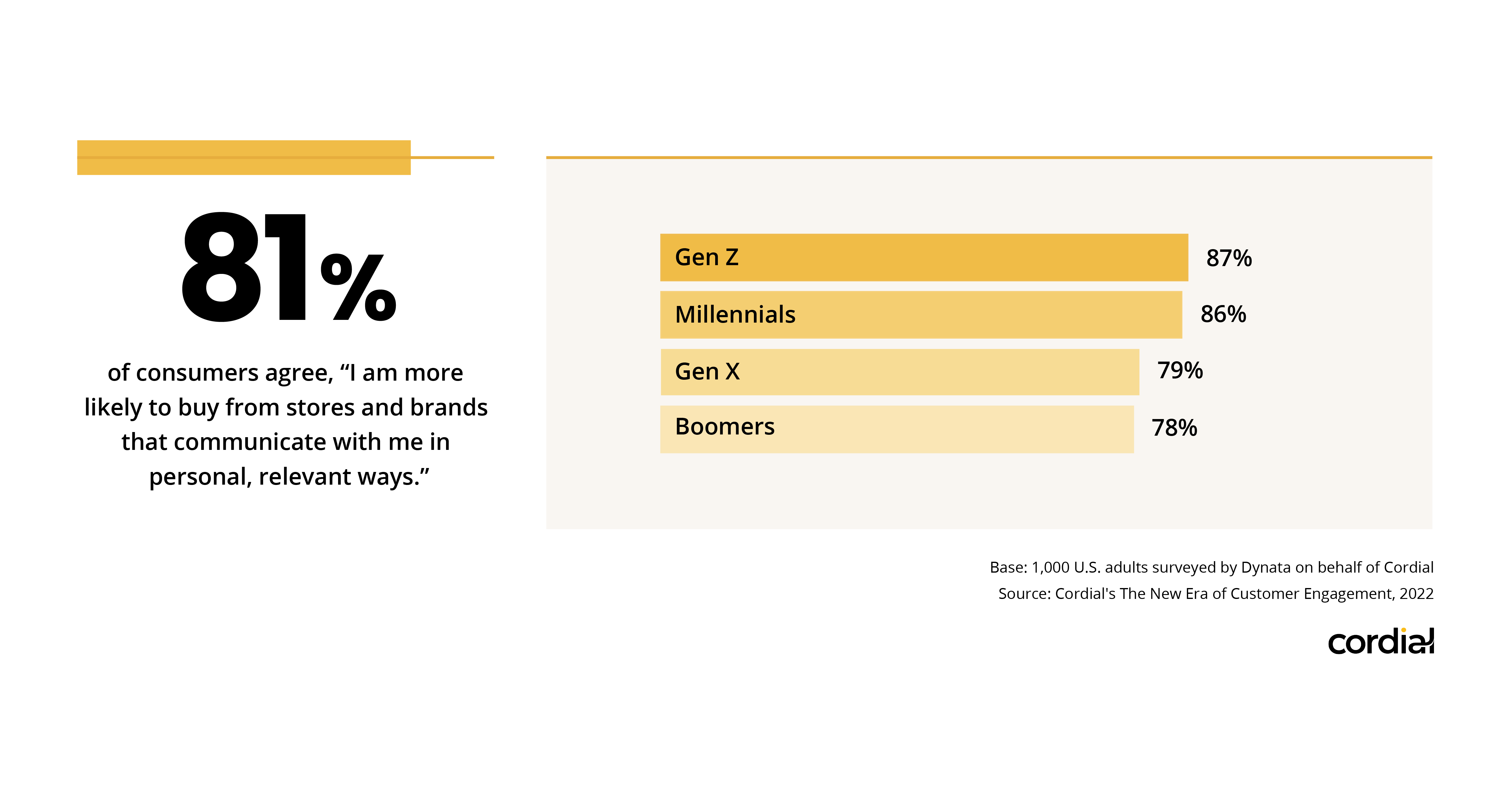 1. Prioritize emails that are personalized and relevant.
While email can drive sales, generic messages won't win the day — and may turn customers against you. You need to consider personalized emails as part of the broader communication landscape and think about how they complement other channels consumers use. The sooner you embrace more advanced personalization, the bigger your impact on your customers will be.
Personalization wins:
81% of consumers agree, "I am more likely to buy from stores and brands that communicate with me in personal, relevant ways."
Consumers still love email:
48% of all consumers shop in response to emails from brands
82% of all consumers say email is one of the top three sources they rely on for purchasing
But too many generic messages are turn-offs:
74% of consumers say they receive too many emails from brands
59% of consumers say that most of the emails they received from brands are generic
78% of consumers get frustrated when brands send them generic messages
Helpful resources on Cordial:
2. Text customers with a timely purpose.
Another opportunity to better deliver for customers is through text messaging. Today, most of us keep our phones by our side 24/7 and read almost every text we receive. While some brands have stepped up to the SMS plate, relatively few marketers have truly maximized the power of the text in their marketing campaigns.
Text messages provide an opportunity for immediate connection with a captive audience. Data cited by Total Retail recently shared that 83% of Millennials open SMS messages within 90 seconds of receiving them! Yet, text messaging is viewed as an incredibly personal channel so getting the message right is critical.
For brands, this dynamic presents an opportunity. It's clear that consumers lose patience with generic texts, quickly. A strong personalization strategy as part of text message campaigns is a way to rise above generic text messaging and speak directly to consumers. If you send relevant and timely texts, you can deliver value and show consumers that you appreciate their unique needs in ways that most retailers and brands aren't currently.
Consumers receive too many texts that aren't relevant:
65% of consumers have received text messages from stores or brands
75% of consumers say the texts they receive aren't personalized to them
60% of consumers feel brand texts are not helpful or interesting
Texts can make consumers feel excited or annoyed:
48% of people say texts from brands make them feel annoyed
32% of people say texts from brands make them feel valued
20% of people say texts from brands make them feel excited
Consumers unsubscribe after receiving generic texts from brands:
19% unsubscribe after 1 text
29% unsubscribe after 2-3 texts
15% unsubscribe after 4-5 texts
9% unsubscribe after more than 5 texts
7% unsubscribe after more than 10 texts
21% rarely unsubscribe
Helpful resources on Cordial: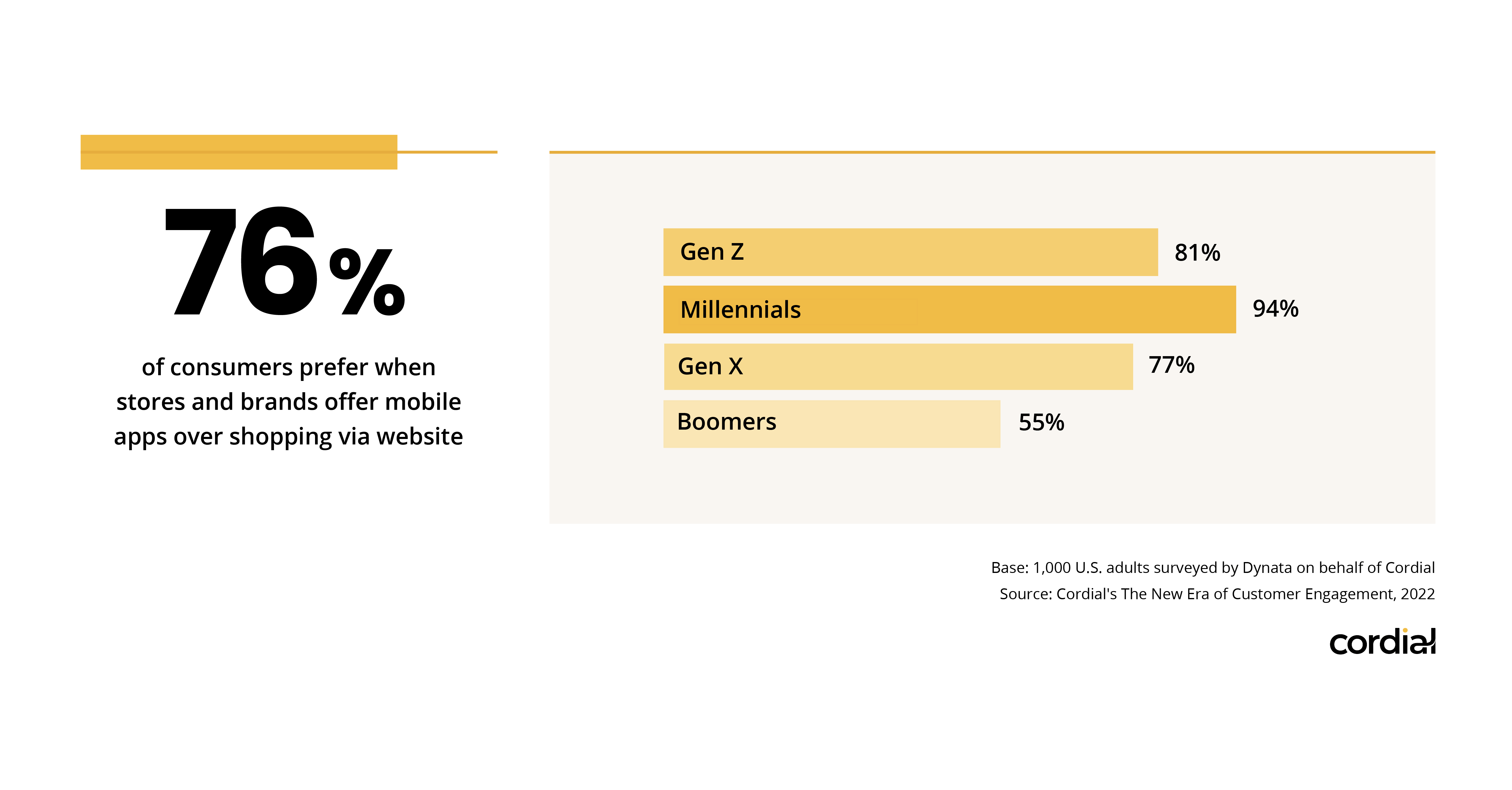 3. Create a seamless mobile app experience.
Mobile apps are a powerful way to connect with consumers in many ways. Today's shoppers use apps to shop both online and offline, using them to navigate online shopping experiences as well as when visiting brick-and-mortar stores. The convenience factor is indeed real. Consumers have grown more accustomed to mobile apps and the improved experience they offer. The ability to receive personalized offers and communications certainly factors into the improved experience in-app vs. website.
Shopping via mobile apps continues to rise:
70% of consumers say they are shopping via mobile apps more frequently than they did a year ago
65% of consumers have used a store or retailer app while shopping in person at a brick-and-mortar location
Consumers prefer app experiences to websites:
76% of consumers prefer when stores and brands offer mobile apps over shopping via website
66% of consumers say the mobile app experiences is better than shopping on a brand or retailers' website
Leading brands are turning to mobile apps to personalize and guide the customer experience, capture attention, deliver meaningful value, and drive loyalty. Download our ebook detailing the best practices for mobile app messaging.
4. Offer something of real value in exchange for data.
How can you deliver the personalization consumers want? You need data, sure. But you also need to use that data in more imaginative ways than most are doing today. Our research uncovered that many consumers are willing to give up even more personal information if marketers can figure out how to use it to offer them something of value in exchange. Consumers are essentially using data as currency, with high expectations of what they will get in return for their information. And they want something more from brands — specifically, more accurate personalization and better experiences.
Consumers will share data for better offers and experience:
83% of consumers expect to get relevant offers when sharing their data with marketers
70% would be willing to share more information with brands if they knew they would use it to improve their shopping experience
65% of consumers said they feel that most brands use the information they provide to offer something unique to them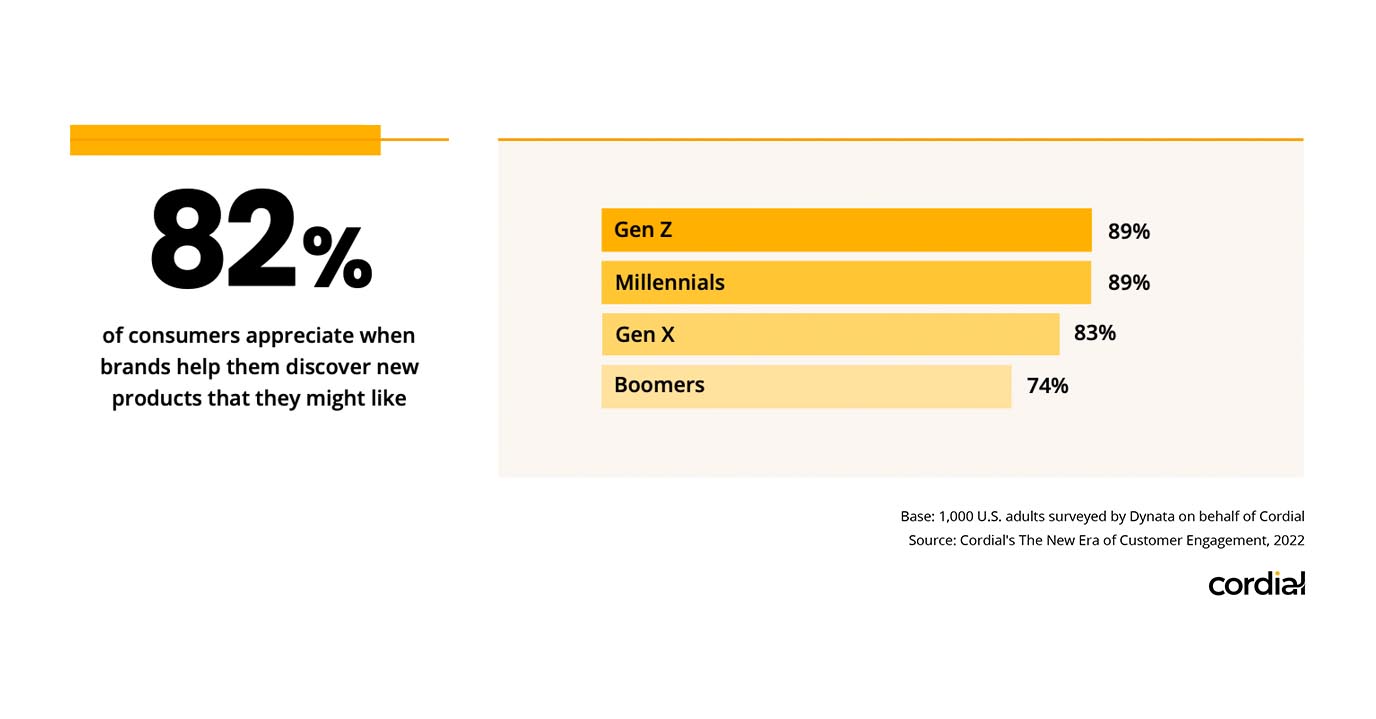 5. Facilitate discovery and follow-through.
With advanced personalization techniques, you can deliver up-to-the-minute product recommendations. When you achieve this type of precise targeting, you can offer shoppers something that speaks directly to their needs, whether you're offering something new or trying to help customers follow through with a purchase.
Help customers discover new products and services:
82% of consumers like when brands help them discover new products that they might like
77% of consumers say, "I like it when a brand's email or text message helps me find something that I need, exactly when I need it."
Keep customers updated on products they like:
83% of consumers like when stores let them know products they like are back in stock.
87% of consumers like when brands let them know about price drops on products they're interested in buying.
65% of consumers agree, "I like it when brands remind me that I left something in my online shopping cart."
Avoid badgering consumers with things they don't want:
72% of consumers agree with the statement "I get frustrated when brands send me offers for products I already bought or no longer need."
Helpful resources on Cordial: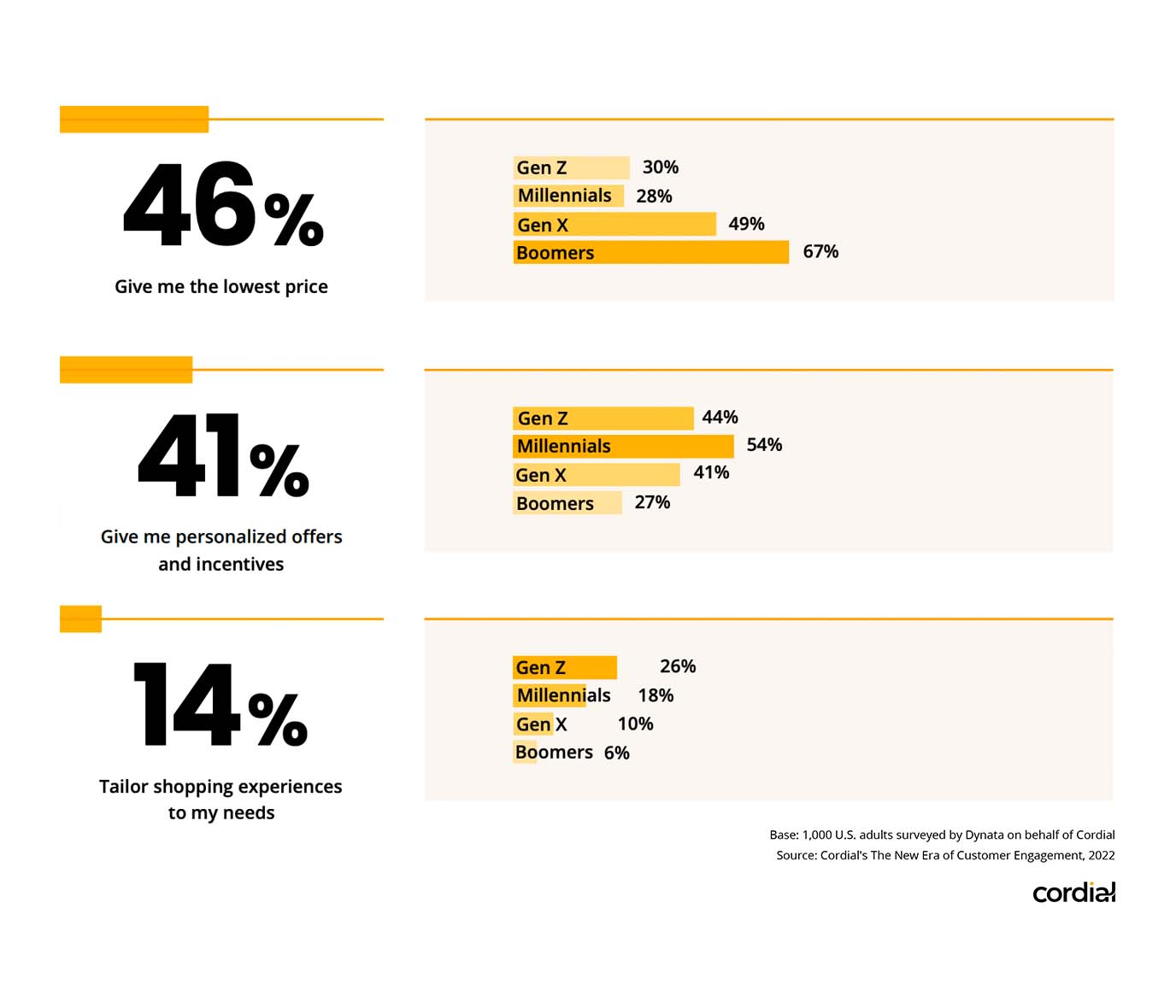 6. Take fresh approaches to earning customers' loyalty.
You may have also heard the phrase that "loyalty is dead." It's not a new sentiment. Over a decade ago, Accenture introduced the concept of the "Switching Economy." According to the consulting firm, changes in consumer spending and preferences have created a $1.6 trillion opportunity for brands that can tap the needs of fickle digital shoppers.
In essence, consumers have so many options to choose from that it's harder for brands to stand out. So once you do connect with a consumer, you want to do all that you can do keep them engaged. Personalization is key, whether for incentives or experiences. And although price is always a major factor, even pricing sensitivity can be specific to the individual.
What is the top thing can brands do to earn loyalty?
46% of consumers want brands to offer them the lowest price
41% of consumers want brands to give them personalized offers and incentives
14% of consumers want brands to tailor shopping experiences to their needs
7. Deliver more than a transaction, but a purpose.
Not only are consumers looking beyond price and product, but they're also looking at what companies stand for with many aligning their values with the brands they choose. Ultimately, many consumers want to feel a deeper and more personal connection to the brands they choose. They not only want relevant offers and communication, they want to support brands to whom they feel more of a connection.
Consumers prefer clear values and a positive culture:
81% of consumers prefer to buy from brands that articulate clear values and promote a positive culture

Now is the time to rethink what's possible with customer engagement.
Until now, some brands have survived on name recognition, product selection, or pricing. As digital transformation accelerates, consumers have increasing opportunities to engage with new brands with a few taps on a screen. Companies can't rely on what worked years ago and must do more to capture consumer attention, deliver meaningful value, and foster loyalty.
For brands, personalization is no longer a nice-to-have feature. It's the cornerstone of delivering relevant experiences that speak directly to customers and their needs. From winning the first purchase to securing repeat buys to earning referrals — personalization has a significant impact.
However, being relevant today is about more than just appending a consumer's name to the subject line of a broadcast email. It's about accessing data and using it in novel ways to anticipate shoppers' needs to deliver exactly what they want at just the right time.
This isn't a far-away ideal. It's here and now, made possible by technology that uses data and predictive intelligence to send highly-personalized messages that consumers want to receive. With the right platform, you can transform how you connect with your audiences, deliver relevant communications, and set your brand up for long-term success and growth.
Is your brand ready to elevate your marketing and embrace the new era of customer engagement? Let Cordial be your guide.
About the data: Two consumer surveys were conducted by Dynata on behalf of Cordial between March 16-23, 2022 and April 12-16, 2022. In each study, we surveyed 1,000 adults, age 18 and older, who live in the United States. The samples were balanced by age, gender, region, ethnicity, Hispanic origin, income, and children in household according to the U.S. Census. For complete survey methodology, including weighting variables and subgroup sample sizes, please contact marketing@cordial.com.
Picked For You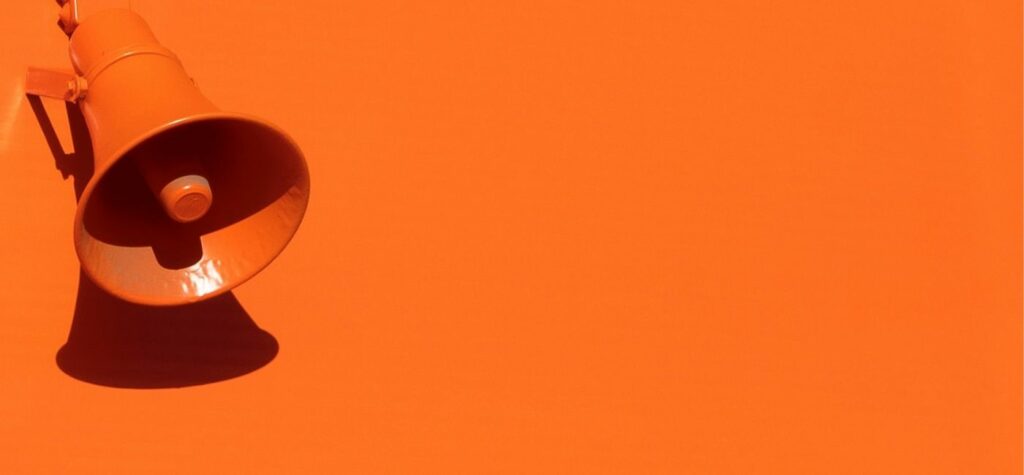 Article
Amplify your brand's customer obsession with agile marketing
Last week, we had the pleasure of joining the Grow:Virtual summit, where we spent some…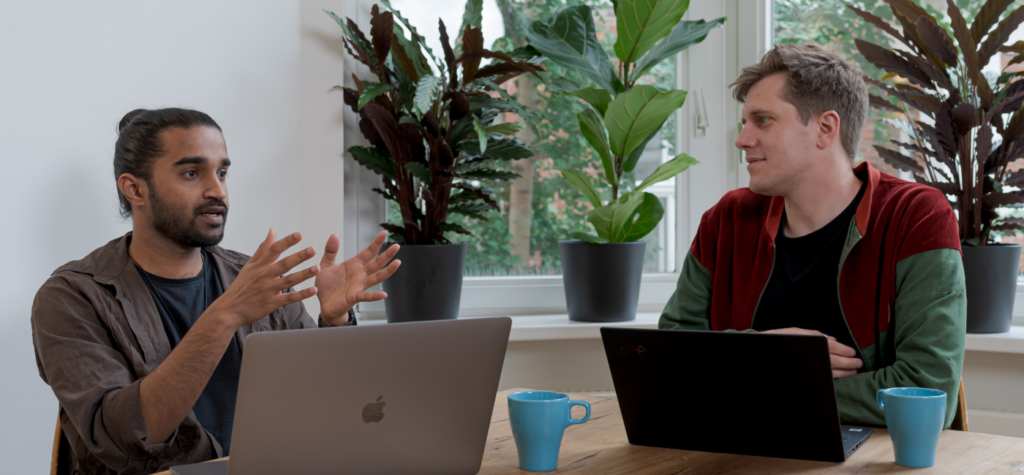 Article
6 ways legacy ESPs are holding marketers back  
There is a seismic shift underway in the email service provider (ESP) landscape. ESPs have…