Return to All Resources
How to nurture advocates through marketing campaigns
7 Minute Read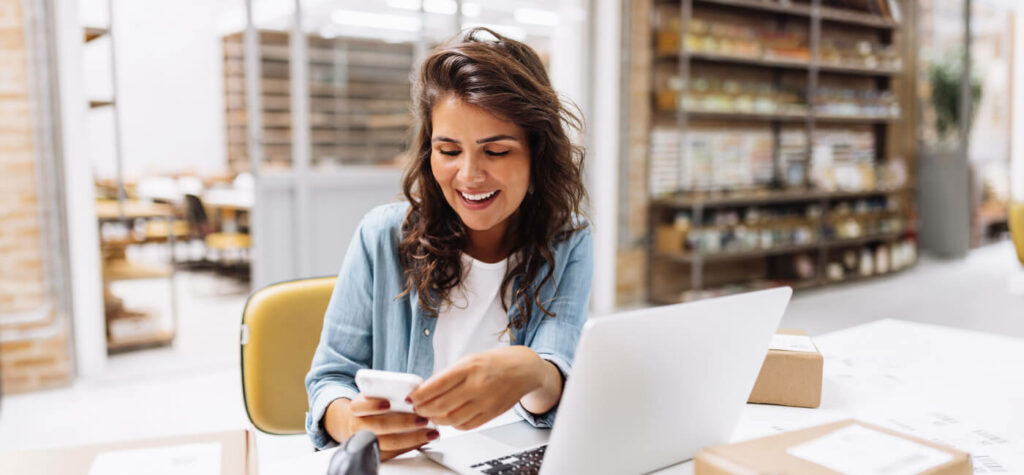 With marketing priorities focused on KPIs, ROI, and conversion rates, it is easy to become hyper-diligent on your quantitative story and miss the qualitative opportunity to convert long-term buyers. In order to capture the heart of your customer, you must first show thoughtfulness to the things that matter to them instead of mere metrics and sales.
Here are five ways to connect with your audience beyond a one-time sale to build lasting relationships that result in returning customers.
1. Lead your conversion with your audience in mind.
When developing your community of buyers, it's crucial to understand the difference between speaking at your audience vs. talking with them. Within your messaging, lead with open dialog that encourages people to engage with one another, the brand, or share the content with their friends and family. Doing this makes your content more of an invitation to a conversation.
A powerful way to entice your customers to share with their online community is to create loyalty referral programs. These programs incentivize current customers while allowing new ones to try out your brand's experience with a great deal. Another impactful way of encouraging your customer dialogue is by requesting feedback.
For example: Within its email marketing campaigns, The Frye Company provides a great example of requesting feedback in a thoughtful, rewarding way.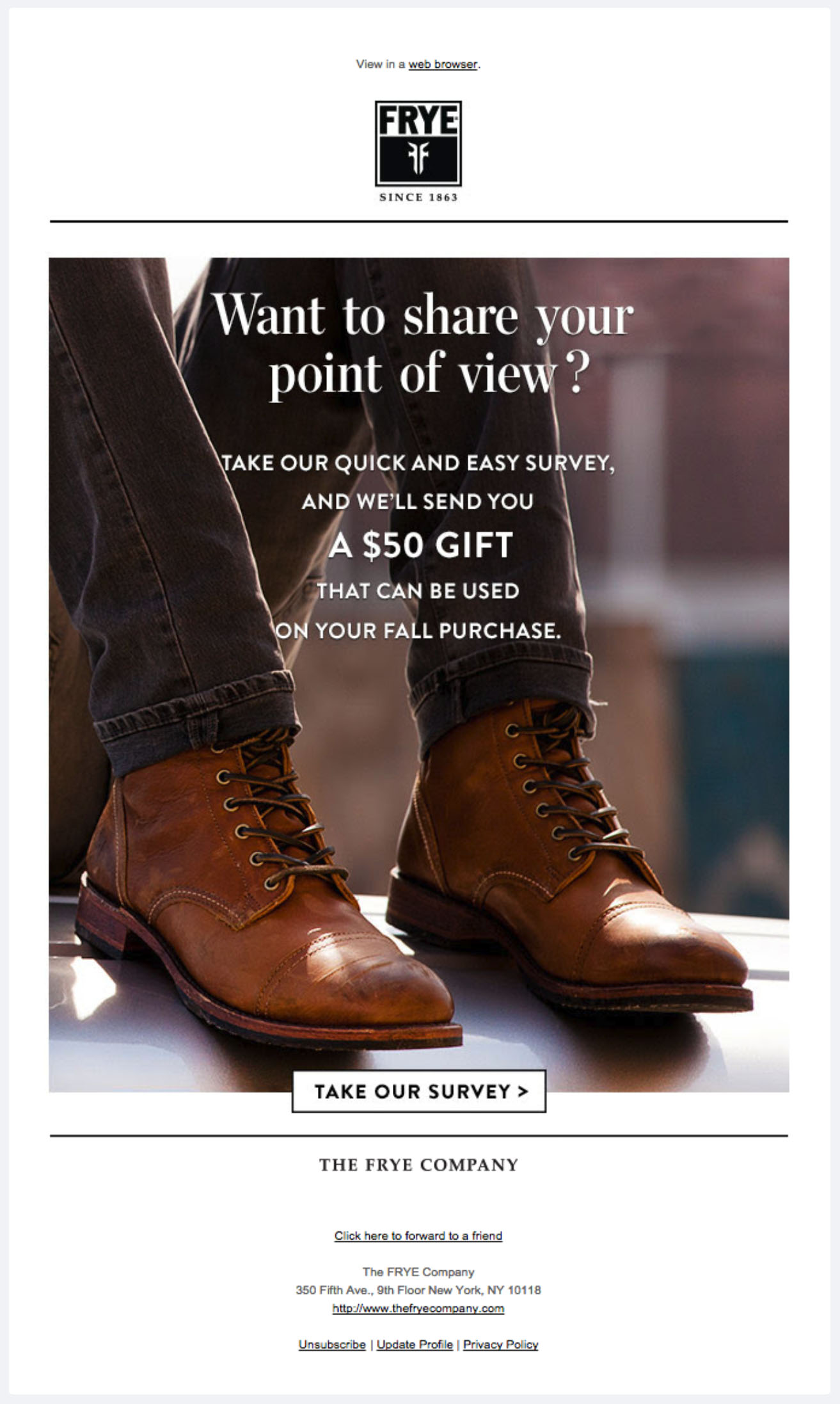 As customers share honest feedback on product releases or recent campaigns, reward them with a coupon for their next purchase. This gesture is a form of appreciation as well. So your customers will feel appreciated for their time while your internal team collects valuable input from your customers to improve current and upcoming campaigns.
Furthermore, incorporating thoughtful conversion methods can help you identify the advocates of your brand. Advocates are customers who express loyalty by repeat purchasing and sharing your brand in personal content on social media. If they decide to use your brand's hashtag without being paid to do so, you have found yourself an advocate who deeply loves your brand.
2. Stay respectful of your marketing power.
As marketers, we hold a great deal of responsibility for capturing and storing customers' data. Since the Cambridge Analytica scandal, the concerns with data usage and protection have continued to rise, and rightfully so. Through marketing efforts and advertising, we gain access to information that can put our consumers at risk if we do not handle that data with care and intentionality. A data breach that involves the personal information of your customers can lead to damage to your brand's trust and reputation.
Beyond the obvious reasons for privacy concerns, we have an ethical obligation to be mindful and protective of the data we receive from consumers. A recent study states, "Despite 65% of consumers worrying their personal data was being used without their permission, 63% were comfortable with personalization if it was first-party data that was acquired voluntarily." Although we must be intentional with data protection, we shouldn't shy away from creating a personalized experience for our customers when they've willingly opted-in for updates or incentives. Message personalization should be thoughtful while upholding respect for privacy.
The use of AI technology through first-party data is a fantastic opportunity to personalize your customer's journey thoughtfully and respectfully.
For example: The grocery brand Misfits Market utilizes AI for shopping recommendations for its customers, allowing them to customize or change products or set preferences as their leisure.
Being strategic with first-party data and adding creativity to your user experience will keep your customers engaged and your brand compliant.
3. Leverage segmentation and personalization based on audience behaviors.
Actively listening to your customers through audience behaviors is a powerful way to discover more about what your consumers like and to identify areas of opportunity that can maximize campaign success and high conversion rates. When building thoughtful messaging, personalization and segmentation go hand in hand. They're very different but equally significant. Through segmentation, you can ensure the right messages for the right audiences (or safeguard those who opted out). At the same time, personalization brings a unique experience to your customer that's special to them.
Through behavioral segmentation, you can leverage the first-party data and user journey to follow and engage the user throughout the buying experience entirely.
For example: Kroger shoppers receive digital coupons for products they shop for most frequently. This is a great way to reward repeat buyers and, in turn, reinforce their habit of monitoring digital coupon offerings.
4. Incorporate the 80/20 rule into your messaging.
Although we're marketers, we're also humans that understand what it feels like to be targeted through marketing and "persuaded" to buy something that we may or may not need (or didn't realize that we needed it until we're introduced to it). During our overloaded Information Era, consumers are more skeptical of brands than ever before. It's why influencer marketing has become a 16 billion dollar industry. Word-of-mouth advertising still rules, and it's better to be influenced than "sold to," which means people are more likely to trust people over brands.
So how do you minimize the feeling of mistrust from consumers? Nurture a relationship with them through the 80/20 rule of marketing. Brand Muscle describes the 80/20 rule as creating 80% content that educates, entertains, or offers solutions to their problems, and letting the remaining 20% of content merit your ability to promote your business explicitly. Having the majority of your content weighing toward helping your audience cultivates an experience where your customers can connect on a deeper level beyond a mere sale.
5. Celebrate your audience with user-generated content.
The celebration of your customers is more than just a strategy. It is the most significant way to express appreciation for their patronage of your business. It helps solidify the relationship beyond transactional and gives them a reason to be excited about connecting with your brand.
The great writer Maya Angelou left us with the wisdom that people will forget what you said and may forget what you did, but they will never forget how you made them feel. This applies to consumers' experience with brands they love, digitally or in person.
User-generated content is when you encourage fans to share branded content online that they tag or use a specific hashtag in hopes of being featured by the brand. It easily integrates into holistic marketing campaigns, including cross-channel loyalty programs encouraging people to share their experiences and feedback with the brand and other followers.
For example: Brands like Wayfair and Getaway House leverage the impact of UGC to celebrate customers while inspiring them to share and engage beyond a purchase.