Return to All Resources
How to start SMS marketing
19 Minute Read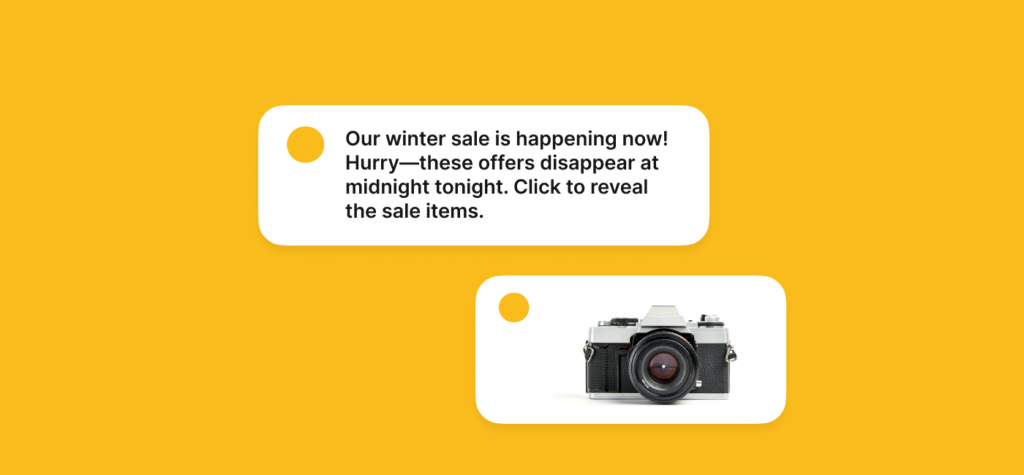 Mobile usage is at an all-time high, and our phones sit at the center of every online experience. So we put together this resource on how to start SMS marketing the right way and get your brand driving more customer engagement.
On average, Americans now check their phones 344 times a day and will spend more than 1,000 hours — or the equivalent of 44 solid days — on their phones in 2022. People are using their phones more frequently, for longer periods of time, and are shopping from their phones more than ever before. 
With 59% of web traffic coming from mobile (as of May 2022), adding text messaging (also known as SMS) to your ecommerce stack can help your team reach more customers faster — while maintaining a seamless customer experience. 

The customers who embrace your brand on multiple channels — email, social, SMS, mobile app — are likely your best customers. They should be rewarded with the most personal, relevant messaging crafted with an understanding of their unique behaviors and interests. 
You can send texts with the same level of personalization as your emails: every aspect of the message, from content to coupon codes to images, can be tailored to each individual customer based on their real-time behavior. When added as part of a holistic cross-channel strategy, it can have a major business impact. 
How to use this resource: 
As a guide when building an SMS marketing strategy 

As inspiration when creating cross-channel campaigns that include the SMS channel 

As a collection of best-practice tactics for attracting and retaining customers via SMS/MMS channel 
What's the difference: SMS vs. MMS messaging
While SMS messages are text-only, MMS messages include images, GIFs, audio, or other multimedia elements. Though MMS has a higher cost per message, it can drive increased engagement and higher revenue, making it well worth the investment for many use cases. 
Text-only messaging is effective when it comes to marketing-driven updates designed to drive engagement and revenue, but MMS messaging adds a whole new layer of personalization to the sending experience. 
As always, it's worth testing each type of message to see what your audience reacts to most positively. One approach would be to leverage the visual appeal of MMS for promotional messages and the utility of text-only SMS messaging for transactional messages like order and delivery status updates. 
Quick tip:  Let's say you're a marketer for an ecommerce clothing brand and you want to re-engage someone who exited your website without purchasing a cart item. Adding an image to your message would provide a visual reminder for the recently-engaged customer to click the link and complete the purchase.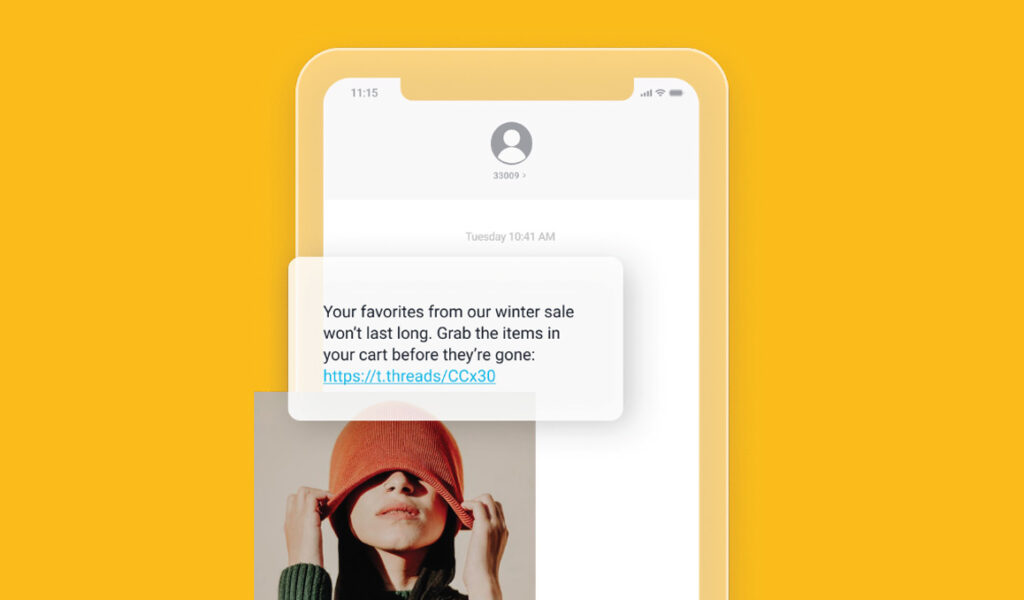 Types of SMS and MMS communication
Today, more customers are expecting, and even welcoming, real-time updates from their favorite brands on their cell phone — 78% of 18- to 34-year-olds shop in response to text messages from brands. Many B2C marketers realize the importance of engaging with their audiences via SMS, but may struggle to define what type of messages and content will resonate. 

There are two distinct types of SMS communications: transactional and promotional. Each plays a specific and important role. 
1. Transactional messages
Transactional messages are a powerful way to communicate important status updates to customers. Unlike email, where messages can go unread for hours or even days, most text messages are read immediately and they have a 99% open rate, which makes them ideal for delivering time-sensitive information. 
Examples of transactional messages you can send to your customers: 
Order confirmations 

Shipping alerts

Delivery notifications 

Product updates 

Congratulatory prompts 

Time-triggered reminders 

Claim processing alerts 

Real-time ticket alerts 

Account balance updates 

2. Promotional messages
While transactional messages are informational or service-based, promotional messages are intended to drive action. These messages promote products or services, and should contain limited-time offers to create a sense of urgency once opened. 
Examples of promotional messages and campaigns you could send to your customers: 
Flash sales 

Back-in-stock notifications 

Low inventory alerts 

Personalized coupon codes 

Geolocation triggers 

Price drop notifications 
How to start your SMS marketing strategy
As a marketer, you know that developing a solid cross-channel marketing strategy is a necessary building block in setting your brand up for long-term success and growth. Your strategy will likely include a mix of messages designed to engage customers throughout all stages of the funnel — from acquisition to retention, upsell, and reengagement. 
Here are a few ways you can start crafting a solid SMS strategy.
1. Set expectations and goals
After defining your target audiences, focus on which types of messages you want to send (and what your audience wants to receive). Start by setting SMART (specific, measurable, attainable, relevant, timely) goals: 
Specific:

What is your ultimate goal in running text campaigns? If necessary, break objectives down as primary or secondary. 

Measurable:

What type of ROI are you looking to achieve? How many conversions do you expect from each send? How much do you want to increase your customer list? 

Attainable:

Of course, your goal is to grow customer loyalty and lifetime value, which equates to higher revenue. Consider a realistic first step in growing each of these. For example, sending unique, relevant, and personalized text offers to customers on a weekly basis. 

Relevant:

Everything you are doing relates back to what is relevant to your customers. What matters to them? What matters to your business right now? How can you meet in the middle to address both? 

Timely:

Remember, your text messaging strategy is part of the long game. How long do you plan on running your first set of campaigns? How often Building your messaging strategy are you going to run each campaign? These will all be tested over time, keeping in mind that it takes time to grow a compliant, engaged SMS subscriber list. 
2. Create a plan
You'll want to map out what types of SMS marketing campaigns you are deploying at each stage of the customer journey. Each customer and prospective customer will take different actions depending on where they are in that journey. 
Make sure you have a course of action for all of them, including a path to purchase whether they have abandoned their cart, saved an item for later, recently purchased an item or haven't shopped with you in years. Ensure your messaging is personalized based on their actions and interests — and it starts with properly using your data. 
Collect relevant data about your customers from each channel and data source you are using (email, website behavior, and mobile app interactions). This makes it easy for you to craft the perfect customer journey based on everything you know about them—not just with info from a single channel.
Examples of relevant customer data points might include: 
Previous purchase history:

Make sure to segment by previous purchase dates so you aren't sending a promotional text message directly after someone completes a purchase (of course transactional messages are encouraged during this time!). 

Website interests and topics:

Has your customer engaged with a particular product type or category on your website more than others? This can help you tailor your message and offering according to their interests. 

In-store activity: For retail brands, online activity is only one part of the conversion equation. Connecting in-store purchasing trends with your SMS marketing and messaging efforts can help paint a clearer picture of how to tailor your text messaging by contact history. 
Email activity history:

Is your customer engaging with your emails? If so, create relevant audience segments by product category or click through timeframes to craft customer journeys accordingly. If they aren't engaging with your emails (and you have their SMS opt-in consent) try using text messaging as a way to re-engage your audience with your brand. 

Source:

Where did they enter the text marketing program? Consider in-store, social, website, mobile, and anywhere else you may incentivize your customers to sign up. Each of these may weigh differently depending on value. 

Customer lifetime value (LTV):

Ensure your text messaging partner can provide the metric to uncover which customers are most likely to engage with texting. True VIPs or brand enthusiasts are believed to be more likely to engage across channels. 
3. Set benchmarks
Think through potential outreach opportunities and your desired outcomes to set up thoughtful KPIs. This will vary depending on your goals, but common text benchmarks to track include open rate, list growth, new customer acquisition, click through rate, delivery speed, ROI, opt-out, and conversion rates. 
Keep in mind your ultimate goal of further integrating mobile messaging into the customer lifecycle with a plan of at least one meaningful mobile touchpoint in every stage of the customer journey. At the top of the funnel, it's easy to use mobile to attract a customer to sign up for texts with incentives being offered, but then you will want to define how to appropriately use the channel to retain those subscribers and move them further down the funnel. 
Always remember to take a proactive and not a reactive approach when setting up your messaging strategy. Your ultimate goal is always to maintain an intelligent, personalized, and unified customer experience. If you can achieve those three things, success will surely follow. 
Providing value to gain subscribers
When framing your SMS marketing strategy, remember that when a customer signs up to receive text messages from your brand, they are giving you a very valuable (and personal) piece of information — their mobile number.

It's an obvious point but one worth making. Successful campaigns offer something to their subscribers that is of equal value to that commitment, and some of the most successful lean heavily on exclusivity to engage customers. Everything in your message should be relevant and exclusive to your subscribers. 
Some ways you can include relevant messaging: 
Rewards system launch and point tracker 

Early access to sale 

New product launches or sneak peeks of new products 

Personalized surveys 

Personalized vouchers/coupons 

Special birthday or life event messages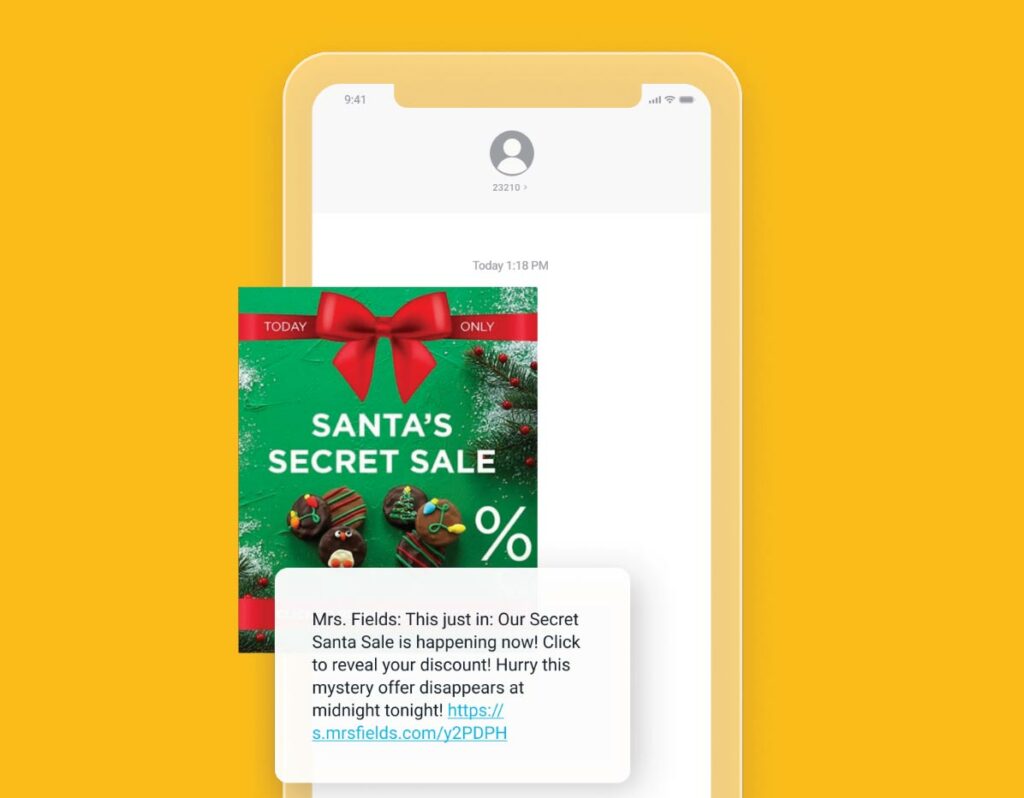 How to grow a loyal audience
Even if you already have your customers' mobile numbers from online orders or customer service support, you can't begin sending messages to these users until they have expressly opted in to receive text communication from your company . 
To begin collecting mobile phone numbers for your marketing campaigns, simply add a field to your existing forms (and don't forget to include the compliance information we previously laid out). There are several ways to ask your customers for permission to send them text messages. 
A few examples: 
Website:

Opt-in should be a clear call-to-action on your website. 

Newsletter:

Make opt-in visible on your newsletter. 

Social media:

Add a mobile number field to your Facebook page sign-up and an opt-in button for your followers to sign up for campaigns. 

Direct mail: When you send coupons or promotional mail through the mail, make sure instructions for opt-in are printed on it. 
Receipts:

Since many people keep receipts for returns and store policy information, the footer or back of a receipt is a great place to promote an SMS program. 

Point-of-sale:

Using keywords in signage or having retail team members ask customers to sign up for texts for promotions and sales can be very effective. 

Online checkout:

when done in a compliant way, adding a subscription sign-up as part of your checkout flow is a low-friction way to grow your text messaging audience base. 
How to welcome your audience
When a new subscriber opts in to your program, the first thing they receive is a confirmation message. 
Make sure your provider allows you to send these messages automatically. To align with messaging best practices, there are a few things you should include:
Program name:

Include your business name so customers know who's contacting them. Example: "[Business name] mobile alerts" 

Campaign purpose:

What types of messages will people receive? Are you going to send special offers, announcements, or exclusive tips? Example: Sales, specials, and news 

Estimated text frequency:

Include the approximate number of texts customers will receive in a typical week or month. Example: Periodic or recurring messages including marketing alerts like cart reminders 

Message and data rate notices:

Unlimited texting has become more common but some users might incur fees for receiving text messages. Inform customers that standard message and data rates may apply. Example: "Msg & data rates may apply"  

Opt-out instructions:

Include instructions to unsubscribe in bold type. Words subscribers may use to opt out include STOP, END, CANCEL, UNSUBSCRIBE, or QUIT. When a subscriber responds to any message with one of these words, you are required to remove them from your SMS marketing list. Example: "Text STOP to cancel" 

Help instructions:

Let users know they can respond to any text message with the word HELP to receive more information. When a subscriber does so, you must reply with a phone number or link they can use to learn more about the program or your business. Example: "Text HELP for more information"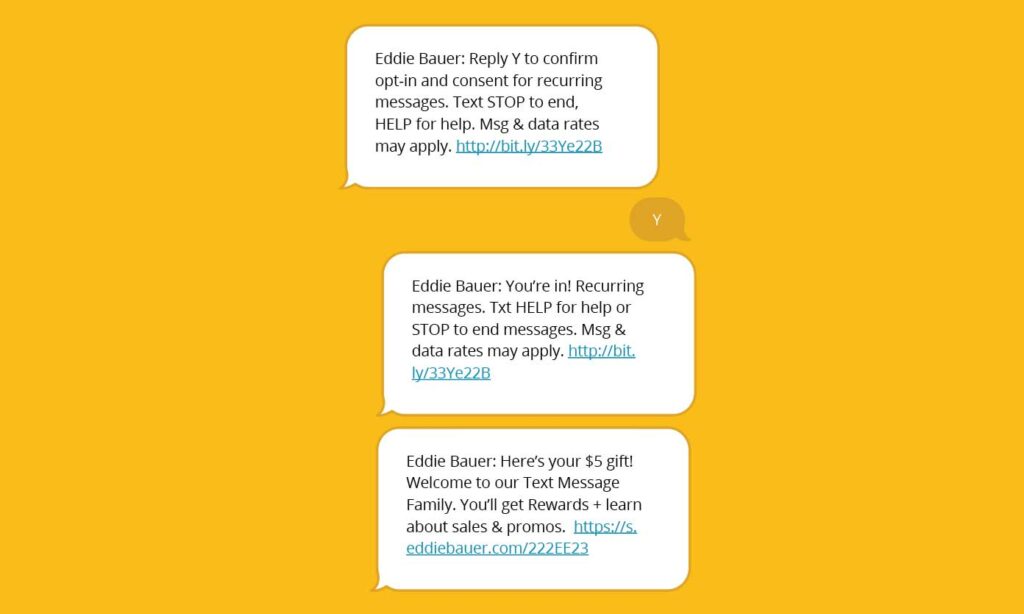 Why timing of sends matters
When deploying text campaigns, it's important to take timing into consideration just as you do with other channels. 
Messages are most likely to be opened when recipients are awake and have their phone within reach. If you start sending coupon codes at 4 am, not only will your open and engagement rates suffer, you may even end up with a higher volume of unsubscribes. There are a few ways to find out when your subscribers are most engaged. 
1. Check your email platform.
Your messaging platform should have detailed stats about when your subscribers open and click on messages. Email is obviously different from SMS but this can be a great starting point you can use to iterate on. 
2. Review Google Analytics.
Check the "Audience" tab on Google Analytics to see when your mobile web traffic is highest. If it spikes during certain times of the day, send your SMS messages right before or during these spikes, then measure the improvements. 
When scheduling campaigns, remember to take time zones into account. Subscribers in New York are going to have different peak times than subscribers in Hawaii. Some messaging platforms are able to adjust send times based on subscriber location so the messages are always sent during peak. 
Better yet, use send-time optimization to automatically adjust when messages are deployed, based on when you have the highest engagement rate. This feature uses machine learning to adjust send time as more data is collected. You can also avoid this problem entirely by relying on triggered SMS communication, which deploys a message in response to a customer action or behavior. 
3. Test timing.
SMS messaging is one of the channels where your customers can be reached throughout the day and during almost all waking hours. If you are looking to test timing to see what works best for your customers, start with business hours between 10 AM and 8 PM and vary to see what works best. You can also test evening hours when customers may be settling in for the night. Just remember, don't send any of your messages too early in the morning or too late in the evening. 
4. Set quiet hours.
No one wants to be woken up by a promotional text message at 3 AM! Make sure your provider allows you to set a designated time block—based on each customer's individual time zone — in which you do not want your customers to receive messages. Enabling quiet hours gives you greater control over the customer experience and timing of messages. 
Keeping messages short
Text messages are limited to 160 characters but most iPhones and Android devices deliver messages as one even if it goes over the limit. 
Be mindful of length to keep your audience engaged regardless of character limit, especially when you are personalizing. Ensure your message is to-the-point and delivers high value so your customer is motivated to respond positively. 
Customers respond more to materials addressed directly to them so you'll want to insert the subscriber's name or some other detailed information about them where you can. You can also target your customer with more relevant texts based on their preferences and past shopping or browsing behavior. 
Building engagement through personalization
Text marketing is an important piece of a successful, modern marketing strategy. By incorporating data-driven texts into your marketing technology stack, you can deliver personal, relevant, and emotionally intelligent messages to customers on mobile. And on a side note, if you haven't focused on a mobile app yet, see why branded mobile apps are taking off and showing no signs of stopping.
By personalizing 1:1 messages based on real-time customer behavior and event data and connecting them to other channels, you can ensure that each communication is timely and relevant. SMS messages can be quickly and easily added to campaigns using a visual orchestration layer and tracked at the message level using in-line campaign analytics. 
1. Be there for customers at the right moments.
By leveraging real-time customer data, you can deliver relevant messages to your customers at just the right moments. This means providing intelligently triggered SMS, customer support, and order and delivery confirmations. 
2. Build a strong, agile marketing tech stack.
Robust, cohesive campaign management and orchestration tools can help your brand embed SMS communication into your broader campaign ecosystem. These tools enable you to build triggered experiences, crafting a strong cross-channel experience from the beginning and then watching it improve and adapt via multiple tailored touchpoints as customers take actions. 
3. Elevate the customer experience.
Campaign tools can also help a brand send unique coupon codes, promotions, and wallet cards that can be directly added to the user's phone and triggered when they approach your store location. When customers are ready to complete a purchase, you can remind them to use their gift certificates in their mobile wallet as they check out. This creates an intuitive and cohesive experience for your customer as they navigate your site or app using their phone. 
Impactful ways you can use text messaging to drive loyalty: 
Welcome new customers and subscribers as they opt in to your subscription list or loyalty program 

Help customers integrate gift certificates into their mobile wallet for future purchases 

Send tailored discount codes and incentives by location (at the ZIP code level) 

Offer product recommendations based on previous purchase behavior, demographics, and attributes 

Prevent cart abandonment with personalized dynamic offers and coupons 

Integrate with loyalty program and reward customers based upon loyalty level 
Five mantras to follow when striving for a better message — in any channel
Whenever possible, try to send a better message — not just another message. So put yourself in the mindset and space of your customer. Here are five important mantras to consider whenever you're crafting messaging for your brand. Follow the links to listen to curated inspirational talks for each:
And find more inspiration on Cordial

Find a partner to kick-start your SMS marketing strategy with personalization
There's a lot to take in and consider when finding the perfect partner for your SMS needs. Here are three key areas to focus on: 
Data flexibility:

Look for a messaging partner that can connect all your data sources, allowing you to personalize your text messages in the same way that you do for email. 

Deliverability and down-time:

Look for a tried-and-true platform that is equipped to handle your message volume with minimal sending delays or failures. 

Cross-channel strength:

Combining your email, text messaging, and other channel messaging into one platform allows for greater ease-of-use for your marketing teams and gives you insight into performance and personalization options across various channels. 
Next-generation cross-channel marketing platforms like Cordial can track real-time user behavior and use that information to automate the creation of personalized messages. 
Personalization is key—not just when crafting resonant messaging for your customers, but also when optimizing your campaign strategy. No two marketing strategies should be the same, so look for a sending platform that offers custom approaches based on your business needs. Before implementing a text messaging program, make sure you partner with a cross-channel marketing partner that enables you to leverage all of your customer and business data to personalize each of your messages. 

Leading brands like Backcountry, Revolve, Forbes, and 1-800 Contacts use Cordial to send better email, mobile app, and text messages, seeing up to a 59% increase in average order value and 250x ROI. 
Learn more about best SMS practices in our SMS Marketing Guide. Or, you can reach out to our team to request a demo today.
Picked For You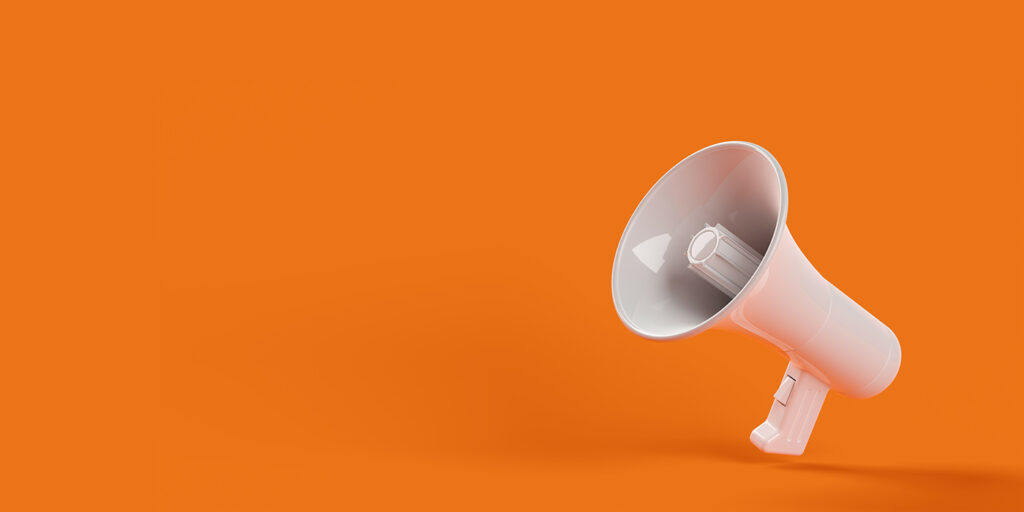 Article
The rise of in-app messaging for brands
Mobile apps for major brands are increasingly popular. And as they become more common, more…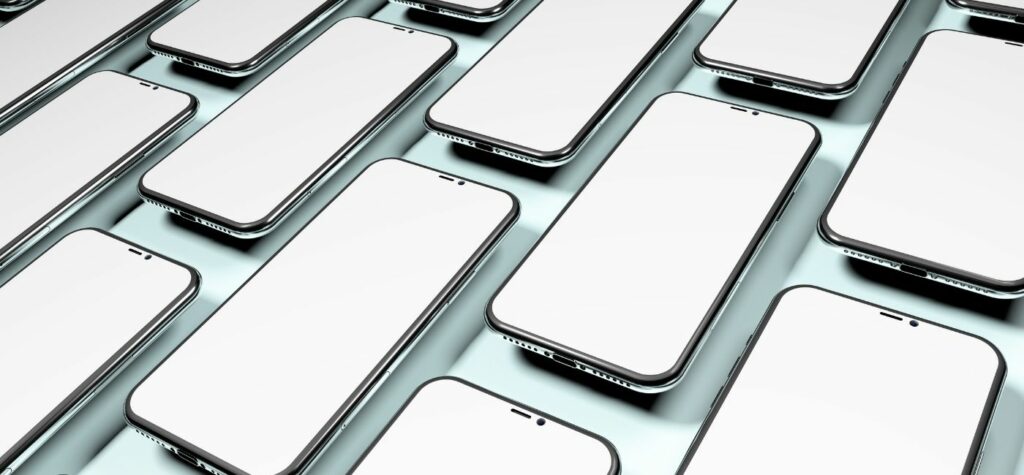 Article
Play by the rules: A quick guide to SMS marketing compliance
SMS is a relatively new player in the personalized marketing game, yet has proven to…